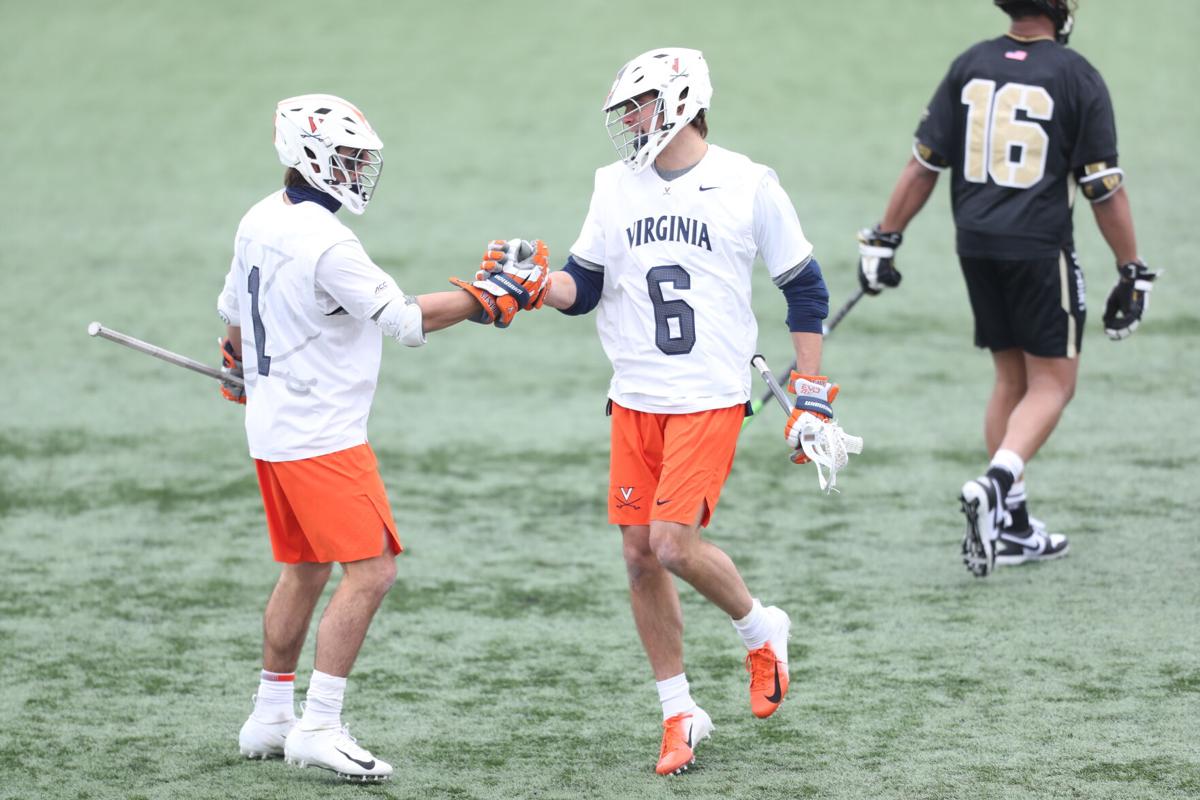 CHARLOTTESVILLE – Bobby Gavin grew up as a surfing star, riding waves on the West Coast all the way to national rankings and back-to-back wins in his age group at the prestigious Brooks Street Surf Classic in Laguna Beach. Sunday, on a field that had to be cleared of snow, the California surfer turned lacrosse goaltender helped lead third-ranked Virginia to a win over No. 12 Army.
With senior starter Alex Rode unavailable, the third-ranked Cavaliers turned to Gavin, a true freshman making his collegiate debut. And the San Diego native delivered, helping UVA to a 14-9 win over Army on Sunday, a game played at the Cavaliers' turf practice field because of the field conditions at their normal home venue, Klockner Stadium.
After allowing the first four shots he faced in the first quarter to get by him into the cage, Gavin saved 12 of the Black Knights' 21 shots on goal on the day.
"It's a dream come true. Nerves were definitely running, but I just went back to thinking about all my training and work I've put in to get to this position," said Gavin. "Starting, I didn't have all my confidence. But as soon as I started making saves, I knew I could do it."
Rode has started 35 games in his Virginia career, including all six last season and the opening win over Towson last weekend. UVA (2-0) declined to elaborate on his status.
Sophomore Payton Cormier led Virginia's offense scoring three goals and adding two assists. Senior attackman Matt Moore, who missed the season-opening win over Towson last weekend, scored his first three goals of the season.
The game, added to the schedule on Sunday, was the first meeting between the two programs since 1985.
Gavin got a rough welcome, giving up a goal to Army's Bobby Abshire just 1:04 into his debut. But he settled in during the second quarter.
"Bobby went out there in the second quarter and made some big saves, got his confidence going," said Virginia coach Lars Tiffany. "And it really, really helped liberate the rest of us too, knowing we didn't have to be perfect. He could erase some mistakes."
His teammates did their best to protect the rookie, as the Cavaliers outshot the No. 12 Black Knights 47-37. They answered Abshire's early tally with three straight scores to take a lead over Army (0-1) they'd never relinquish.
Moore's first goal gave Virginia its first lead, 2-1, just a minute after Army's score. His second tally extended UVA's advantage to 6-4 with 4:10 left in the second quarter.
"That one first save is really important for our keep," said Moore. "We had a lot of trust in Bobby Gavin today and he proved he should be starting today."
Bolstered by Moore's return, Virginia's offense made sure Gavin had plenty of support.
Senior attackman Ian Laviano scored twice and had an assist and sophomore midfielder Peter Garno notched a pair of goals.
Senior Dox Aitken, who left the UVA program in the fall to play football for Villanova, only to return when the Wildcats' season was pushed back to the spring, scored his first goal of the season.
Army star Brendan Nichtern didn't score in the first half and finished with two goals and three assists.
Virginia next plays at Loyola on Saturday. Rode's status for that game is unclear.
As for Gavin, he may have grown up in San Diego, but his father, John, was a college lacrosse player back on the East Coast for New Hampshire from 1985-89. He said winning his collegiate debut was a bigger thrill than any wave he's ever caught.
"I'm kind of past my time in surfing," he said.