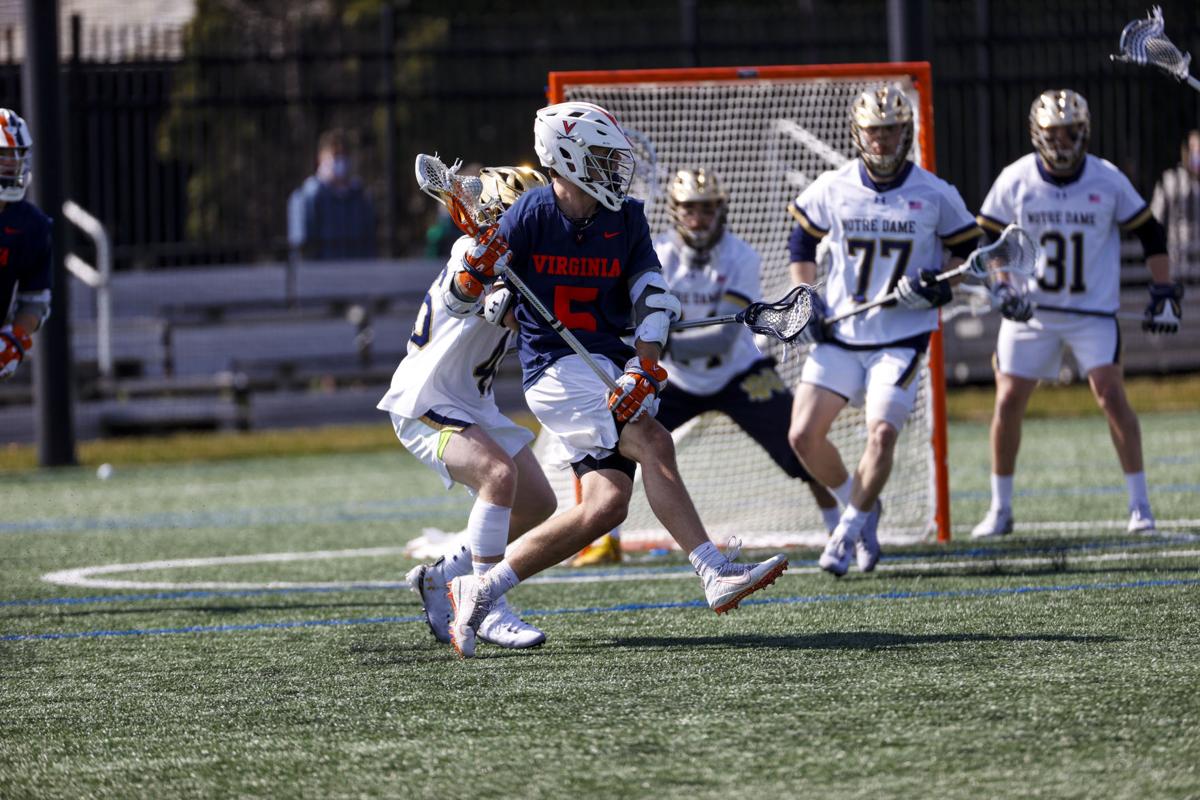 During practice for the best two weeks, Virginia lacrosse coach Lars Tiffany saw Dox Aitken rounding into form. Aitken, a two-time All-American who spent the fall in Villanova's football program, got off to a slow start to the season, but flashed his old form last weekend, scoring three goals in a win over Robert Morris.
Saturday, Aitken scored the first goal and the game-winner as No. 9 UVA edged No. 6 Notre Dame, 12-11, in South Bend, Ind., securing the Cavaliers' first ACC win of the year.
"Dox is back," said Tiffany.
Aitken's high shot that beat Notre Dame goalie Liam Entemann over his right shoulder with 2:28 to go to break the tie and cap a vastly improved team performance for Virginia, which assisted on nine of its 12 goals.
"I think that was probably our most complete game," said Aitken, who had two goals and two assists. "We really, really played together and we knew we had to do that because Notre Dame is traditionally probably the best defense in the country."
Sophomore attackman Payton Cormier scored five times and senior attackman Ian Laviano added three goals against a defense that held UVA (7-2) to just 30 shots.
"Their strengths are finding those little windows and capitalizing on those opportunities and putting the ball past a really good goalie," said Tiffany. "That was the key."
Senior Will Yorke scored five goals and freshman Eric Dobson added three for the Irish, which played its first ACC game of the season.
Virginia couldn't have played a better first quarter on the road against the defensive-minded Irish.
Aitken scored the first goal of the game, putting UVA up 1-0 with 8:57 to left in the opening period, handing Notre Dame (4-1) its first deficit of the season.
Peter Garno scored an extra man goal with 1:21 left in the opening period and Matt Moore notched a goal with 8.7 seconds to go to give UVA a 3-0 lead after the first 15 minutes.
Alex Rode recorded saves on all of Notre Dame's four shots on goal in the stanza.
But Notre Dame scored four straight goals to open the second quarter, the first three coming from Yorke.
The Irish went to the locker room up 7-5, but UVA regained control of the match with a dominant 5-1 third quarter. Cormier scored three times in the period, while Laviano found the back of the cage twice to give Virginia the 10-8 edge.
"I think, as an offense, we did a really good job of going and using the whole shot clock," said Cormier. "We did a good job moving the ball around and trying to look for the best shots possible."
UVA had suffered losses to No. 4 Syracuse and No. 1 North Carolina to open 0-2 in ACC play. It hadn't started 0-3 since 2017.
"It's really how we measure ourselves," said Tiffany. "Coming out here to South Bend, Ind., and getting a win is significant because we know how strong the opponent is."