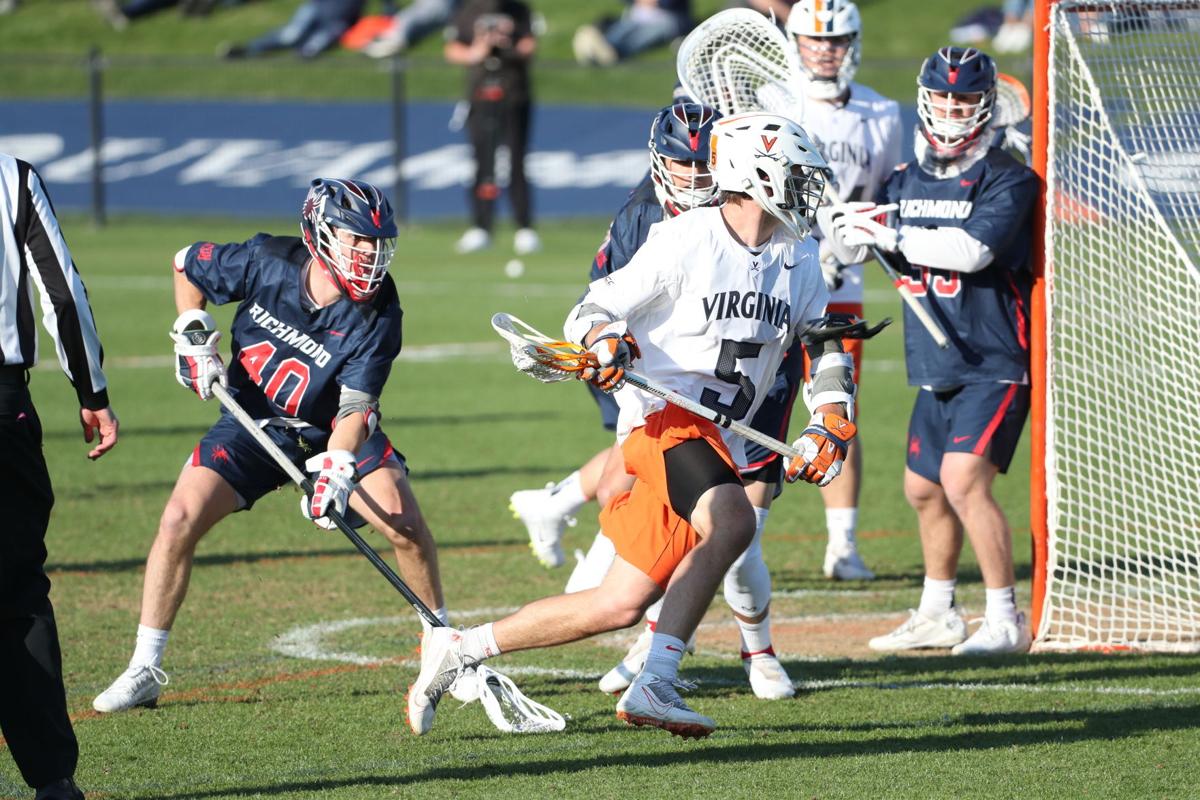 CHARLOTTESVILLE — Virginia's offense started out in March like a lamb, and ended it more like a lion.
And the Cavaliers came out roaring to start April.
Freshman Connor Shellenberger scored four goals and had three assists, and senior Matt Moore added three goals and three assists, as No. 5 UVA ripped No. 13 Richmond, 18-10 on Saturday at Klockner Stadium, its third-highest goal output of the season.
"It was a tough pill to swallow for a lot of us, just analyzing the film the past couple of games," said Moore. "We knew there was something off. We didn't know what it was. We were all asking each other, 'Why aren't we clicking?' "
Saturday, against one of the nation's stingier defenses, UVA (8-2) clicked. It assisted on 11 of its 18 goals and took 47 shots, 28 of which were on goal.
Virginia won its third straight heading into next weekend's road game at No. 2 North Carolina.
Sophomore attackman Dalton Young led the Spiders with three goals and an assist, and sophomore attackman Richie Connell scored twice for UR.
UVA coach Lars Tiffany was understandably concerned about his team's offensive sharpness for much of last month, as the Cavaliers generated plenty of shots but relatively few goals. But Virginia showed signs of crisper execution in its road win over Notre Dame last weekend, scoring 12 goals on just 30 shots.
Facing the defense-minded Spiders (4-4), the offense came out attacking. Richmond entered the game boasting one of the country's toughest defenses, allowing just 9.4 goals per game. It had already held No. 2 UNC to 14 goals and No. 1 Duke to 13 in a pair of earlier losses to ACC opponents.
"They played really unselfishly and had great spacing offensively," said Richmond coach Dan Chemotti. "Against Notre Dame it was clear they had figured out their earlier struggles offensively."
UVA got off two quality shots in the first 1:09 of play, including one that clanked off the pipe behind Richmond senior goalie Jack Rusbuldt, the former Collegiate standout and Penn State transfer.
But it was Richmond that found the back of the cage first, when senior midfielder Mitch Savoca scored on a deep shot with 12:19 to go in the first quarter.
Virginia evened things at 1 when Moore scored the first of his three tallies, an unassisted goal with 9:05 to go, for the 100th goal of his college career.
Shellenberger followed with his first goal of the game just 34 seconds later, giving the Cavaliers a lead they would never relinquish.
UVA led 7-2 after the first quarter. But in the second, Richmond extended its defense, aggressively challenging passes and temporarily slowing the Virginia attack. The Spiders trimmed their deficit to 9-5 at the half.
But that was as close as the visitors would get.
The Cavaliers' offense added nine more goals in the second half.
"I think we can finally start to see this team gelling offensively," said Shellenberger. "It's been a lot more fun these past couple of weeks."
Tiffany, Moore and Shellenberger credited offensive coordinator Sean Kirwan for preparing the unit for the myriad defensive looks Richmond challenges opponents with.
"Getting ready for Richmond is not easy, because they have multiple looks on defense and on offense," said Tiffany. "They're a complex team to prepare for."
Saturday, the Cavaliers looked well prepared, especially Moore and Shellenberger, who expertly navigated a defense that mixed denying them shooting chances and taking away passing opportunities.
"I thought both Matt and Connor did a great job analyzing and dissecting the opposing team's schemes," said Tiffany. "And then sometimes they had to go to the goal. It was a really good balance of when to take it yourself and when to distribute. Both facilitated our offense really well today."
"Today was a reality check for us," said Chemotti. "Where we think we are and where we really are are two different places. Those ACC teams expose your weaknesses just because of their skill and athleticism. To get better we need to see those vulnerabilities up close and personal then figure out how to do fix them."