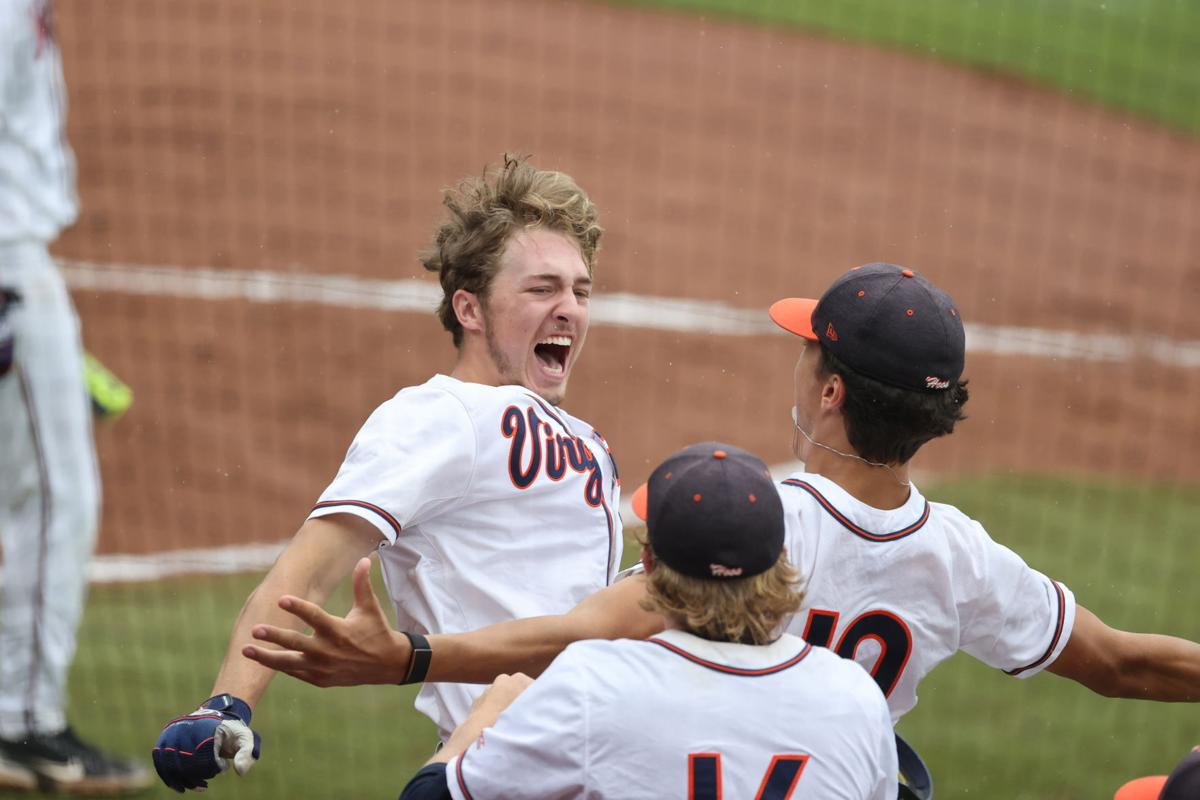 COLUMBIA, S.C. — Virginia asked Devin Ortiz to start Tuesday's Columbia Regional championship game against Old Dominion.
Ortiz obliged, throwing four shutout innings in the first start of his college career.
But he didn't just start the game for UVA. He finished it, too, as UVA defeated Old Dominion 4-3 in 10 innings.
"Something like today is something you dream about," Ortiz said.
The senior came to the plate in the bottom of the 10th with one out and nobody on base. He took a 1-1 pitch and launched it to deep left field. He knew it was gone.
Ortiz turned to the first-base dugout, screaming to his teammates before he reached first base. He rounded the bases, touched home plate and was mobbed by his teammates.
"In my past home runs, I usually run hard out of the box because I never really know but this one, it felt really good, and immediately I knew it was gonna go out," Ortiz said.
UVA, the No. 3 seed in Columbia, became the fourth team since 1999 to be seeded third or fourth in a regional, lose its first regional game and still advance to a super regional. LSU, led by Brian O'Connor's mentor, Paul Mainieri, accomplished the same feat Monday night.
Next weekend will mark UVA's first super regional appearance since winning the national championship in 2015.
UVA will stay in Columbia to play Dallas Baptist. The unseeded Patriots won the Fort Worth Regional to punch their ticket to the super regionals. The Columbia Super Regional will begin Saturday at noon.
Old Dominion looked strong early in Tuesday's game as Hunter Gregory, a junior right-hander, was perfect through five innings.
Gregory had only pitched an inning in the regional before Tuesday. He started Friday's regional opener against Jacksonville but took a comebacker to the leg and left the game. Healthy and rested, he dominated the Cavaliers.
"I tip my cap to the kid," O'Connor said.
UVA didn't have the option of starting its ace, but the Cavaliers received a gem from Ortiz. Despite pitching just two innings this spring, UVA's usual first baseman and designated hitter struck out a career-high six batters. He gave up one hit and two walks. Ortiz struck out the side in the second inning and worked out of a jam in the third.
The plan to use Ortiz on the mound had been in the works for weeks. Since he suffered a left shoulder injury, the Cavaliers moved Ortiz away from first base and solely to designated hitter. O'Connor and pitching coach Drew Dickinson also wanted Ortiz ready for a potential losers' bracket run and had been using him as a pitcher during midweek scrimmages.
"Last Tuesday, he was scheduled to throw two innings in our scrimmage and he was throwing so well that coach Drew and I talked about extending him to a third inning," O'Connor said. "And our conversation was, as God is my witness, that, 'Hey, if we fall in the losers' bracket of this tournament. Devin Ortiz is going to start, and we're going to need him to go four or five innings.'"
The Monarchs broke the scoreless tie in the sixth, taking advantage of an error by second baseman Max Cotier that helped the Monarchs put a runner on second with one out. UVA brought in lefty ace Andrew Abbott for Zach Messinger in hopes of ending the inning.
Carter Trice stole third, and catcher Brock Gagliardi singled through the left side of the infield. UVA's defense was playing a shift on the left-handed hitter, leaving a giant hole between second and third base. Gagliardi found the opening.
Trailing 1-0, and still without a runner, UVA's offense came to life. Logan Michaels broke up Gregory's perfect game with one out in the sixth. While the Cavaliers couldn't get Michaels home — Zack Gelof struck out with Michaels on third and two outs — the hit made ODU go to its bullpen.
Virginia found success off junior lefty Jason Hartline, who entered the game with a sub-1.60 ERA.
The Cavaliers used a walk and two singles to load the bases. Junior Nic Kent grounded into a fielder's choice to tie the game.
Senior Alex Tappen came up next with runners on the corners and delivered a single through the left side of the infield to give UVA a 2-1 lead after seven innings.
With closer Stephen Schoch on the mound — he entered with two outs in the seventh — and a 2-1 lead, the Cavaliers felt confident.
ODU's stellar lineup wasn't done scoring, though.
Two walks and a two-out game-tying single from Gagliardi pulled ODU even. After an error by Cotier at second loaded the bases, Tommy Bell delivered an RBI single to right field to give the Monarchs a 3-2 lead.
But Kyle Teel threw a dart home for an out at the plate and prevented two runs from scoring.
"I yelled in the dugout and said, 'Hey, this is why you're the home team. We got a shot. When you're the home team, you got a chance,'" O'Connor said.
Teel played an important role in the bottom of the eighth, when the Wahoos tied the game. His single with two outs advanced Zack Gelof to second base. After two wild pitches from reliever Noah Dean, UVA tied the game at 3.
ODU avoided disaster as reliever Aaron Holiday forced Alex Tappen to pop out with the bases loaded to end the inning.
Neither team scored in the ninth, and the regional that needed an extra day because of rain also needed extra innings to determine a winner.
After a 1-2-3 frame from Schoch, who tossed 75 pitches in 3 1/3 innings of relief, Ortiz came to the plate with one out.
The senior ensured his earlier pitching performance wouldn't go to waste.
"This is what I came here to do," Ortiz said. "I wanted to come to Virginia. I wanted to play in these big situations, and I wanted to help my team win."