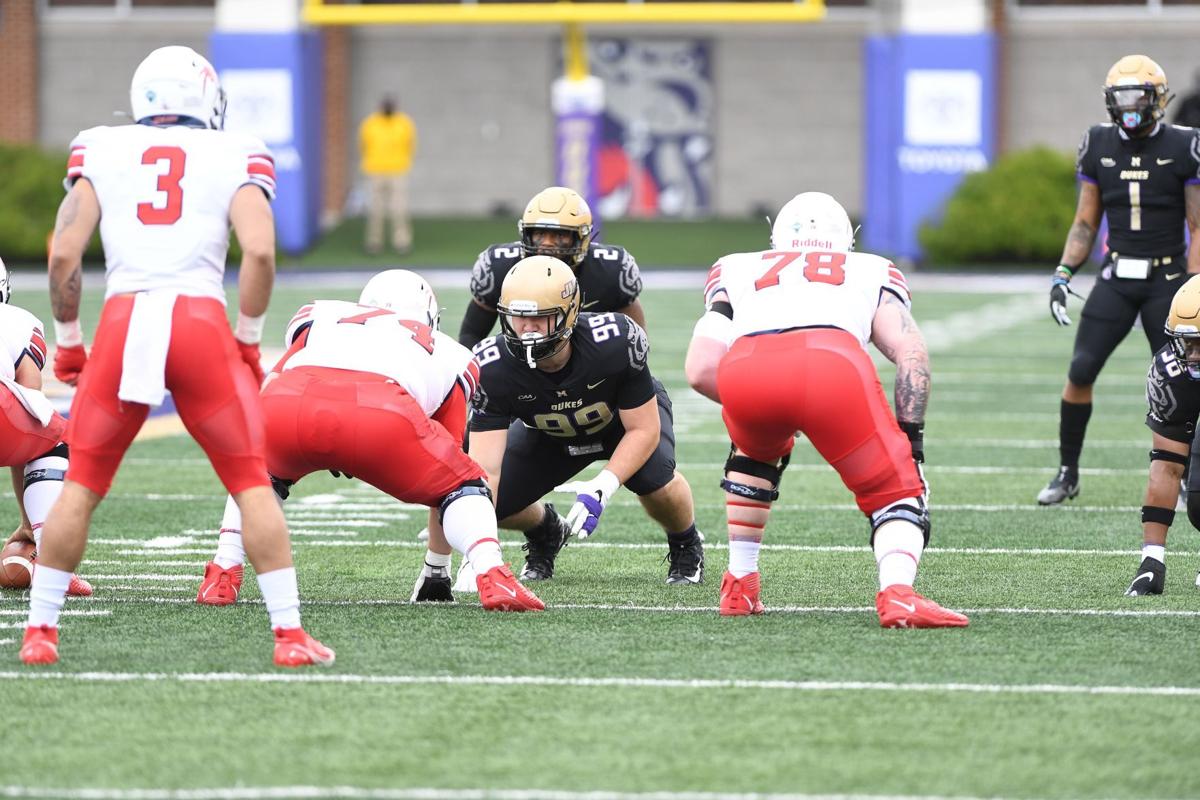 The play unfolded in textbook fashion and at a supremely opportune time for James Madison.
In the Dukes' first-round, spring-season playoff game against VMI in April, the Keydets pulled to within two scores with an early fourth-quarter touchdown pass from quarterback Seth Morgan to receiver Jakob Herres.
And, following a JMU punt, VMI found itself driving again, after Morgan hit receiver Michael Jackson for a 20-yard gain close to midfield to open its drive.
But on the next play, Dukes defensive tackle James Carpenter muscled his way through the VMI lineman in front of him.
Morgan tried to dump off a screen pass to running back Korey Bridy (Monacan), but Carpenter stuck his right hand out, tipped the ball straight up in the air, then secured it himself with a basket catch before he was brought down.
The interception helped JMU secure a victory in a run to the FCS semifinals this past spring, and it was the highlight of a season in which Carpenter established himself as a starter on the Dukes' defensive line, annually one of the program's strongest position groups.
Carpenter emerged during JMU's "fall ball" practice period last year, coach Curt Cignetti said in November. With the Dukes down multiple D-line pieces because of injury and transfer, the former walk-on stepped up at the right time.
And Carpenter, a redshirt freshman entering a third season at JMU, is carving out his place to stay with the line much deeper than it was just a few months ago.
"We got eight, 10 guys deep," Carpenter said. "So it's pretty crazy and unusual. But it can only help us in the long run."
Among that group, Carpenter has taken first-team reps in fall camp, ahead of JMU's Sept. 4 home opener against Morehead State.
The Roanoke native arrived at JMU in 2019 and played in one early-season game before sitting and taking a redshirt.
"Obviously true freshman year is always tough. You don't really expect much," Carpenter said. "Mostly scout-team guy, so you just try and learn from it. Just kind of take it on the chin and just learn everything you can from that year."
That time helped him in the fall, which became a de facto spring-practice period after the 2020 fall season was pushed to the spring of this year because of the COVID-19 pandemic.
Defensive tackle Adeeb Atariwa transferred to UVA, and JMU lost defensive ends Isaac Ukwu and Jalen Green to knee injuries during fall practice.
Also, star defensive tackle Mike Greene (Highland Springs) bumped to the outside to play defensive end. It meant opportunity inside for players such as Carpenter.
Carpenter earned the coaching staff's trust. After he registered three tackles, including a stuff of Morehead State running back Carter Rivenburg in the backfield for a loss of 4 yards in the Dukes' opener, the 6-2 274-pounder started the next seven contests in JMU's eight-game season.
He felt that each day he got better. He finished with 21 tackles, including five for loss with two sacks. Carpenter was second among JMU defensive linemen in total tackles and tackles for loss, behind just Greene.
He was named the Virginia Sports Information Directors defensive rookie of the year.
"It was kind of one of those feelings, hard work pays off. And I really didn't expect it," Carpenter said of the honor. "But I was really excited, super pumped about it. ... Just got to build from it."
That's what Carpenter has been working on in the months since. In what's been a shortened offseason, he took just a few days off after the Dukes' season ended in May before jumping back into weightlifting and conditioning work.
Carpenter has felt good so far in fall camp this month. Greene has moved back inside from end to tackle. Also, Ukwu and Green are back, and JMU added Towson transfer Bryce Carter, Ohio State transfer Zaid Hamdan and Army transfer Jordan Funk to the D-line group, meaning a much more crowded house.
There's a lot competition at each spot in camp, Carpenter said.
"We really push each other," he said. "And I think it's going to be a great year for us."
Carpenter worked himself from walk-on to starter status in the past two years. And, back for Round 3, the fall will be about building on his breakout spring.
"I feel like, if I do my job, and everyone else does their job," Carpenter said, "my individual goals, I guess, that will come for itself."
(804) 649-6442
Twitter: @wayneeppsjr