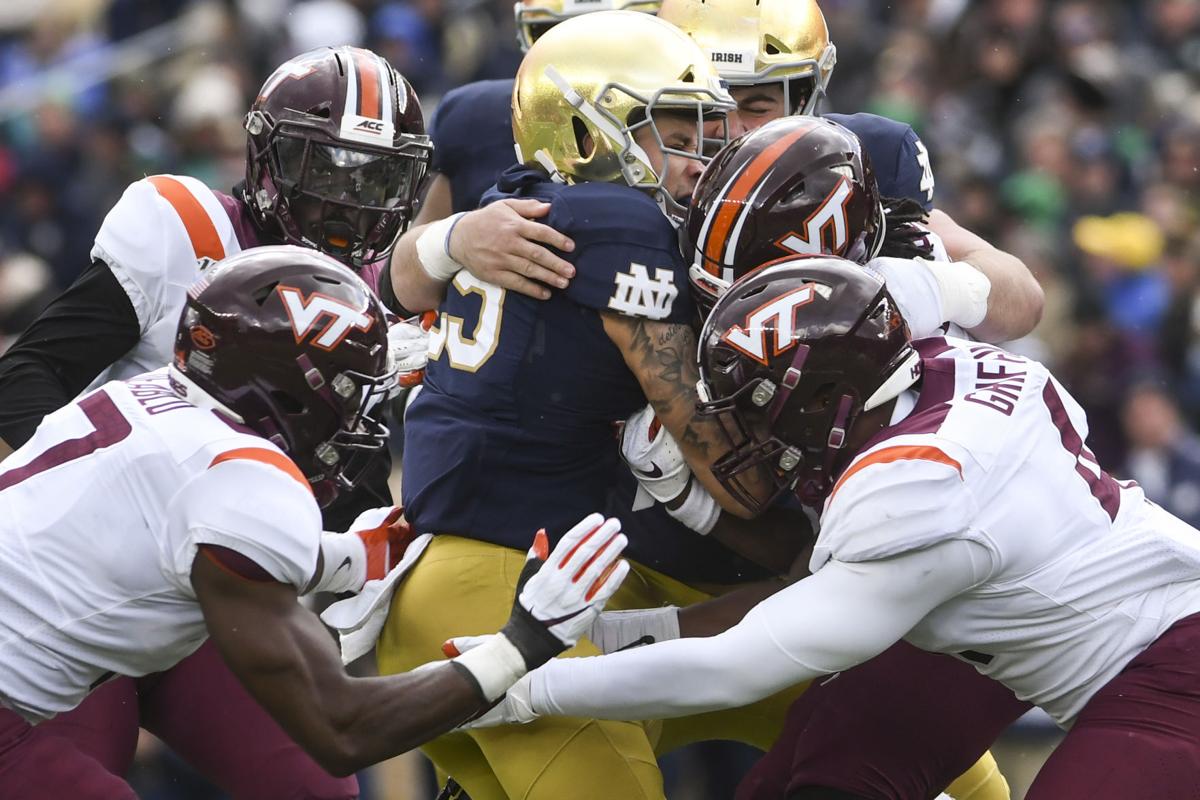 Nearly every business decision made by the leaders of college athletics is an attempt to separate fans from their money in a never-ending arms race among schools.
The latest example is the ongoing feud between Comcast, the leading cable provider in Richmond, and ESPN's ACC Network, which will broadcast Saturday's mega-matchup between Virginia Tech and Notre Dame.
As of Thursday evening, Comcast viewers won't get that game (or Virginia-Louisville earlier in the day) because the two sides haven't reached an agreement to carry the channel.
There's nothing wrong with taking TV's money, but when fans can't watch one of their team's biggest games of the year? There's something wrong with that.
ESPN (owned by Disney) and the ACC are holding the game up for ransom by putting what should be a nationally broadcast spectacular on the conference's new channel. Comcast is playing a similar game by betting that most of its customers couldn't pick Packer or Durham out of a lineup.
"We'll never be the conference that we need to be until we get some of those issues taken care of," commissioner Jim Phillips said this summer, in announcing the Hokies and Irish would play on the league's network.
Chasing every dollar has become a necessary evil in college sports, and it comes at the expense of the fans paying out those dollars.
The ACC Network, as we're often reminded, is needed because the Big Ten and SEC also have networks, which has been a financial boon for those schools and allowed them to poach big names to join their conferences.
Television's influence over sports has grown exponentially, as evidenced by the fact that nobody flinches anymore at a 9 p.m. college basketball tipoff on the East Coast, which doesn't seem to serve the players, the fans, or just about anybody other than TV viewers.
Nebraska and Oklahoma griped about their 11 a.m. local time football kickoff earlier this year, but when you cash the checks, you quit calling the shots.
All this money is necessary, of course, to fund million-dollar position coaches and lavish player amenities like 30-foot-long hot tubs (Alabama), a barber shop (Oregon), a lazy river (UCF) and an MMA fighting cage (Tennessee).
In lobbying for the College Football Playoff, and now its proposed expansion, one of the top arguments is, "Think about how much extra money they'll make," to which I always think: You want these people to have MORE money?
The solution to college football excess is a coordinated disarmament, something made impossible by the fact that the sport has no commissioner and the NCAA has little actual power.
Instead, the networks are allowed to play the schools against each other for their own gain. Allowing television to dictate start times, and doing it as soon as six days before kickoff, is one of college football's worst decisions.
Games should begin at a time that works for the players and fans. Here's guessing the networks will find a way to broadcast a 2 p.m. kickoff just as they make time at 11 a.m.
Want kids to grow up as Hokies fans, aspiring to pack Lane Stadium one day? Might be good to make sure they can actually see the games.
Chasing dollars might be the only way to chase victories, but college sports would benefit from a top-down approach to getting money out of the game, not further into it.
The debate over name, image and likeness legislation included the traditional hand-wringing about how bad it would be to introduce money into college sports.
Here's the truth, as Hokies fans stuck without access to Saturday's game can vouch for: The students are only copying what they're seeing their leaders do — fighting for every last penny, no matter how badly it inconveniences others.
(804) 649-6546
Twitter: @michaelpRTD