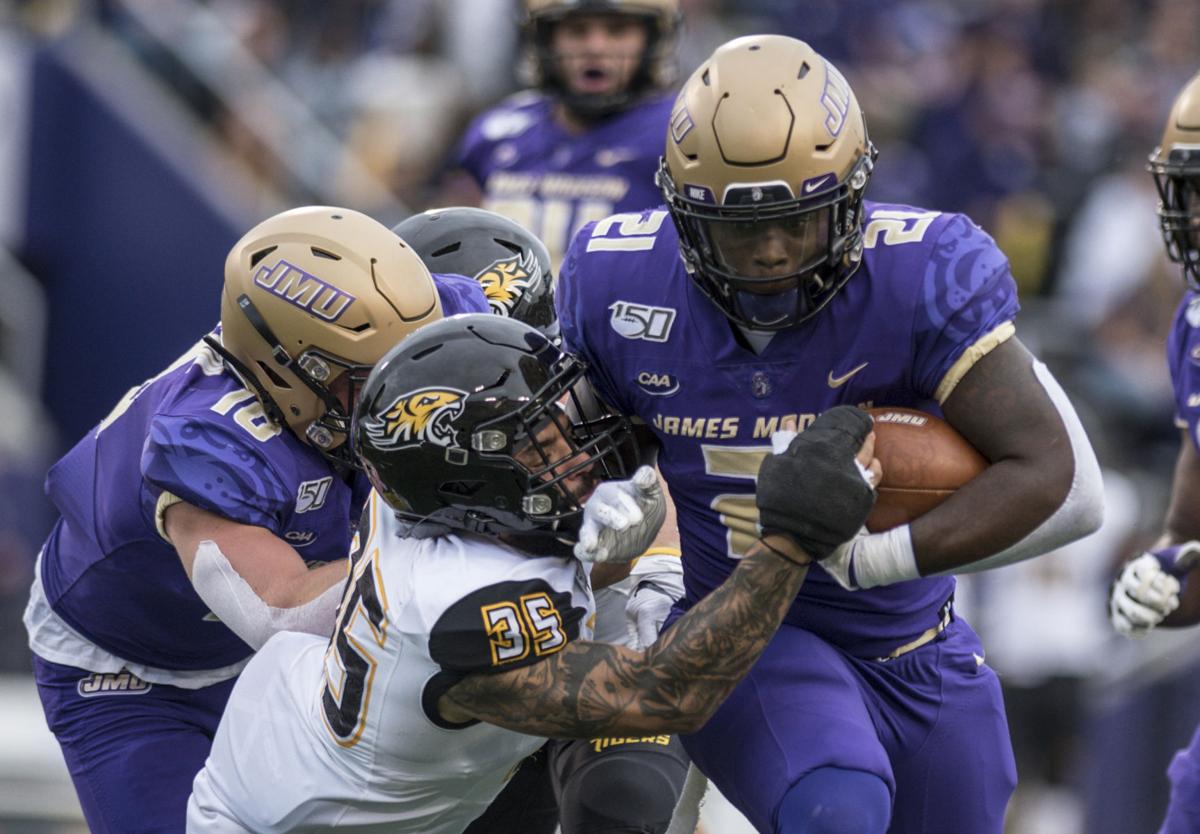 It's a moment that will last with Latrele Palmer forever.
In a wild, bigtime matchup at James Madison's Bridgeforth Stadium in October 2019, between a JMU team ranked No. 2 and a Villanova team ranked No. 5, a freshman Palmer broke free for a 69-yard fourth-quarter touchdown.
For the Dukes, it was a finishing touch on a 21-point fourth-quarter swing. They dug out of a 7-point deficit through three quarters to win 38-24 in a season in which they went on to advance to the national title game.
And for Palmer, it was an early signature moment — still the longest rushing play of his career to this point.
"I'll remember that for the rest of my life," Palmer said Tuesday.
And it's a play Palmer said everyone has been talking about this week, with JMU primed for another meaningful game against Villanova — the teams' first meeting since the 2019 thriller.
The third-ranked Dukes will host the 11th-ranked Wildcats on Saturday at 2 p.m.
And this bout comes with Palmer continuing to break out for JMU. The bruising 6-foot, 220-pound runner received his first career start last week at New Hampshire, and a career-high 18 carries. He leads the Dukes with 276 yards and two touchdowns on the ground this season, and his average of 69 yards a game so far is fifth in the Colonial Athletic Association.
"It was another surreal feeling," Palmer said of starting last weekend. "Like, my first college start. That's crazy. I never would have thought.
"It took me so long for me to get to this position that I am."
But the makings of what Palmer has become were recognized early. The Boyds, Md., native recalled that it was basketball that he gave a try first, as a 5-year-old. But a coach told him that he was too physical, and that he needed to try football.
Palmer did, and played virtually everywhere growing up, except for offensive line. He settled into running back, and also played outside linebacker, at Our Lady of Good Counsel High School in Olney, Md.
"When I got the ball in my hands, it's like I made magic happen," Palmer said. "And then I just stuck with running back ever since."
He topped 1,000 yards rushing, with 15 touchdowns, as a senior at Good Counsel. Defensive end Jalen Green and linebacker Julio Ayamel had a big impact on Palmer's recruiting process. Palmer played youth football with the two, and played with them at Good Counsel, too.
Green and Ayamel committed to JMU in the summer of 2018, and Palmer followed in January 2019. They each entered as part of the Dukes' 2019 recruiting class.
Palmer made an impression early, as a true freshman, with his physical style, able to bowl over defenders. And it's no surprise that he's looked up to former NFL star Marshawn Lynch for a while — a player who was also known for his tough-to-tackle talent.
"I just wanted to mimic his playing style," Palmer said. "And it worked out for me at the end of the day."
Besides Lynch highlights, Palmer said he also likes to watch the Titans' Derrick Henry and the Packers' A.J. Dillon — other big, physical runners to draw inspiration from.
Now a redshirt sophomore playing in his third season, Palmer has a total of 880 career rushing yards and eight touchdowns on 151 carries to this point, over 20 games.
JMU coach Curt Cignetti this week described Palmer as a good player, who's also growing up as time passes and experience accrues.
"He's maturing. He understands what it takes, day in, day out," Cignetti said. "And continuing to improve."
Palmer's first start, at UNH, came as the Dukes have battled injury within their deep running back corps. Redshirt freshman Kaelon Black was starting to begin the season, but he was hurt at Weber State on Sept. 18 and is expected to be out for a while.
All-American Percy Agyei-Obese missed JMU's first three games while coming back from a hamstring injury, and he got his first touches of the season at UNH. He was eased in, and finished with six carries to Palmer's 18.
"We have a lot of confidence in all of our backs. And it was good to get Percy involved again, and we'll just see how it goes," Cignetti said Monday, when asked about the management of Agyei-Obese's carries moving forward.
The Dukes regularly split their carries between multiple backs, and Palmer has positioned himself to continue being a prominent contributor within the mix.
And in another important game against Villanova this Saturday, the Dukes would love if Palmer can create another moment to remember, like that against the Wildcats almost exactly two years ago.
"Everybody's been talking about it like, 'Oh, we need you to do this,'" Palmer said, with a chuckle. "We need you to do that — like we need another play like you did [against] Villanova … Everybody's been talking about it really."
(804) 649-6442
Twitter: @wayneeppsjr