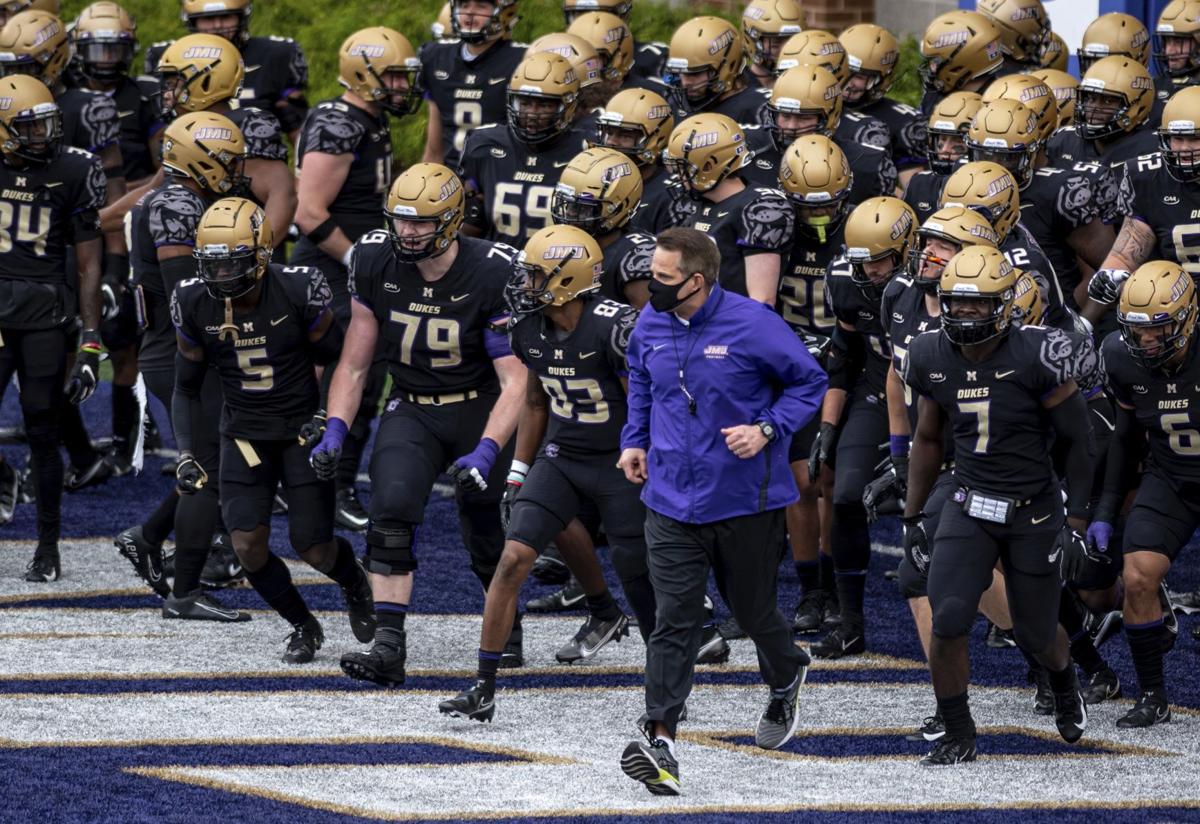 Asked this week what stands out about the North Dakota team James Madison will face in the FCS playoff quarterfinals Sunday, Dukes coach Curt Cignetti was succinct: "Big, physical, fundamental, tough."
This group loves to run the ball, can wreak havoc with its defense and is fourth in the nation in penalties per game (3.33). That also could describe JMU, a program that has consistently carried top run attacks and run-stopping ability.
Cignetti said on offense there are philosophical similarities between his top-ranked Dukes (6-0) and the seventh-ranked Fighting Hawks (5-1).
But when they kick off Sunday at 6 p.m. (ESPN2) at JMU's Bridgeforth Stadium, North Dakota will try to continue an historic season for its program. JMU will try to continue the form with which it has made the national final all but once in the previous four seasons.
"Our team, they have that pride and they have that belief," Cignetti said. "And they've got their eye on the prize. They just don't slow down."
The Dukes will be challenged to defend a North Dakota run game keyed by Otis Weah, the best back Cignetti said he will have faced in perhaps the last four or five years, including his time at Elon (2017-18). The 5-9, 195-pound sophomore has 634 yards rushing and eight touchdowns, averaging 7.1 yards per carry. He'd led the Fighting Hawks to 195.5 rushing yards per game.
North Dakota coach Bubba Schweigert described Weah as hard-nosed and explosive.
"We think he's a complete back, that he can run inside, outside," Schweigert said. "In the open field, I think he's tough to bring down. But Otis just doesn't want to be a ballcarrier. He works hard at learning pass protections. And he just loves football."
A defensive line anchored by Colonial Athletic Association co-defensive player of the year Mike Greene (Highland Springs), but can rotate multiple pieces to keep players fresh, will be tested by that run game.
The Dukes have allowed opponents an average of just 57.3 rushing yards this year.
Cignetti said they'll need a big game from Greene on Sunday, with his leadership.
"We're going to need everybody to step up and play their A-game," Cignetti said. "I didn't think we got that last week [against VMI]."
From North Dakota's defensive front, a variety of multifaceted blitz combos can be expected. As Cignetti said, they "blitz from everywhere," sometimes with five or six defenders. The Fighting Hawks recorded seven sacks in the first half in the first-round last week against Missouri State, contributing to the program's first FCS playoff win.
Cignetti said his team probably hasn't seen a group that blitzes as much as North Dakota does, with as many looks as it can present. JMU has run and passed for averages of 247.5 and 199.5 yards, respectively.
"They're really good at what they do," Cignetti said of North Dakota.
The winner Sunday will play the winner of the Sam Houston State-North Dakota State game in the national semifinals. The Dukes have become accustomed to the spot, one the Fighting Hawks would love to reach.
"We know they're a very good program, top program in the country for a number of years," Schweigert said of JMU. "And when you get down to the final eight [teams in the playoffs], everybody's going to be a challenge. Yet you got to look at it as an exciting opportunity for this team and our program as a whole."
(804) 649-6442
Twitter: @wayneeppsjr