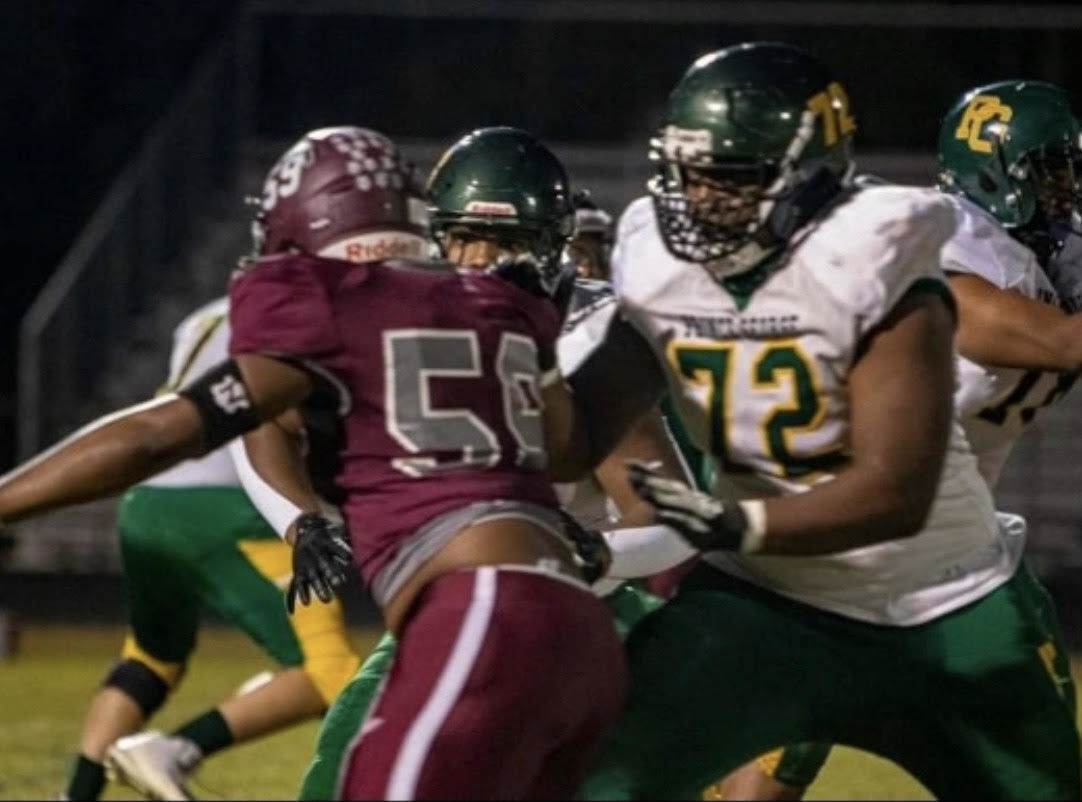 For Jaelin Montgomery, spring 2019 brought a spark that lit a fire.
Montgomery, a 6-4, 310-pound offensive lineman at Prince George, attended a Liberty camp last May. He garnered an offer from the Flames — his first.
That offer opened his eyes to the prospect that he could do something big. He started taking football more seriously. He began to run more and to hit the weights nearly every day.
His coach at Prince George, Bruce Carroll, lauded his work ethic. Carroll said Montgomery's sophomore-season tape was good, the fall before the Liberty camp. His junior year tape this past season, though, was "really good."
Several offers followed this spring, including one from James Madison on April 14. Unable to visit schools because of the COVID-19 pandemic, Montgomery based his evaluations on the relationships he developed with the institutions' coaches. He built a good rapport with JMU running backs coach Matt Merritt (his lead recruiter) and offensive line/assistant coach Damian Wroblewski.
So, ready to secure his spot, Montgomery announced his commitment to JMU last Thursday.
It was a moment the rising senior has been working toward for a while, a push kicked into overdrive by that first offer last spring.
"It's just, this can be my future," Montgomery said. "So, I'm going to work hard for it."
Montgomery said he gets the work ethic from his father, Antoine. He wasn't particularly fond of the weights and the running in the past, but he began working harder last year after the Liberty offer.
Now, Carroll said Montgomery wants to be in the weight room. When he's not in the weight room with the team, he's there with his father.
That training translates to the field to help shape a player Carroll described as powerful — one who can finish blocks and drive defenders to the ground.
"A lot of offensive linemen have really good tape, but don't finish blocks. He does," Carroll said. "He's athletic enough that he can put a kid on the ground, keep his feet and go find somebody else."
Montgomery has played guard and tackle for the Royals. He was the centerpiece of an offensive line that Carroll said was the strongest position group on the team last season.
In the preseason, Carroll had a frank talk with Montgomery. The coach told Montgomery that he didn't feel he was performing his best in practice. Montgomery thus went into the Royals' season opener against Douglas Freeman — a 16-13 victory — particularly motivated, turning in one of his best performances of the year.
"And I just carried that on for the rest of the season," Montgomery said.
The Royals (7-4) went on to make the playoffs for the first time since 1994, before falling to Deep Run in the first round.
Montgomery's offers this spring included a range of FCS schools that, besides JMU, also included Richmond, VMI, Towson and Georgetown. FBS offers, other than Liberty, included Old Dominion and ECU.
Because of the pandemic, the recruiting this spring occurred via phone and Zoom for the most part.
JMU's Merritt became a mentor and friend, Montgomery said.
"It made it way easier for me to commit there, than any other school," said Montgomey, who said the Dukes have discussed placing him at tackle. "So I felt comfortable."
Another offensive lineman out of Prince George, Caleb Hamlett, went to JMU as a preferred walk-on in 2018. He's no longer with the team, but he helped coach Prince George's offensive line this past year. Montgomery said Hamlett pushed him.
"He would get on me if I wasn't doing my best," Montgomery said of Hamlett. "And I really do thank him for that. Because it got me to where I am today."
Carroll said Montgomery plays the game how it used to be played — with an uncommon level of physicality.
"I mean, the kid's special," Carroll said. "He could be something else."
Dimitri Georgiadis, a former standout at Benedictine, has signed to play at IUPUI, the school said Monday. He has three years of eligibility remaining.
Georgiadis averaged 12.1 points and 10.7 as a senior for the Cadets in 2017-18. He spent three years at Benedictine, after attending Trinity Episcopal as a freshman.
The 6-9 forward attended The Citadel out of high school. He played six games there as a freshman in 2018-19, before redshirting. He shifted to State Fair (Mo.) Community College this past year, where he averaged 3.9 points and 5.6 rebounds over 27 appearances, including 17 starts.
Georgiadis has also spent time with the Romanian U18 and U20 national teams.
(804) 649-6442
@wayneeppsjr