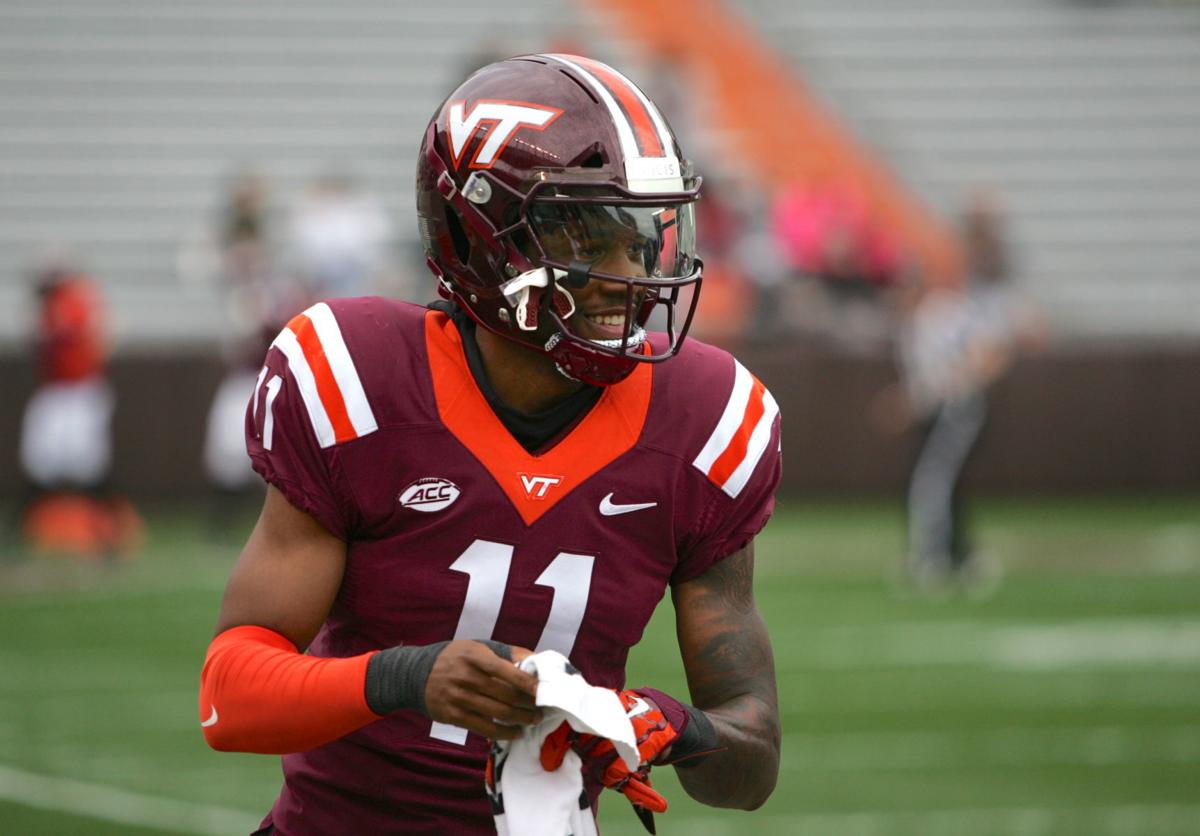 BLACKSBURG — First-and-10 at the Virginia Tech 40-yard line.
Wide receiver Tre Turner lines up in the slot and finds a seam in the Miami defense. He catches a short post route that ends up as a 45-yard gain, down to the Hurricanes' 15-yard line.
Most fans and Turner's teammates see a big play, a catch-and-run that set up the Hokies' first touchdown of last year's game against Miami.
"I got tackled by the back of my cleat," Turner said. "I'm like, 'Pick your knees up.' Simple stuff like that and you get in the end zone. There's multiple plays like that that I watch and I'll just be mad I didn't score. Everybody else will be hyped because it's a highlight. I'm like, 'No, I should have scored on that play.'"
Turner had plenty of highlights last season, making an instant impact for Tech as a true freshman. He caught 26 passes for 535 yards and four touchdowns. He averaged a team-high 20.6 yards per catch, earning the nickname "Big Play Tre" from his teammates.
But Turner looks back on his rookie season and sees all the plays that could have been bigger if not for a shoestring tackle here, a bad route there and the occasional drop.
"I watch everything," Turner said. "I was impressed by the plays that I made, but I knew I had a lot to improve on. Looking at my routes, how I get off presses, how I'm getting tackled by my legs, all that stuff. I've worked all summer on every aspect of my game."
Tech backup quarterback Hendon Hooker has had a front-row seat to Turner's drive for perfection, not only on the field but off it. The two Greensboro, N.C., natives were roommates last year.
"He's definitely hard on himself," Hooker said. "He's always trying to find ways and wants to take his game to the next level."
It's why many expect the 6-foot-2, 187-pound Turner to have an even more productive season this year as a sophomore.
What his coaches want Turner to guard against is feeling pressure to put up big numbers in his second season. He's focused this offseason on sharpening his route running and improving his blocking.
"He has to not worry about going out and trying to do much," new Tech wide receivers coach Jafar Williams said. "Go out and do your job. The game will come to Tre Turner. He's a very talented player. We'll put him in positions to make sure we're giving him the opportunity to have success, but he doesn't need to worry about anything. He needs to just focus on every game, every play and going out there and executing, and his talent will show up."
The Hokies — who open the season Saturday at ACC opponent Boston College — return four of their top five pass catchers, including Turner and Damon Hazelton, who led Tech with 51 receptions for 802 yards and eight touchdowns.
Two other receivers — Eric Kumah (Old Dominion) and Sean Savoy (Maryland) — transferred out of the program, but the Hokies have a number of other options at the position, including eight true freshmen and five redshirt freshmen.
That group of youngsters is highlighted by redshirt freshmen Darryle Simmons and Kaleb Smith and true freshman Tayvion Robinson, who also is a candidate to return punts.
The question for the Hokies is: Will any of the young prospects emerge as quickly and proficiently as Turner did?
"Tre is a guy who has some natural feel for the game," Williams said. "He lets the game come to him. ... I love how he works, I love his competitiveness, I love his knowledge on the field."
Tuesday, Turner said he's taken on the responsibility of helping to mentor some of the younger receivers in the program, including Robinson.
"I got them under my wing," Turner said. "I stay in a suite full of freshmen on campus. I keep my freshmen accountable."