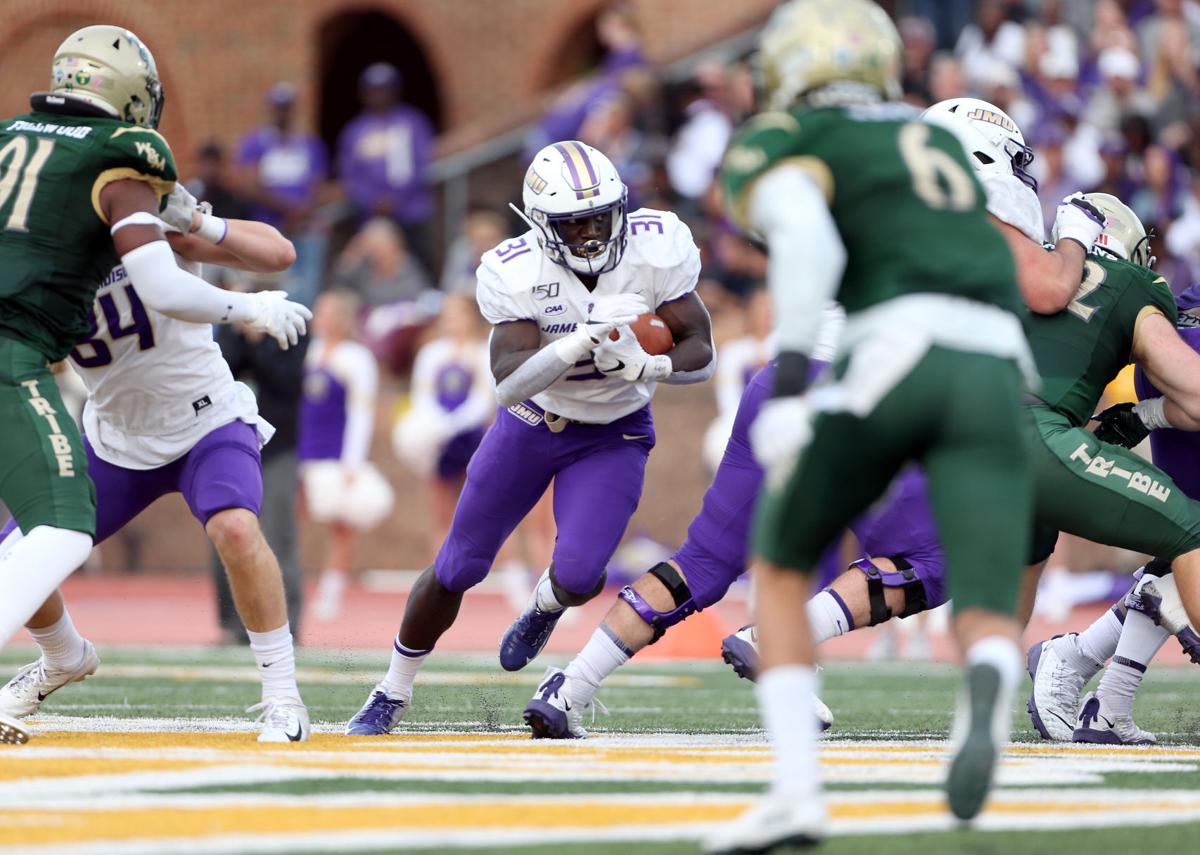 Budget-busting coronavirus testing costs associated NCAA guidelines and other factors will end CAA Football's goal of playing as a league this fall through a pandemic.
The CAA, an FCS conference, on Thursday night offered no response after Bruce Feldman of Fox Sports and The Athletic reported that the CAA intends to announce Friday that it will not compete in 2020. That is the CAA's Friday plan, two sources told the Times-Dispatch Thursday night.
CAA member James Madison on Thursday began trying to put together an independent schedule that would allow the Dukes to play in the fall, if there are enough active FCS teams for the NCAA to conduct FCS playoffs. JMU players had already reported to campus for voluntary workouts.
In addition to JMU, the 12-team league includes Richmond and William & Mary. The Spiders and Tribe — neither program's players have reported to their campuses — are not expected to play football in the fall.
Complicating the CAA situation is the mixture of 12 athletic programs with varying affiliations for other sports.
In addition to the five full CAA members (JMU, Delaware, Elon, Towson and W&M), the CAA has football members from the A-10 (UR, Rhode Island), the Big East (Villanova) and America East (Maine, New Hampshire, Albany and Stony Brook).
Schools were uncomfortable with the prospect that some of their fall sports would play in one league while others would not in another league. Also, FCS leagues do not have lucrative TV deals, as Power Five conferences do, significantly reducing motivation to play football with health risks connected to the coronavirus.
CAA Football becomes the fourth FCS league to call off football for the fall, joining the Ivy League, the Patriot League and the Mid-Eastern Athletic Conference.
The NCAA on Thursday announced modified guidelines for safely playing football in the fall and among them were testing protocols whose costs precluded many FCS schools from trying to play while staying within their budgets.
In June, CAA commissioner Joe D'Antonio told The Times-Dispatch, "We're certainly tracking on two words that I continue to talk to our folks about, complexity and cost — mitigating the complexity of being able to run an event, and the cost associated with running an event."
D'Antonio could not be reached for comment Thursday. A UR spokesperson said neither the school nor football coach Russ Huesman would have comments.
Richmond announced on July 1 that its football players would return to campus on Wednesday to begin voluntary workouts, along with men's and women's basketball players. But the school determined early this week that football players would not report to campus.
At that time, it still appeared possible that each CAA team could play a season of eight league games. Before Thursday's developments, W&M had already lost all three of its nonconference games. The Tribe were scheduled to open at Stanford, a member of the Pac-12, which determined its teams would play only league games. W&M was also slated to play Lafayette and Colgate, of the Patriot League.
Richmond lost a game at Yale, of the Ivy League. All of JMU's 11 games were still scheduled to be played, including nonconference dates against North Carolina, Chattanooga and Merrimack.
(804) 649-6233
@RTDjohnoconnor