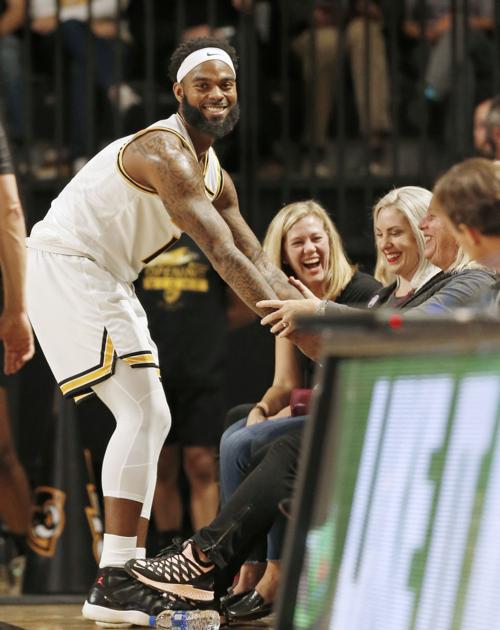 In Tuesday's season opener against Saint Francis, VCU stuck with the same starting lineup it used in its Oct. 26 exhibition versus Virginia State, which meant Richmond native and Highland Springs alumnus Mike'L Simms officially earned his second career start with the Rams.
Simms joined returning starters Marcus Evans, De'Riante Jenkins, Issac Vann and Marcus Santos-Silva in VCU's initial lineup. The senior was inserted into the "four" spot, the traditional power forward slot in the lineup.
At 6-5 and 210 pounds, Simms is on the smaller side for that position, but coach Mike Rhoades likes having his shooting ability on the floor at that spot.
Simms missed his lone shot attempt of the night Tuesday, from deep, but Rhoades thought he did well defending Saint Francis' Myles Thompson early in the game. Thompson didn't score his first basket until the 7:22 mark of the second half.
"He's out there, he's got to make shots for us, he's got to make 3s for us," Rhoades said of Simms. "But he can do other things as well. He's really improved his defense, and I think that helps us."
Simms, who averaged 15.9 minutes last season, played 25 minutes Tuesday with another option, sophomore Vince Williams, out with a concussion. Williams collided with junior Marcus Santos-Silva's shoulder going for a rebound in practice. But Rhoades said Williams will be ready to go for Friday's game against North Texas.
Simms has been a quality contributor off the bench for VCU in his now two-plus years with the program after transferring in from Cowley Community College. His only other start came against Hampton last November.
But the Rams don't really talk about starting or not starting, Rhoades said. With their depth, players are going to contribute regardless.
"We're going to play 10 guys all the time, 11," Rhoades said. "And, you got to be ready. That's the biggest thing."
(804) 649-6442
@wayneeppsjr