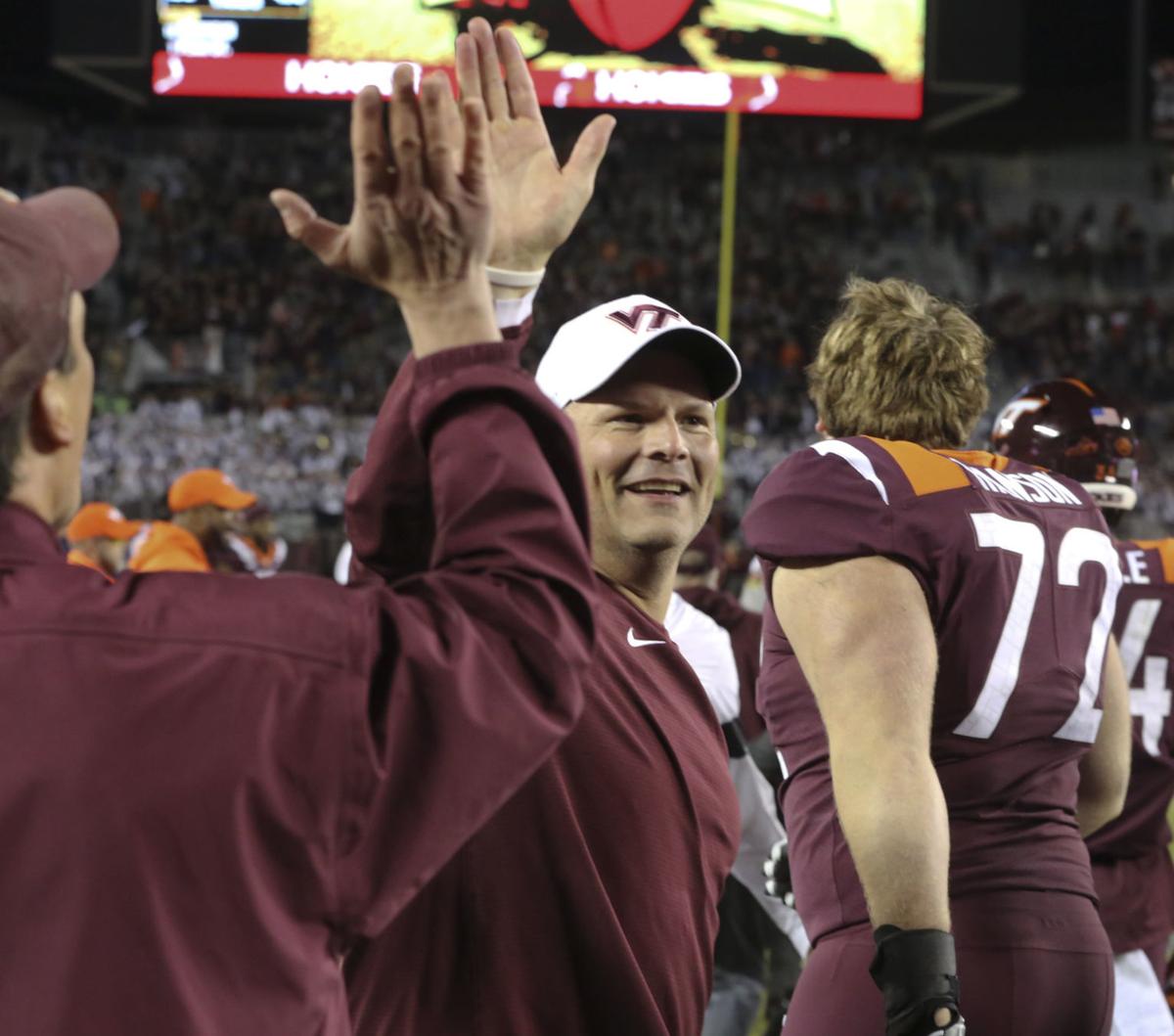 Virginia Tech football coach Justin Fuente met with Baylor officials Wednesday to talk about their opening, then informed the Bears' brass Thursday morning he would be staying in Blacksburg, Hokies athletic director Whit Babcock said.
Fuente tweeted a photo of himself and his staff in Hokies gear Thursday morning, along with the words, "2020 — Let's Go!"
"Thankfully, Justin put it to rest quickly," Babcock said Thursday afternoon. "Justin was in the office yesterday morning with the staff going over all recruiting and right back at it today. To my knowledge, he never left Blacksburg."
Babcock's "knowledge" comes directly from Fuente, he said. The coach informed him Tuesday night when Baylor officials asked to come to Virginia to meet with Fuente in the Blacksburg area to discuss hiring him to replace Matt Rhule, who was hired by the NFL's Carolina Panthers.
Fuente then informed Babcock when that Wednesday meeting concluded. Thursday morning, he told his boss he would be staying with the Hokies.
Babcock declined to answer when asked directly whether Fuente had been offered the Baylor post. "That's not my position to speak about," Babcock said. "He told them this morning that he was not interested."
Fuente did not speak to the media Thursday. Babcock said the coach preferred to "get back into the groove" of coaching, though he acknowledged fans might have wanted to hear directly from the coach.
"They might," Babcock said. "That's why I'm doing this. Justin wants people to know. I just felt like I could be the messenger."
Babcock hired Fuente away from Memphis after the 2015 season, tapping him to succeed legendary coach Frank Beamer. And the athletic director insisted this week's Baylor drama had no negative effects on the two men's relationship.
Babcock went out of his way to call Fuente "loyal" and noted the coach has turned down numerous overtures in the past. "He has turned down a number of other opportunities, a lot of money and his loyalty is probably not as widely known as it should be," Babcock said.
Babcock also credited Fuente for not using Baylor's interest in him to try to leverage additional salary or to make any other demands. Babcock said he met with Fuente two weeks ago to discuss budget and staff needs and that Tech is committed to supporting Fuente.
Fuente, a 43-year-old Oklahoma native, is 33-20 in four seasons at Tech. This season, the Hokies went 8-5, turning around their season after a disastrous home loss to Duke and coming within a win of an ACC Coastal Division title.
But they also lost to rival Virginia in the regular-season finale, a de facto title game, and then lost to Kentucky in the Belk Bowl.
Hired to take over after Beamer's retirement, Fuente — coming off a successful four-year stint at Memphis — led Tech to an ACC Coastal Division title in 2016.
He went 10-4 that first season, but is just 23-16 with three bowl losses the past three years.
Fuente's decision to interview for the job, reportedly in person on Wednesday, rankled a fan-base that is already largely luke-warm on the coach.
The former Oklahoma quarterback worked previously at TCU and a move back to Big 12 territory seems logical, but news of his flirtation with Baylor broke the same day Tech announced the completion of his staff with the hiring of former JMU assistant Ryan Smith as the Hokies' cornerbacks coach.
Had Virginia Tech been thrust into a coaching search in mid-January, after the early signing day, it could have thrown the program into a mad scramble to land a new staff and keep recruits.
After Beamer spent 29 seasons leading the Hokies, the idea that Fuente was looking to move on after just four rankled fans, but Babcock said Fuente's willingness to listen to Baylor should not change anyone's perception of the coach. "He's not Frank Beamer and he's not Bud Foster. And we don't want him to be," Babcock said. "He's a little more private than most, but when you know the Justin that I know, you know how much of a Hokie he is."