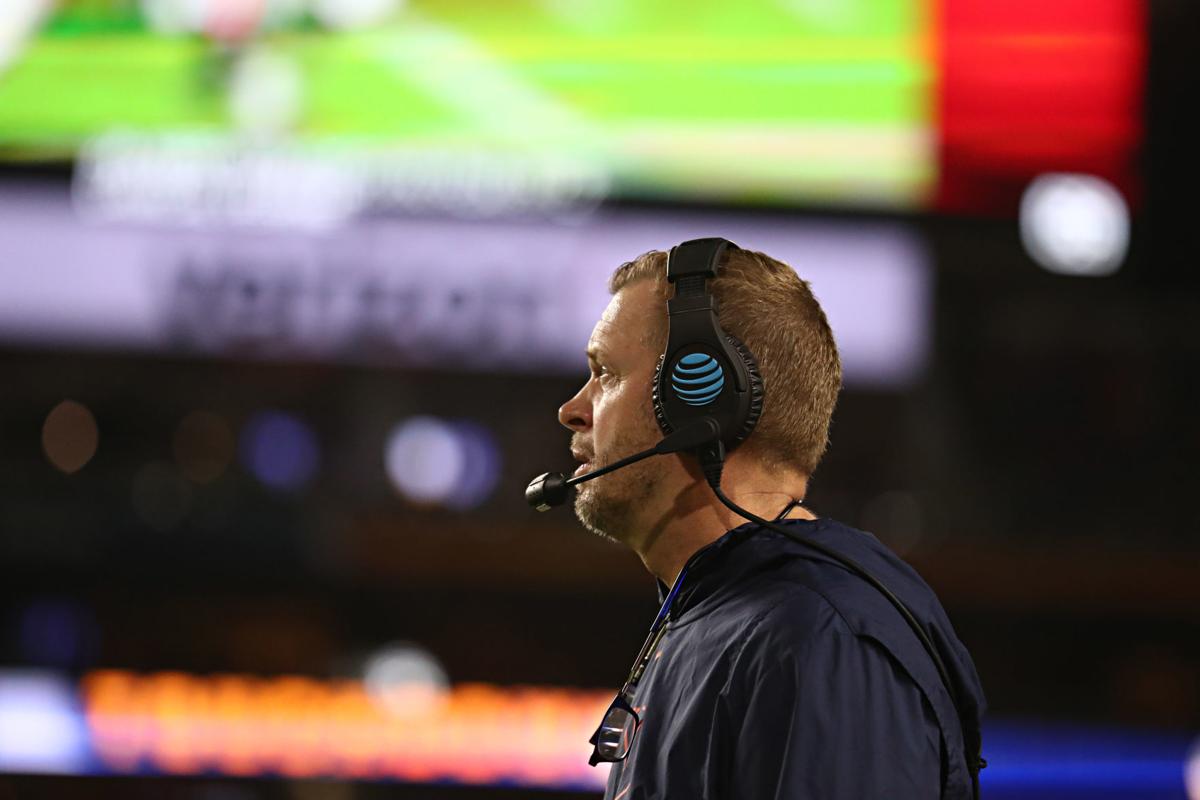 CHARLOTTESVILLE — The NCAA's decision to allow voluntary on-campus workouts to resume on June 1 for college football and basketball players won't impact Virginia's football team, coach Bronco Mendenhall said Thursday.
That's because, while the NCAA has given athletes the green light for those workouts, neither the Commonwealth of Virginia nor UVA has approved such activity.
"Even though the NCAA has and is allowing voluntary workouts starting June 1, as we know, in this environment they're really not determining what's happening," Mendenhall said during an online interview session with local media. "The states and each institution really are determining what is safe. So we're following the state and CDC guidelines and working with our own medical people, and right now our institution, meaning our fields and our offices and our weight rooms are not open."
On Wednesday, the NCAA announced that its Division I Council, during an online meeting, had voted to allow athletes in football and men's and women's basketball to resume voluntary on-campus workouts starting June 1. Those are workouts not supervised by the coaching staffs but can take place at school facilities.
The move lifts a ban on athletic activities announced in March by the governing body of college athletics in response to the spread of COVID-19.
Now, some schools in the ACC and across the country will have players putting in preparation work for the 2020 season, getting on campus to work with strength coaches and administrators and working out with teammates, while UVA will not.
"It's invaluable," Mendenhall said. "So, anyone that's providing that certainly could have an advantage. However, still remains to be seen if it's safe to do so, and it still remains to be seen if June 1 is some magical date where the data has now supported people coming back. So it might work the other way, where those coming back early might then have to stop, regroup and then hold because it's too early."
Mendenhall indicated he understood and appreciated the complexity of the issue.
"The biggest question I think right now that each state is wrestling with, that each institution is wrestling with and relying on the medical community to help us, is, 'Is it appropriate to come back yet?'" he said.
Mendenhall said only between 6-10 players are currently in Charlottesville, either because they're from the city or felt their living situations there were preferable to their other options.
When athletes do return to campus, Mendenhall anticipates a period of mandatory quarantine, possibly in campus housing, followed by new precautions and procedures when they return to their permanent residences.
Mendenhall said no decisions have been made yet about modifications to the current facilities to help prevent the spread of the virus, but he said he's part of daily meetings to address possibilities.
"It changes so fast, and new dynamics and new problems come up," said Mendenhall. "There's a lot of moving parts, in terms of the housing of the players, the meals for the players, the transportation — this would be for all students as well, not just the players. So for all students and how to keep them safe and give them the best care, let alone practice and work out and train with weights and possibly share equipment."
Mendenhall said the NCAA's chief medical officer recommended "not sharing the ball for four weeks" when teams do return to practice.
"I don't know how you play football without sharing the ball," said Mendenhall.
Overall, Mendenhall, 25-27 in four years at UVA and coming off a 9-5 season that included an ACC Coastal Division championship, a win over rival Virginia Tech and a trip to the Orange Bowl, said he remains hopeful the 2020 college football season will be played.
"I think football will start in the fall," said Mendenhall. "It's too soon to tell whether it will start on time and what it will look like. … My hope is that we can play it for a boost in spirit and a sense of community to rally around."