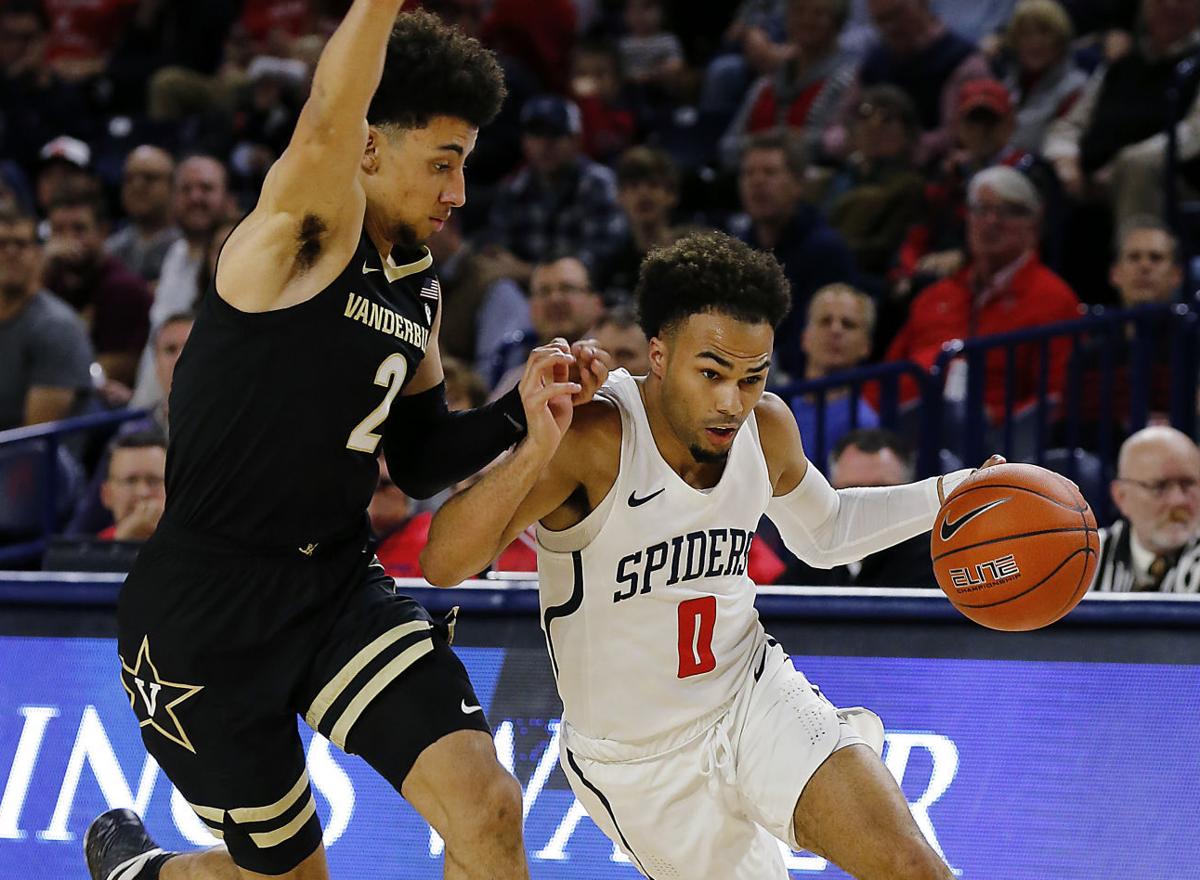 With Thursday's release of the Atlantic 10 men's basketball schedules for each league program, the University of Richmond's overall slate comes into focus a bit more clearly. With at least a couple of games left to secure, it may end up being the most challenging schedule in program history.
That's presuming the Spiders deal with it in its entirety.
Viral concerns have led to speculation that only conference games will take place during 2020-21.
"You have to prepare like there's going to be a season and we're going to start on time," said Richmond guard Jacob Gilyard, the A-10 2020 defensive player of the year and a first team all-conference selection. "But nobody really knows. Right now, everybody's kind of nervous. I think you've just got to take it one day at a time."
Gilyard is one of five senior starters who return from a 24-7 team (14-4 A-10) that was in position for NCAA tournament qualification when the pandemic shut down college athletics during mid-March. The presence of so many veterans coming back from a successful operation explains the schedule's elevated degree of difficulty.
"We don't want to miss out on the [chance] to give ourselves an opportunity to play our way into the NCAA tournament. In order to do that, you have to take a couple of risks," said Marcus Jenkins, an associate head coach and the Spiders' staff liaison for scheduling.
The 2020 NCAA men's basketball tournament was scheduled to result in a distribution of about $600 million to 350 Division I schools. Its cancellation meant the pool shrunk to $225 million, with $50 million of that coming from NCAA reserves. That seems highly unlikely to happen again, according to Richmond coach Chris Mooney.
"I think the people within college athletics that are in power, or invested, would feel that they need the NCAA tournament to happen for a billion reasons, and for everything that provides for all of college athletics," said Mooney, in his 16th year at UR.
"My thought would be that they will do everything they can to protect the tournament being played."
Before any sort of postseason, will teams travel by air? Will fans be in attendance, based on state-by-state governmental guidelines? When will the regular season begin, and will there be any nonleague games?
The Spiders' 18-game A-10 schedule has Richmond playing home-and-homes with Saint Louis, the presumptive preseason favorite, and St. Bonaventure, also expected to be projected among the top four. UR is likely to be picked second, behind Saint Louis.
If things proceed as planned, these are the opponents the Spiders will play, their records from last season, and their leagues:
Home: Hartford (18-15, 9-7 America East), Detroit Mercy (8-23, 6-12 Horizon), Hofstra (26-8, 14-4 CAA), Northern Iowa (25-6, 14-4 Missouri Valley), Old Dominion (13-19, 9-9 C-USA); A-10: Duquesne (21-9, 11-7), Fordham (9-22, 2-16), George Washington (12-20, 6-12), Rhode Island (21-9, 13-5), George Mason (17-15, 5-13), La Salle (15-15, 6-12), St. Bonaventure (19-12, 11-7), Saint Louis (23-8, 12-6), VCU (18-13, 8-10).
Road: Kentucky (25-6, 15-3 SEC), Cincinnati (20-10, 13-5 American Athletic), Colorado State (20-12, 11-7 Mountain West), Vanderbilt (11-21, 3-15 SEC), Charleston (17-14, 11-7 CAA); A-10: Davidson (16-14, 10-8), Dayton (29-2, 18-0), Massachusetts (14-17, 8-10), Saint Joseph's (6-26, 2-16), George Mason, La Salle, St. Bonaventure, Saint Louis, VCU.
Bucknell remains a potential Robins Center visitor, and the Spiders are looking for another game or two. Mooney mentioned the possibility of a neutral-site game. The Hartford and Detroit Mercy games are part of the Bluegrass Showcase that will send Richmond to its first meeting with Kentucky, on Nov. 23.
The Spiders' date at Colorado State is part of the Mountain West-A-10 Challenge series, a scheduling partnership that covers the 2020-21 and 2021-22 seasons, with an option to extend the partnership for an additional two years, into the 2023-24 season.
The only Spider who has not returned to campus for workouts is junior guard Andre Gustavson, a resident of Finland who continues with national team responsibilities at home. He is expected to rejoin the Spiders Aug. 10. Classes resume Aug. 24.
(804) 649-6233
@RTDjohnoconnor