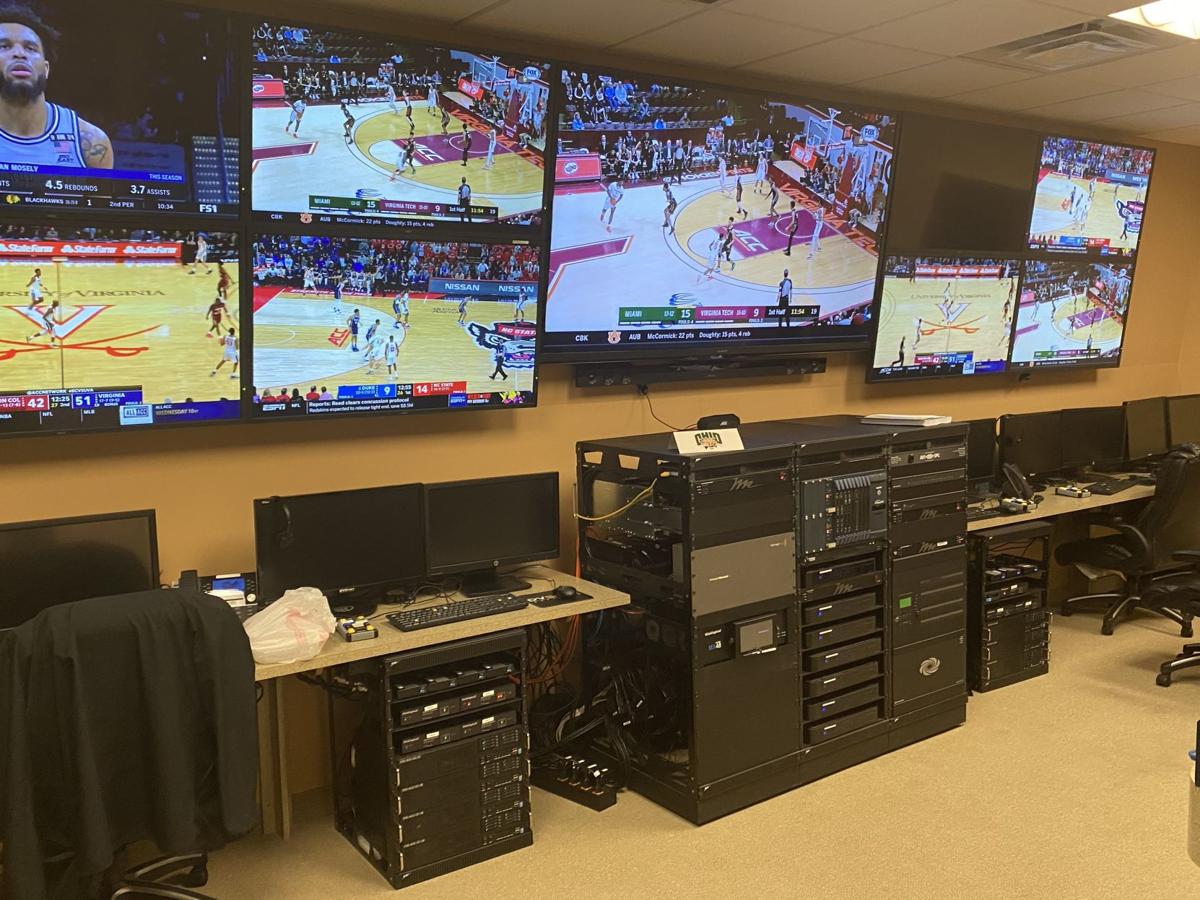 This story marks the first appearance in The Times-Dispatch for David Teel. Teel, formerly of the Daily Press in Newport News, is one of the state's most respected sportswriters, a 13-time Virginia Sportswriter of the Year and a member of the Virginia Sports Hall of Fame.
Teel is joining the Times-Dispatch as a special correspondent from now through the end of this year's NCAA tournament. His columns will appear exclusively in print and at Richmond.com.
GREENSBORO, N.C. – Paul Brazeau was the NBA's vice president of operations for the infamous Malice at the Palace, a 2004 brawl between the Indiana Pacers and Detroit Pistons. In disbelief, Brazeau watched on television as, after the initial fight, a Palace of Auburn Hills spectator threw a drink at Pacers forward Ron Artest, who charged into the stands.
Knocking on the wood of a restaurant booth early Wednesday evening, Brazeau says nothing remotely approaching that madness has transpired during his six seasons as the ACC's senior associate commissioner for men's basketball.
Five subsequent conference games Wednesday, starting at 7 p.m., and ending at 11:45, after the longest Virginia Tech contest in 37 years, don't rock Brazeau's world either. But they teem with improbable shots, create some history and enhance the league's NCAA tournament prospects.
Brazeau and assistant commissioner for men's basketball Lee Butler monitor all of the action from the ACC's command center, located on the second floor of league headquarters. This man cave on steroids includes nine television screens, a dozen computer terminals and state-of-the-art recording technology that connects them with venues across the country, ACC and otherwise.
Butler and Brazeau graciously welcome me to their watch party and offer considerable insight throughout. The conference's supervisor of officials, 2015 Final Four referee Bryan Kersey, observes the games on televisions and tablets he has wired in his Newport News insurance office and is in frequent contact with Brazeau via text and calls.
This is their routine for much of the season, especially on days that feature multiple league matchups. Brazeau, Butler and Kersey, a frequent command center presence, evaluate game management by officials and event staff, plus coach, player and fan conduct. They eavesdrop on TV commentary and contact network personnel to assist with rules interpretation.
Lest you think this is all work: They watch like the rest of us, as basketball fans, applauding and second-guessing players, coaches and referees.
The narrative surrounding the ACC this season is universal. College basketball's premier conference is down, its programs ravaged by graduation, early NBA departures, transfers and injuries.
Indeed, the 15-school ACC is likely to send fewer than six teams to the NCAA tournament for the first time since 2013, when membership was at 12. Moreover, Ken Pomeroy's metrics rank the ACC fifth nationally this year behind the Big Ten, Big 12, Big East and Pacific 12, its lowest standing, again, since 2013.
Brazeau understands but believes much of the narrative is driven by six-time NCAA champion North Carolina residing in last place. If perennials such as the Tar Heels are down, then the rest of the league must be, too.
The ACC is the only Division I conference that didn't return a first- or second-team all-league player from last season, a talent drain unprecedented in ACC history. But as Brazeau has told the two NCAA tournament selection committee members assigned to monitor the ACC, five league teams – Notre Dame, Pittsburgh, Miami, Boston College and Georgia Tech – already have exceeded their conference win total from 2019, creating more top-to-bottom competition.
Early in Louisville's 90-66 rout of Syracuse on Wednesday, the narrative is apparent.
"This is not a vintage ACC," ESPN analyst Dick Vitale tells his audience.
"How often do you have vintage?" Brazeau counters. "What does vintage mean?"
As an administrator, Brazeau judges seasons, in part, on quality of officiating, overall competition and lack of controversy. But like most of us, he also judges based on national championships, Final Four qualification and NCAA bids.
Florida State, Duke and Louisville are the only ACC teams assured of making the NCAA bracket this season, but two other aspirants improve their stock Wednesday.
With its most productive offense of the season, Virginia dusts Boston College 78-65, while North Carolina State routs Duke 88-66. Fueling the latter, Markell Johnson's career-high 28 points, three of which come on a 50-foot heave that beats the halftime horn.
The 22-point margin is the Wolfpack's largest over a top-10 opponent since March 1959 and its largest versus Duke since January 1978. Still, Brazeau worries the media narrative will influence selection committee members.
"They talk about the eye test," he says, "but they also listen to the games."
The first of Wednesday's 10 replay reviews occurs in the first half of Virginia-Boston College when Cavaliers point guard Kihei Clark throws a lob at the rim for Jay Huff. But the pass becomes an inadvertent made shot, which officials rule a 2-pointer.
Realizing Clark was near the 3-point arc, and with UVA coach Tony Bennett urging a review, the crew of Mark Schnur, A.J. Desai and Bert Smith check the replay during the next stoppage of play and award Clark a 3-pointer.
With the push of a button, the courtside replay technician at John Paul Jones Arena creates an email, complete with video angles, resolution and time elapsed, that goes immediately to Brazeau, Butler and Kersey. The decision is quick (75 seconds) and clear, just as the system was designed.
The trio isn't unanimous on a flagrant foul assessed, after review, on Duke's Vernon Carey, but none of the evening's replays are tediously long.
"Replay was supposed to fix egregious errors," Brazeau says, "And now it's looking to achieve perfection. People complain about officials taking too long with replays. But we created that, not them. They're just trying to get it right."
Kersey and Brazeau, a former assistant coach at Boston College and Ohio State and head coach at Hartford, bear the brunt of coaches' complaints about officials, and vice-versa. But there are no gripes on this night, not even from Syracuse's Jim Boeheim or Virginia Tech's Mike Young, both of whom receive technical fouls for objecting to calls.
Brazeau is often the first to contact a coach who has strayed over the line with public criticism of officials. Case in point, Notre Dame coach Mike Brey's rant following a loss to Florida State last month.
The ACC publicly reprimanded Brey, one of the league's foremost ambassadors and president of the National Association of Basketball Coaches, the next afternoon and levied a $20,000 institutional fine.
"It's hard when they try to thread the needle," Brazeau says of the coaches. "It's easier when they just lose their minds."
At halftime of an 86-79 loss to Georgia Tech, Wake Forest honors its 1995 ACC championship team and raises a banner to honor that squad's coach, Dave Odom. Among those in attendance is Duncan, the Deacons' mid-'90s linchpin and one of the greatest players in NBA history.
Which prompts a fascinating recruiting story.
As a rookie head coach at Hartford in 1992, Brazeau traveled to Duncan's native Virgin Islands for a home visit. With family living in Columbus, Ohio, Duncan had attended Ohio State's camp in 1991, when Brazeau was a Buckeyes assistant.
"How good was he at camp?" Butler asks.
"He wasn't," Brazeau says.
But Brazeau thought Duncan's potential merited a scholarship offer from a modest program such as Hartford, and Duncan took official recruiting visits there, to Providence, Wake Forest and Division III Swarthmore, where another family member was enrolled.
Brazeau couldn't understand why an ACC program would recruit such a raw prospect. Duncan left Wake Forest as a two-time ACC Player of the Year and first-team All-American and the 1997 national Player of the Year. He is among the finalists this year for induction into the Naismith Basketball Hall of Fame.
"If Tim Duncan had come to Hartford, I wouldn't be here sitting with you," Brazeau laughs.
NOT ONE, NOT TWO, BUT THREE
The evening's final games – Duke at N.C. State, and Miami at Virginia Tech – tipped at 9 p.m. But only one goes triple-overtime.
In fact, Wednesday marks Miami's first triple-OT game ever, and Tech's first since 1983.
The contest is wildly entertaining and produces a series of clutch shots from the Hurricanes' Isaiah Wong and Hokies' Jalen Cone, both freshmen.
"Only real shooters take that shot," Butler, who played at Miami, says after Cone's pull-up 3-pointer in transition gives Tech a 62-59 lead.
The Hurricanes prevail 102-95, despite a season-high 26 points from Tech's Tyrece Radford, a redshirt freshman whose behind the backboard shot ties the game at 88 and forces a third overtime.
Radford's leaner, from just inside the baseline, appears to arc over the backboard, ideal for H-O-R-S-E but perhaps not for a college game.
Officials Keith Kimble, Earl Watson and James Breeding don't review the shot, but Rule 7, Article 3 of the NCAA rulebook states: "The ball shall be out-of-bounds when any part of the ball passes over the backboard from any direction."
Conferring via phone, Brazeau and Kersey agree the call was missed.
"I think it caught the crew by surprise," Brazeau says. "It's such a rare play."
During a subsequent on-air interview, Miami coach Jim Larranaga views the replay and good-naturedly suggests the same. Exhausted from the nearly three-hour contest, Larranaga seriously asks just how many overtimes the teams played.
As Brazeau and Butler stroll to their cars, it's 11:55 p.m. They'll be back in the office by 8:30 a.m., and will reconvene in the command center Saturday, when a six-game slate tips off at noon and, sans overtimes, figures to end around 10 p.m.