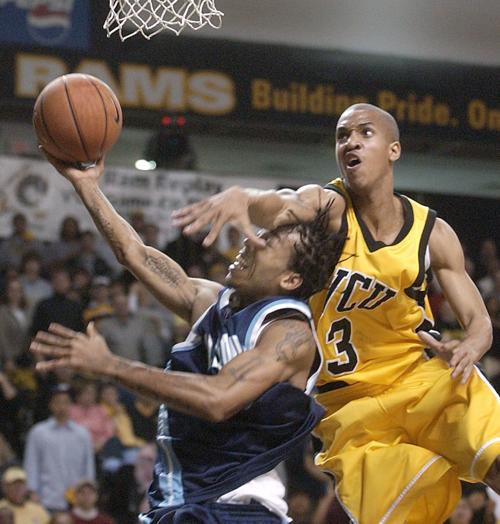 Kevin White has led five Division I athletic departments, including Duke since 2008. Todd Turner served as an athletics director in four major conferences before launching a search and consulting firm. Ben Sutton founded a college sports media business that became an industry pioneer.
These leaders envision the current economic downturn bringing substantive changes to intercollegiate athletics in the form of conference realignment and perhaps new governance for football.
Here's hoping they're right. The landscape has long needed a makeover to condense geographically disparate conferences and curb reckless spending.
And if that overhaul transpires, schools in Virginia figure to benefit.
These changes are not imminent.
The daily chaos of managing college sports during a global health crisis precludes the sober, deliberate reasoning big-picture decisions deserve.
But the long-term outlook for Division I was the central theme of a recent roundtable that was organized by Turner's Collegiate Sports Associates and featured Sutton, White and ESPN's Burke Magnus.
"I think if anybody would kind of sit in front of a group of ADs and aspiring ADs and others that are on this Zoom call, and kind of pontificate what the future would look like, they'd be Pinocchio at best," said White, a former athletics director at Maine, Tulane, Arizona State and Notre Dame. "I mean, nobody has any idea. …
"I think we're probably on the advent of creating a new model. I don't quite know what that means. The more I contemplate it every day, I find myself deep in thought about what that might look like."
A new structure would likely start with the Football Bowl Subdivision, an awkward grouping of 10 conferences and seven independents.
The ACC, Big Ten, Big 12, Pacific 12 and Southeastern Conference, aka the Power Five, designed and run the College Football Playoff. They also control the money.
Thanks to their individual television contracts and the CFP, the Power Five reported a combined $2.8 billion in revenue on their 2017-18 federal tax returns. Conference USA, the American Athletic, Mountain West, Mid-American and Sun Belt, aka the Group of Five, reported less than one-tenth of the Power Five's revenue, a combined $232 million.
Different resources translate to different priorities.
"Football's an outlier," Turner, a former AD at North Carolina State, Connecticut, Washington and Vanderbilt, said during an interview after the roundtable. "Football should be federated and operated independently of the NCAA."
The Power Five in football, which includes independent Notre Dame, breaking away from the NCAA is a long-discussed concept that would allow for centralized leadership, modernized regulations and enhanced television rights fees among the richest programs — Virginia and Virginia Tech reported a combined $207 million in athletics revenue for fiscal 2019.
Schools outside the Power Five such as independent Brigham Young, the Mountain West's Boise State and AAC's Central Florida and South Florida could also be included.
Some might clamor for a similar break in men's basketball. But much of the NCAA tournament's charm revolves around unexpected first-weekend conquests authored by the likes of Richmond, Wofford, Liberty and UMBC, and improbable Final Four appearances by programs such as VCU, George Mason, Butler and Loyola of Chicago.
A national championship basketball tournament without those folks would border on soulless.
The NCAA men's basketball tournament awards automatic bids to 32 conference champions, and heaven knows many of them need to be realigned. Consider the commonwealth, where 14 Division I schools compete in eight leagues.
Only one of Old Dominion's C-USA rivals, Charlotte, is within 400 miles of Norfolk. Four C-USA schools reside in Texas, two in Florida and another in Louisiana.
Similarly, Liberty's closest Atlantic Sun colleague is the New Jersey Institute of Technology, nearly 400 miles from Lynchburg. Four A-Sun members are in Florida.
Magnus and Sutton view conference memberships from 30,000 feet, Magnus as a television executive, Sutton as the founder of ISP Sports, which later became IMG College and is now Learfield IMG College. Sutton has since started TEALL Capital, a sports and entertainment investment firm.
"I've been inside where most of you are," Sutton said during the roundtable, "but when you're outside and you look at it, you think, 'Well, why are these three schools in this league and these two schools are in that league? And why wouldn't teams, why wouldn't … conferences get together and start kind of shifting players around to get … the square pegs in the square holes and the round pegs in the round holes?'
"There might be an opportunity to look at some of that right now. There might be opportunities to get your geography right."
This is hardly an original idea, and the details would be far more complex than the overarching premise, but merging C-USA's and the Sun Belt's East Divisions into a 12-team league, and their West Divisions into another 12-team league, would save untold travel money.
The eastern grouping would include schools in Virginia, North Carolina, South Carolina, Georgia, Kentucky, Alabama, Tennessee and Florida. The western contingent would be in Texas, Louisiana, Mississippi, Arkansas and Alabama.
That's not ideal, but it's much more logical than presently constructed and would place ODU in a conference with Appalachian State and Coastal Carolina instead of Rice, Texas-San Antonio, Texas-El Paso and North Texas.
"I'll tell you from Burke's perspective and my perspective, we've been in a media company, when you have far-flung conferences, and you don't have great rivalries, then it doesn't create great crowds at games, and therefore doesn't create great television theater," Sutton said during the roundtable.
He added that sponsors have become confused because "some of our [conference] setup is so screwy."
Cutting travel and other expenses is paramount in leagues such as C-USA, where television revenue plunged 74%, from $14.5 million in 2012-13 to $3.7 million in 2017-18. Fueling that decline was realignment out of which the league lost schools such as UCF, Memphis, Houston, Southern Methodist and East Carolina.
Not coincidentally, ODU's share of C-USA revenue dipped from $3.3 million in 2015-16 to $2.0 million in 2018-19, a trend certain to continue in 2019-20 and 2020-21.
If ODU could find a conference amendable to football-only membership, or if the Monarchs were willing to risk football independence, its other sports, most notably men's and women's basketball, would mesh well with the Atlantic 10. Annual home-and-home contests among ODU, Richmond, VCU and George Mason would harken to the Colonial Athletic Association's peak from 2006 to 2011.
Though his forecast doesn't help the scores of administrators in Virginia and beyond groping to project the short-term, ESPN's Magnus is upbeat about college sports recovering from the pandemic.
"I'm really sensing no long-term pivot," he said during the roundtable, "in terms of the interests of the truly important, or most important, advertising and sponsorship companies … that are invested in college sports. Again, we're all making short-term decisions based on very complicated circumstances, which are not great as we sit here today.
"But do I see … any fundamental cracks [in] the foundation of it? I don't right now, which is good."
College sports could buttress that foundation with sensible restructuring.