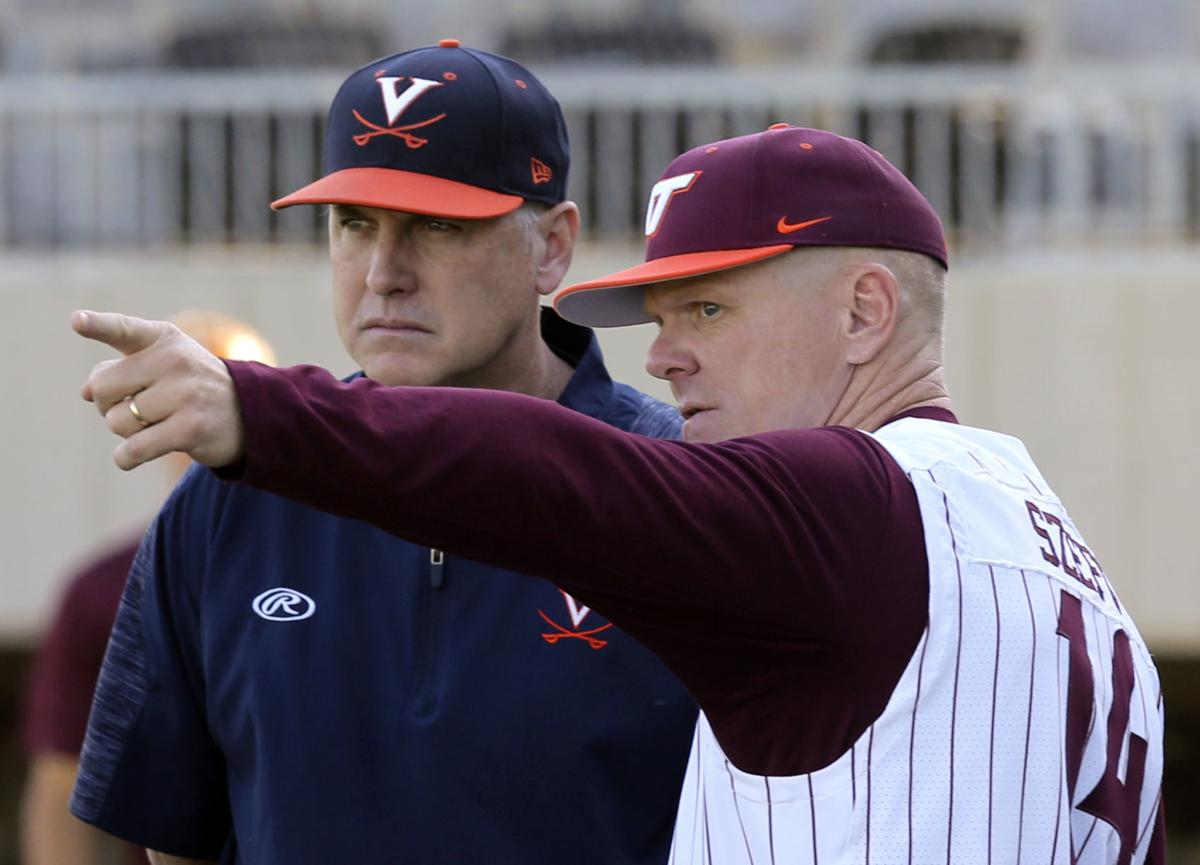 CHARLOTTESVILLE — Less baseball in the summer may necessitate more in the fall.
Virginia baseball coach Brian O'Connor and Virginia Tech's John Szefc said this week they would like to see the NCAA extend the fall season, if it's safe for athletes to return to competition, to make up for the time the players lost following the cancellation of the spring season and many summer leagues.
"I think we're going to need more time," said Szefc, whose team was 11-5 before its season ended, along with most of college athletics, on March 13 due to the spread of COVID-19. "I think every college program is going to need more time to get their baseball players ready and not rush them back. When you talk about player health, player safety and doing it right, I certainly don't want to have our guys take a couple of weeks and then start cranking it up. I don't think that's in their best welfare."
O'Connor, whose team was 14-4 and en route to an ACC series at Pittsburgh when the cancellation became official, said he would like to see the NCAA add one or two more weeks to the fall season, to allow the players to get a better opportunity to get themselves game-ready for the spring.
"We're going to try to play as many games and as many innings as the NCAA will allow us," O'Connor said.
Neither coach was aware of any formal proposal being worked on currently, though Szefc noted the NCAA and school presidents already have a number of more pressing issues on their plates before they'll be able to turn their attention to items like baseball's fall season.
Szefc said he's spoken with most of the coaches in the ACC about the idea.
"We just need a little more practice time. That's all," he said. "I think every college coach would agree with that. I know the ACC coaches would."
With many summer baseball leagues canceling, college baseball players figure to be champing at the bit to return to competition in the fall, if colleges do indeed reopen and athletics are allowed to resume.
"I liken college baseball players to thoroughbred race horses," Szefc said. "When you put a thoroughbred racehorse on the track, he's going to go. … They don't run at 80%. They go full blast."
For that reason, O'Connor thinks this coming fall season could be an unusually competitive and productive one.
"If it's somewhat of a normal fall, where we can play intrasquad scrimmages and things like that, fall baseball around the country will be more intense, more in depth than it's ever been," he said. "Because it's replacing last spring and summer ball."
O'Connor and Szefc said most, if not all, their pitchers are planning to take the summer off from competition, while many position players are looking for leagues close to home they can play in to get summer at-bats.
Szefc said its simply not safe for pitchers whose season halted nearly three months ago to ramp back up for a summer season that may or may not happen, and then potentially have to do that again in the fall.
"You take a pitcher who hasn't thrown since mid-March competitively against hitters and try to have him get ready on his own?" Szefc said. "That's kind of a risky move in some cases."
Still, there are some options for the hitters to get work in this summer.
While bigger-name circuits like the Cape Cod League and the Virginia-based Valley League already have announced the cancellation of their seasons, others, including the Coastal Plain League and the Piedmont League, still are aiming to play.
Smaller, pop-up leagues also are giving athletes the chance to keep playing without having to live with host families or travel great distances.
Of course, it's unclear where those leagues will be drawing their pitchers from with schools like UVA and Tech keeping their arms shut down until the fall.