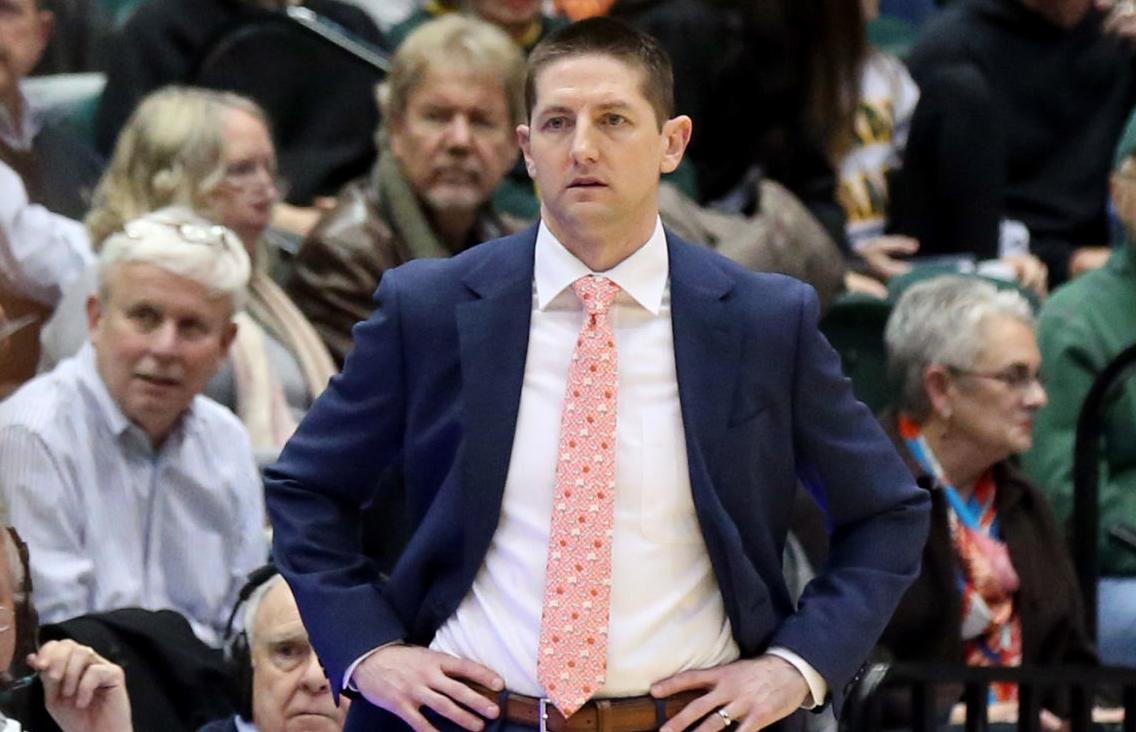 "Return to normalcy" may be spring's catchphrase and society's overarching goal, but it's one to which William & Mary basketball coach Dane Fischer cannot relate, professionally speaking.
His first 12 months with the Tribe were by no means normal.
Fischer was named at W&M on April 2, 2019, and before he got his pictures on the office wall, four players had transferred from the Tribe, two of them W&M graduates with eligibility remaining.
"I was pretty aware of what the situation was going to be when I did get here and knew some of the challenges that we were going to be facing," said Fischer, a former George Mason assistant. "And I also knew some of the really great things that we were going to be part of here."
The Tribe brought in six players, two of them graduate transfers, and then finished 21-11 (13-5 CAA), second place in the CAA despite being forecast as the seventh-place finisher in the league's preseason poll.
The Tribe featured two quality big men, 6-foot-10 Nathan Knight (21 ppg, 11 rpg), and 7-0 Andy Van Vliet (13 ppg, 9 rpg). Each was a senior. Van Vliet, a transfer from Wisconsin, played only one W&M season.
Twelve of the Tribe's first 16 games took place away from home.
Fischer was named CAA coach of the year.
A very strong regular season had W&M fans hoping that this was going to be the year that the Tribe made the NCAA tournament for the first time. They fell to seventh-seeded Elon 68-63 in the CAA quarterfinals, W&M's opening game in the tournament.
"Last year's team did a really good job of maximizing our abilities. We all know the end goal at this level is to play in the NCAA tournament. We certainly fell short of that this year," Fischer said. "But overall I think we made some really good strides for this program."
And now, the worldwide disruption caused by the pandemic extends Fischer's abnormal first year.
"This spring just presents a different challenge," he said. "We're trying to take it day by day and, like everybody else, try to figure out how the best way is to navigate through this."
Knight pops up in some NBA draft projections (second round). He was named the winner of the Lou Henson Award (top Division I mid-major player) as well as CAA player of the year and league defensive player of the year.
"The big thing with the draft at this point is obviously the uncertainty of everybody," Fischer said. "This is typically the time that the predraft workouts would be coming up, the workouts for the [individual] teams, and all of that stuff. Everything is just a little bit on hold, which makes this more of an unknown than it already is.
"It really is hard to project [Knight's status] with any kind of certainty."
"Stoic" is a fair way to describe Fischer's bench-area demeanor. He did not draw a technical foul this season and probably didn't come close. Fischer comports himself during games without emotion for a couple of reasons.
"The first one is that we talk all the time to our players about embracing the process of playing well and preparing well. I think for you to perform at your highest level it's very important that as a head coach I'm calm on the sideline and try to instill confidence in our team and our players by not overreacting to the results of possessions.
"The other reason for it is we talk so much about preparation in our program. I feel as though if we've done a great job as a coaching staff preparing our players to play, then they know what's expected of them.
"I know that we're not going to play perfectly every night. Guys are going to make mistakes. But I've always been a big believer that if a guy makes a mistake, we need to address it, but it doesn't need to be this big event every time it happens."
Fischer isn't the only coach in the family. His wife, the former Chelsea Chowning, played at Xavier and Kentucky, and then became a girls high school head coach before moving into other professional areas.
"We talk basketball a lot and we probably talk more just about our team and how the guys are doing, our rotation. She'll every now and then ask me about some in-game decisions that I make," Fischer said. "I don't know if it's so much that she's giving me advice, but she's certainly a great sounding board."
(804) 649-6233
@RTDjohnoconnor