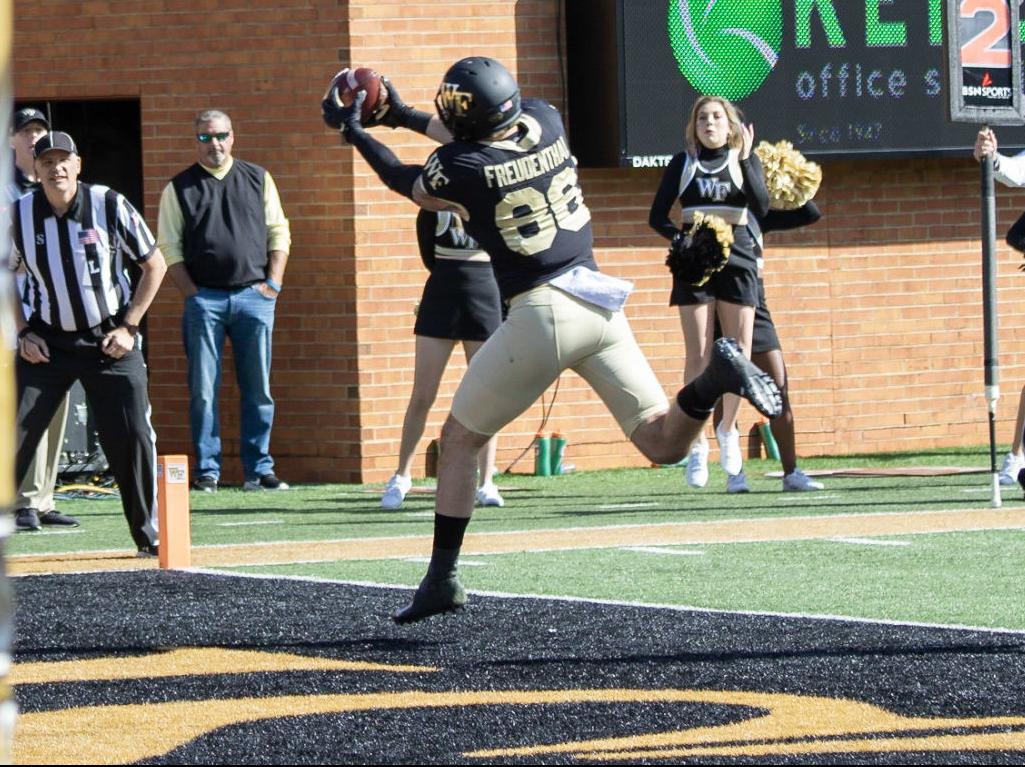 Jack Freudenthal had done it all at Trinity Episcopal, playing wide receiver, tight end, running back and wildcat quarterback on offense, along with end, linebacker and safety on defense. He even served as the team's long snapper.
Still, Freudenthal didn't get any real recruiting attention going into his senior year, so he went to a prospect camp at Virginia Tech, hoping to catch the eye of the coaching staff there and get a shot at playing for his home-state Hokies.
"They didn't even offer me a preferred walk-on," Freudenthal said this week.
Another ACC school did, however. Now, Freudenthal is going into his senior season at No. 19 Wake Forest (7-1, 3-1 ACC). He earned a scholarship and a starting position for Demon Deacons.
Last time out, he caught three touchdown passes in Wake's blowout of North Carolina State.
"He's a testament to hard work," said Wake Forest tight ends coach Wayne Lineburg, the former Richmond and Virginia assistant. "He's everything you want in a player and a person. I love him. He's one of my all-time favorite guys."
When Freudenthal first walked on for the Deacons, it was as a wide receiver, a position more fitting his then-6-foot-3, 186-pound body. But Wake Forest's only scholarship tight end in Freudenthal's class suffered an injury and eventually gave up the sport.
So, a week into preseason camp, Wake coach Dave Clawson approached Freudenthal about moving positions.
"I just love football and a played a lot of different positions growing up and in high school. I feel like that versatility helped me find a way on the field," Freudenthal said. "I didn't know where it would end up. I was 189 pounds when they told me to switch. I had to eat a lot and I slowly gained weight."
Very slowly. Freudenthal said he'd never been a big eater, but knew he had to force himself to increase his calorie intake to bulk up for his new position, where blocking would be as big if not a bigger requirement than catching passes.
He'd put in "long days" in the dining hall, plowing through plates of eggs and bowls of fruit. Before bed, he'd scarf down one final peanut butter and jelly sandwich and one last glass of milk.
"I would say it was definitely a chore," Freudenthal said. "I would just eat it and eat it and eat until I felt like I was going to vomit. You just have to get it done."
Freudenthal's diet, combined with his work in the team's weight room, helped him steadily get bigger. By his second year, he was playing on special teams. His third year saw Clawson award him a scholarship. Last season, he started all 13 games at tight end.
This season, Freudenthal is a 235-pound team captain for a Demon Deacons team that is staking a claim as the second-best squad in the conference, behind Clemson, going into Saturday's game at Tech (5-3, 2-2). Freudenthal is one of less than a dozen players on the roster who were still at Wake the last time the program had a losing season.
"We've put ourselves in a great position," he said. "People don't think it's realistic for us to go the College Football Playoff or go to the Orange Bowl, go to an ACC championship. But in our mind, those are realistic goals for us."
The offense is a huge reason why. Wake averages 38 points per game, second most in the league behind only Clemson, and leads the ACC in passing, putting up 323.6 yards per game through the air. The Deacons' 23 passing touchdowns are also second in the conference.
"You've got a group that's very experienced, playing with a lot of confidence and a lot of talent," said Tech defensive coordinator Bud Foster. "Their passing game concerns me because they do it so well and they've got such big targets and their very explosive in a lot of things that they do."
Freudenthal, even before Saturday's explosion against North Carolina State, has been a contributor. On the season, he has 22 receptions for 192 yards and four touchdowns.
"There's a lot of guys that like playing football," Lineburg said. "There's some that love it. This kid lives it. He puts his heart and soul into it."
Wake plays Clemson after the Tech game, on Nov. 16 in South Carolina, so the Demon Deacons control their destiny for an Atlantic Division title.
First, Freudenthal and the Deacons play at Tech, a game Freudenthal said he's been looking forward to since his first year at Wake Forest.
"I knew we were going to play at Virginia Tech my redshirt senior year if I made it to that," he said. "So I couldn't be more excited to go back to Blacksburg and play the game in the black and gold, not the maroon and orange."