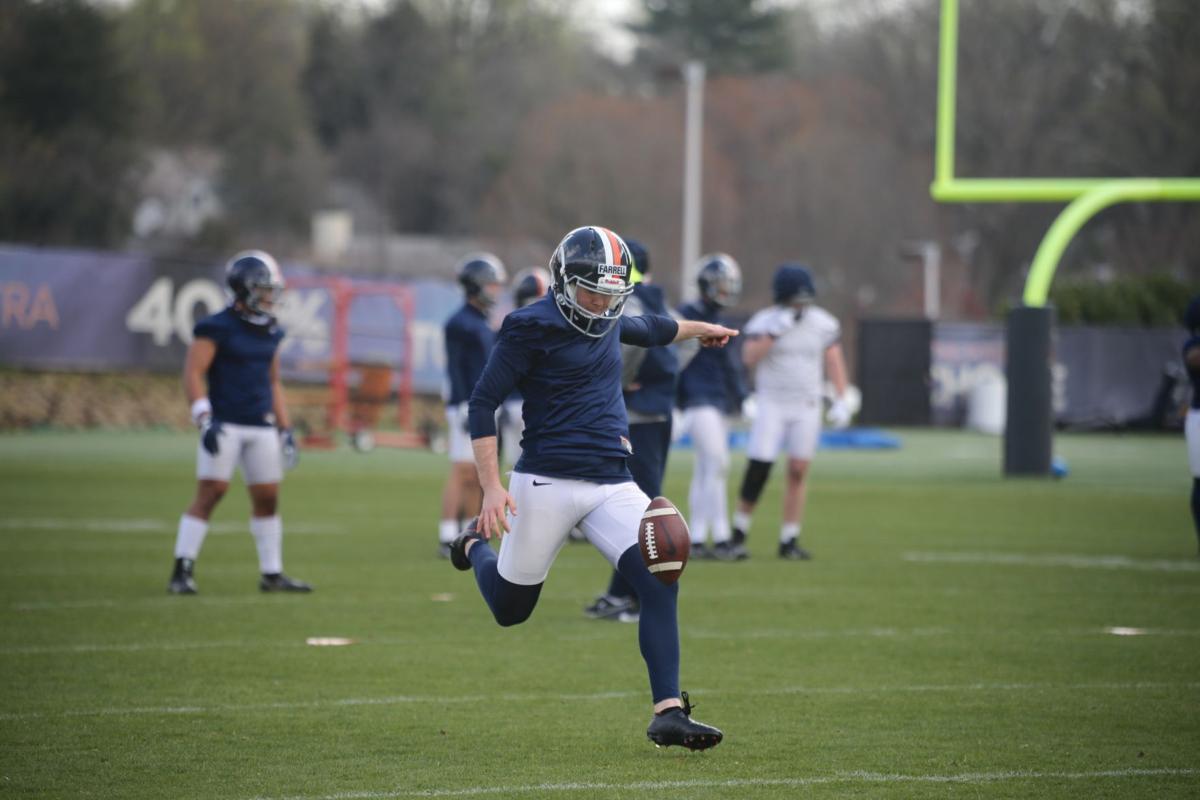 CHARLOTTESVILLE — Brendan Farrell had plenty of chances to demonstrate his toughness last fall while serving as Virginia football's scout-team punter. Part of Farrell's daily practice work was to stand in and get off kicks while UVA worked on blocking punts.
"All season long, he punted the ball consistently every single time without fear," special teams coordinator Ricky Brumfield said. "Just punted the ball while we're running and diving, trying to block kicks and everything else, and ran into him a couple of times. For somebody to do that, I have nothing but respect for him for doing that. He has my respect forever because I wouldn't do it."
It wasn't just the coaches that took note of Farrell's toughness. Farrell's play helped strike a blow against the idea that specialists don't play physically.
"That's going to gain respect from anyone," senior long-snapper Danny Caracciolo said. "People think we don't like to get hit, but we can take some hits."
Farrell worked as the team's starting punter all spring, taking over for the departed Nash Griffin, whom he backed up for the previous two seasons. Monday, UVA landed a commitment from Florida graduate transfer Jacob Finn, a senior who was the Gators' starter last season, averaging 46.3 yards.
The move likely didn't surprise Farrell, who said last week going into Virginia's spring game that he anticipated having to vie for the job in the fall.
"They're definitely going to bring in competition," Farrell said. "You look at it from a numbers perspective, we have to bring in another punter. I do anticipate competition. I've dealt with that and I'm excited to have that."
As his time as a scout-team punter showed, it isn't easy to rattle Farrell. He credited part of that to his childhood. His family moved frequently for his mother's commercial real estate job, living in Connecticut, New York, Cleveland and finally to the Atlanta area, where the Farrells have lived since Brendan was in junior high school.
"It's been interesting bouncing all over the place, for sure," Farrell said.
At Marist School, he was a record-setting and all-state kicker and punter as a junior and senior. But before that, he had to wait his turn for playing time, sitting behind a pair of future Division I punters in Furman's Timmy Bleekrode and Georgia's Bill Rubright.
That experience, he said, prepared him for his first three years at UVA, where the Cavaliers had entrenched starters in punter Griffin and kicker Brian Delaney.
"I've dealt with competition and older guys in the past. I knew I could deal with it," Farrell said. "The main thing is focusing on myself and trying to improve, because trying to compete with guys like Nash and Brian, that's real tough to do day in and day out. I had to learn from them, watch them, see what their habits were and try to mimic that so I could keep improving."
At the same time, he had to hang in there against the rush of the punt block team.
"We always talk about knowing your 'why' in our program. That definitely tested it," Farrell said. "I had to know that I have to get through all this dirty work now, and if I can get through that and continue to improve, I'll have my shot."