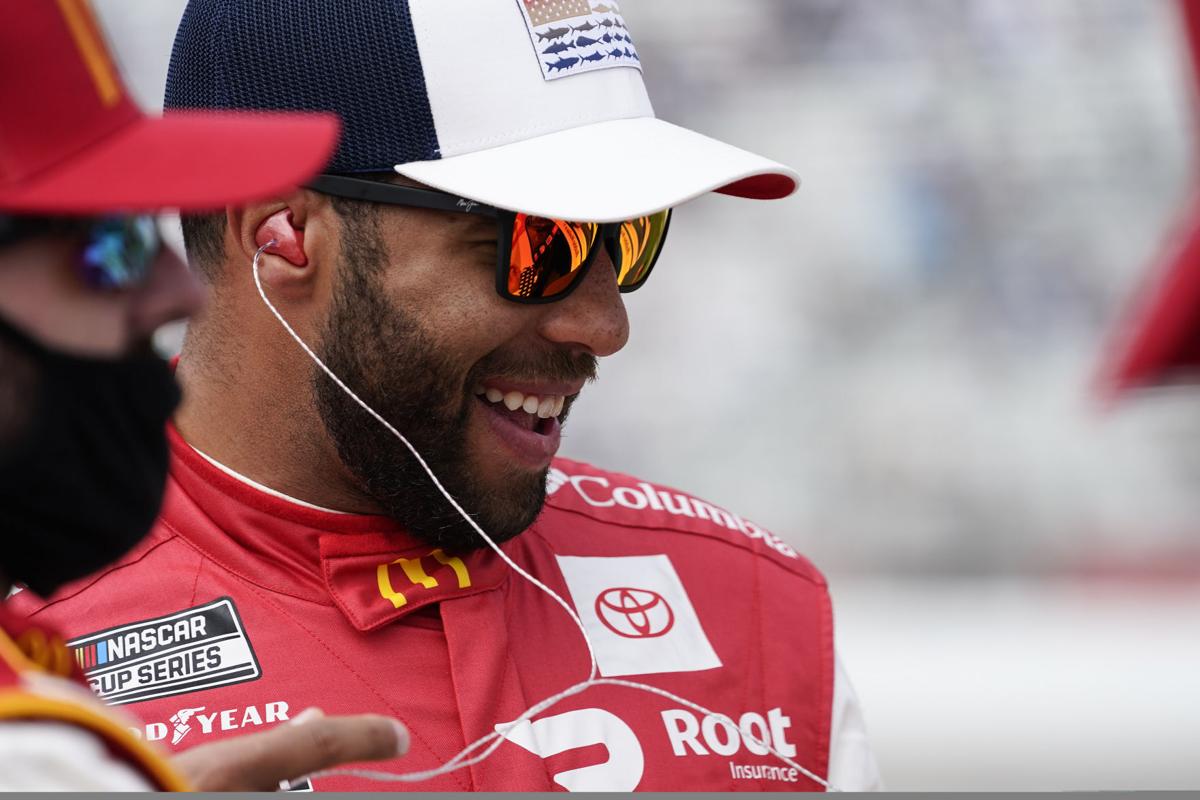 Like many, Bubba Wallace enjoyed watching "The Last Dance" documentary series last spring, learning more about Michael Jordan as a person and as an athlete.
Now, unlike anyone else, Wallace drives a race car for Jordan every week.
That's Wallace's new reality, after Jordan and driver Denny Hamlin, a former Chesterfield resident, formed a new race team last year.
Jordan and Hamlin brought on Wallace to be the driver for their 23XI Racing team. The venture was announced last September, putting Wallace in a car emblazoned with the No. 23 — Jordan's iconic number on the basketball court.
The partnership is notable not just because of Jordan's formal entrance into NASCAR, but also because, in a sport where diversity has been scant, it paired the first Black principal owner of a Cup Series team in almost 50 years in Jordan with the only current Black full-time driver in the Cup Series in Wallace.
Now, Wallace is working to help build something with 23XI, cashing in on the potential he sees in the opportunity.
"We've just been having fun trying to get this team better and better each and every week," Wallace said in an interview with The Times-Dispatch this past week. "And we've continued to do that. So we just got to stay focused, stay committed."
To go from watching "The Last Dance" like anyone else to racing for Jordan has been a surreal thing to see come together, Wallace said.
The 23XI team sprouted out of a more than decade-long friendship between Jordan and Hamlin, a three-time Daytona 500 winner driving for Joe Gibbs Racing. Over the years, the two talked about the possibility of owning a team during rounds of golf. Then it became something that came to fruition last year.
For Hamlin, it was a chance to put down a foundation for his post-racing career endeavors. For Jordan, it was an official entrance into a sport he said he's been a fan of his whole life.
Jordan, whose hometown is Wilmington, N.C., went to races with his family growing up.
"The timing seemed perfect as NASCAR is evolving and embracing social change more and more," Jordan said in a news release announcing the team last September. "In addition to the recent commitment and donations I have made to combat systemic racism, I see this as a chance to educate a new audience and open more opportunities for Black people in racing."
Wallace last year led the way toward NASCAR's ban of the Confederate flag.
"NASCAR as a whole has done a lot to show, hey, this is an inclusive sport and we want everybody to feel welcomed when they come to a NASCAR event," Wallace said. "So I know we still have work to do on all levels to continue that progress. But from everything that went on last year to where we're at now we've made huge strides."
Wallace joined 23XI from Richard Petty Motorsports, which he raced at starting with the 2018 season, his first year as a full-time Cup driver.
Jordan said in an interview with Fox earlier this year that Wallace wouldn't have been picked for 23XI if he didn't have the talent to win. That belief, for Wallace, is big.
"It's really cool to have that support and motivation behind [me] from an icon like MJ," Wallace said. "And to be racing for him, it's kind of surreal if you think about it."
Wallace is still in search of his first career Cup win. And even with the backing of Jordan and Hamlin, it's not an overnight process changing race teams. It's basically like starting over, Wallace said. He's learning his crew, and his crew is learning him.
They've had productive postrace debriefings, and Wallace says he feels like they've made strides. In six races this season, Wallace's has matched his highest finish of 16th in each of the past two races, in Phoenix and Atlanta.
The biggest area of growth has been communication, Wallace said, being able to better fine tune his race car. It also doesn't hurt that, with the equipment itself, 23XI has a partnership with Toyota and Joe Gibbs Racing.
"That's the name of the game when you're a part of this sport is resources, and equipment is what's going to ultimately make or break the deal," Wallace said. "You can only do so much with so little before you just kind of plateau."
Wallace was at Richmond Raceway recently for a test of NASCAR's Next Gen car, which will roll out next season. He'll return for race weekend April 17-18.
RR is a track Wallace said he's always enjoyed visiting. His highest Cup finish is 12th in the September 2019 race. He's looking forward to returning now with Toyota and Joe Gibbs Racing in his corner, which have enjoyed much success at the track. Joe Gibbs drivers Kyle Busch and Martin Truex Jr. won four straight RR races in 2018 and 2019.
"It puts the ball back in my court, and the pressure's on me to go out and deliver," Wallace said.
With 23XI, Wallace's goal this year is for steady progression. He hopes to be better in the summer than he is now, and better than that in the fall.
The honeymoon stage is over, Wallace said. Now it's about executing and being competitive.
"We have so much room to grow and improve," Wallace said, "and that's the fun part."
(804) 649-6442
Twitter: @wayneeppsjr