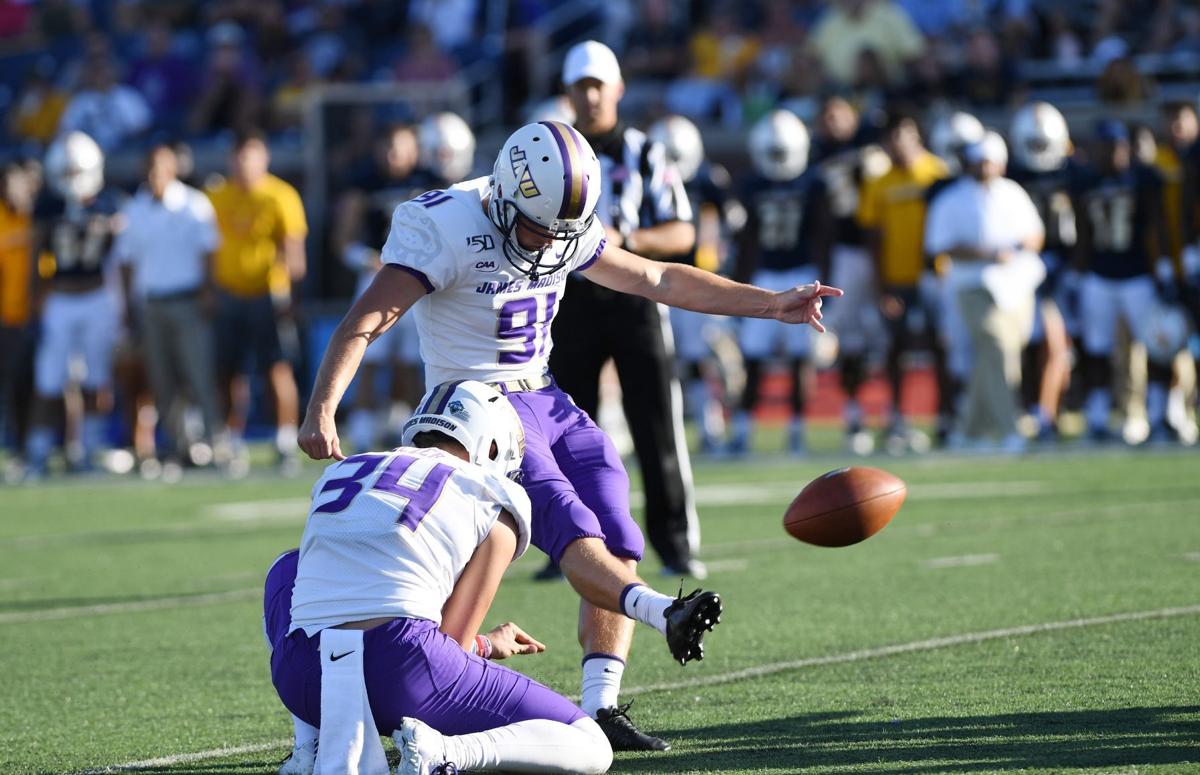 Ethan Ratke keeps racking it up. And, on Saturday, it helped carry James Madison to another win on the road.
The former Atlee standout knocked through a JMU single-game record five field goals, propelling the seventh-ranked Dukes to a 22-10 victory at 23rd-ranked Delaware. That was a week after he converted four field goals in a win at Richmond.
And JMU's defense, which entered leading the Colonial Athletic Association in holding opponents to 15.5 points per game, shut the Blue Hens out in the second half and held them to 109 total yards of offense for the game. With that, the Dukes emerged from the toughest stretch of their schedule 6-1 overall and 4-1 in league play, still right behind the lone team they've lost to, Villanova (6-1, 4-0), in the league standings.
JMU trailed Delaware (3-4, 2-3) — a team that, like the Dukes, advanced to the playoff semifinals in the spring, but has now lost three straight — 10-6 early in the second quarter Saturday following a 26-yard touchdown pass from Zach Gwynn to James Collins.
And though JMU's struggles to find the end zone continued — they've scored two touchdowns their last 10 quarters of football dating back to the Oct. 9 loss to Villanova — the team was again able to lean on Ratke. Ratke, earlier this season, set the FCS career records for field goals and scoring by a kicker, marks that now stand at 90 and 473, respectively.
Ratke made it a 10-9 game at the half on a 47-yard field goal with 4:08 to play in the second quarter. And he pushed the Dukes ahead, 12-10, with another 47 yarder early in the third quarter.
Late in the third quarter, JMU quarterback Cole Johnson made his longest-career run an important one, pulling the ball on an option play and scampering 36 yards for the Dukes' lone touchdown of the day. That made it 19-10.
Ratke added a 42-yard field goal in the fourth quarter. He also had field goals of 30 and 37 yards in the first quarter.
Meanwhile, the JMU defense didn't allow the Blue Hens past midfield in the second half. The unit intercepted Gwynn twice, one by MJ Hampton in the first quarter and another by Greg Ross in the fourth quarter. The Dukes also recorded 10 tackles for loss.
JMU hosts Elon (4-3, 3-1) next, on Saturday at 2 p.m. at Bridgeforth Stadium.