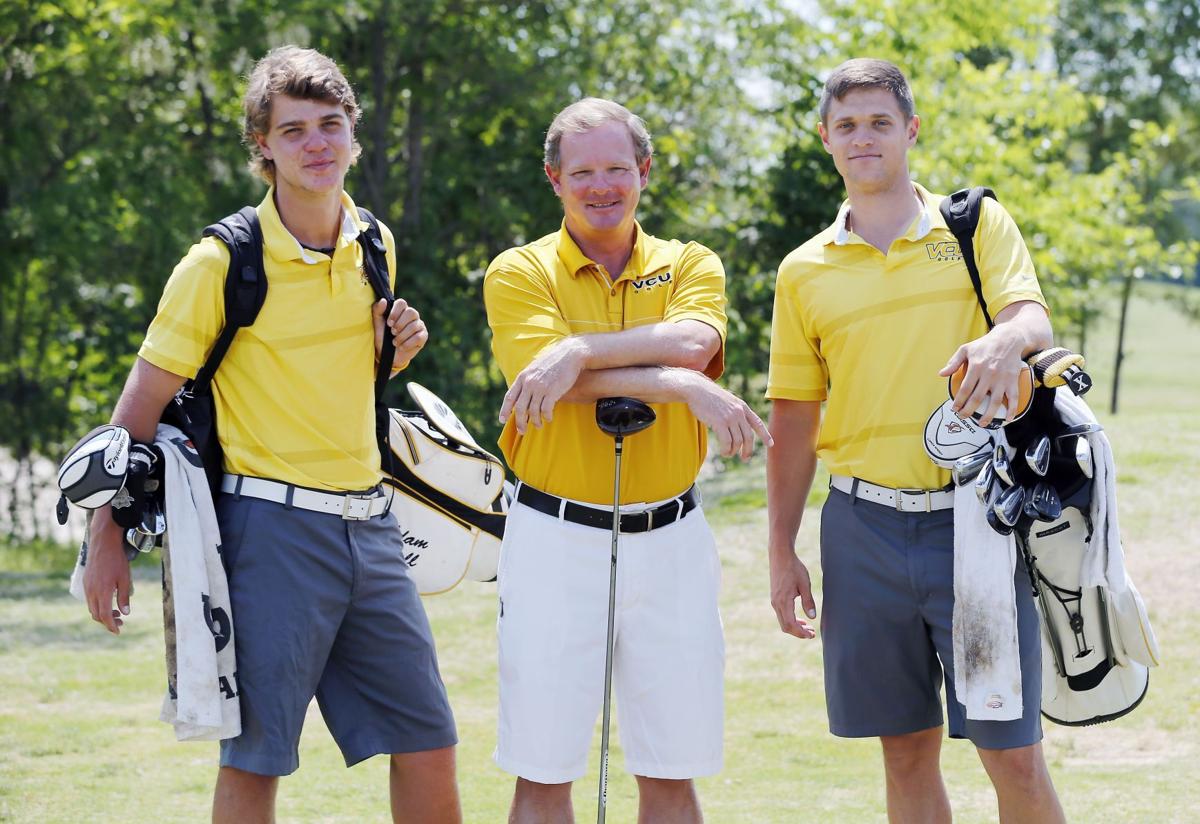 For Matt Ball, it all started with a move to Fredericksburg.
He was 10 years old at the time, when his family arrived there. His father's job included a membership to Fredericksburg Country Club. So Ball, his brother and his father took up golf at the same time.
It became what Ball said was like a dream childhood. They played copious amounts of golf in the summer. He and his brother would cut lawns, then go to the course and play. When their father got off from work, he would join them and they would play until dark.
"It was nothing for us to play anywhere from 27 to sometimes as many as 54 holes in a day," Ball said. "We just played and played and played."
Ball has continued to love golf ever since those days. As he got better, he began playing competitively. And golf lessons with former VCU golf coach Jack Bell opened up a door for Ball to earn a scholarship to play at VCU.
Ball went on to become somewhat of a VCU lifer. After his own playing career as a Ram, and graduation from the school in 1987, Ball returned 12 years later to coach the team.
It's a position he's held for the past 22 years, a prosperous tenure that has included eight conference championships, 10 NCAA regional appearances and a trip to the 2002 NCAA championships, with significant program resource growth as well.
But the school announced Tuesday that Ball will retire, effective June 30. He won't be stepping away from the game, just into a new stage. And his successful run at his alma mater will leave the still-growing program in a favorable position.
"It's in a good place right now for the next person to step up," he said.
Ball was a teenager when, in 1981 and 1982, Craig Stadler won what was then the Kemper Open on the PGA Tour at Congressional Country Club in Bethesda, Md. He read a newspaper article at the time about how Bell taught Stadler how to play when Stadler was a kid.
Bell had become the golf coach at VCU in 1982. So Ball reached out, connected with Bell and traveled down to Richmond for lessons.
Bell liked Ball's work ethic. And, not long after they began working together, Bell offered Ball a scholarship to play at VCU.
Ball had so much fun as a player at the school that he knew he wanted to coach college golf, too, and follow in Bell's footsteps. The Rams played a lot, not too unlike Ball's days on the course at Fredericksburg Country Club as a kid.
"I wanted to hopefully create that type of atmosphere and love for the game that I had and that he was able to bring to us," Ball said, on his own coaching aspiration.
After graduation from VCU, Ball sold fax machines for a bit before entering the golf business. He ended up becoming a golf professional at The Country Club of Virginia and at Richmond Country Club.
When Bell retired in 1998, Chuck Bassler became the coach for a short time before Ball was hired in 1999.
The program's budget was small and Ball carried the tag of interim coach his first three years, but with talent like Reg Millage and Erik Knudsen from Bell's tenure, and Ted Brown as his very first recruit, Ball had success right away.
He won three straight Colonial Athletic Association titles 2000-02, and four straight NCAA appearances 2000-03, including the run to the championships in 2002.
"Everybody could contribute, shoot under par at any moment," Brown said. "And, I mean, it was awesome. We knew what was going on."
The 2002 NCAA championships trip, and VCU's Atlantic 10 title and NCAA regional trip in 2014 that Ball accomplished with his sons, Matt Jr. and Adam, are two of his favorite memories.
Ball won CAA coach of the year in 2008, 2009, 2014 and 2015.
And, after 22 years, his love for the game is something his current players can still see.
"When you have a coach that loves it so much, he really motivates you to want to get better," said senior Kristian Tannum Donaldson, who will return for a fifth year with the Rams. "And I think that's the biggest thing, is positive energy that he provides."
Retirement isn't something Ball has thought about for a very long time. But, in the past year, Ball, 56, got more time to play himself again and to spend more time with his wife, Tammy.
And he found he just didn't have the spark to spend another summer traveling and recruiting. He was also interested in continuing to play more. And he and Tammy have a place in Florida, where they'll spend more time.
So he decided to step away. He'll still teach the game, at Don Law Golf Academy in Boca Raton and with First Tee in Virginia, but with a more flexible schedule.
The program has come a long way since the time Ball took over, with amenities that include practice space at First Tee's Elson Redmond Memorial Driving Range downtown and a locker room and lounge on the way at Belmont Golf Course.
VCU vice president and director of athletics Ed McLaughlin said he would like to have the next coach in place by the end of this month if possible, or at least by the middle of June.
"Matt has made our golf program a legitimate golf program, if that makes sense," McLaughlin said. "He has given our golf program a level of professionalism and a level of stability that has been remarkable."
A love for golf that was fostered as a kid in Fredericksburg, for Ball, turned into a career in the game.
And, even as Ball prepares to retire, his impact on the VCU program figures to be felt for a long time to come.
"One of the things that my coach stressed was, whenever you take something on, you want to leave it better than you found it," Ball said. "And I think we've done that."
(804) 649-6442
Twitter: @wayneeppsjr