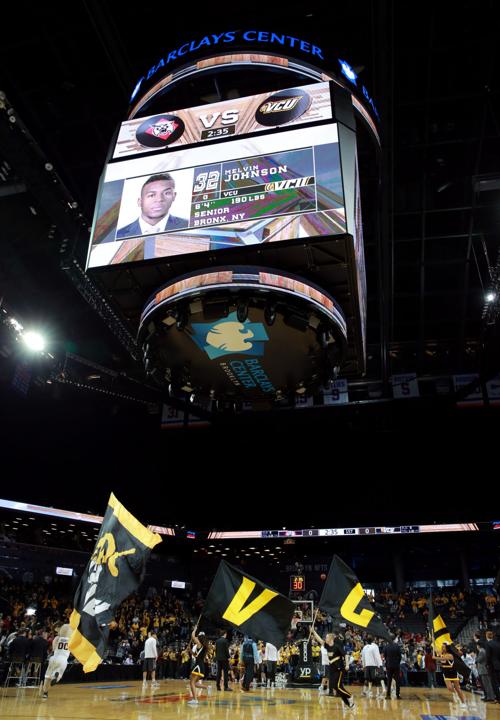 VCU's Siegel Center has emerged as an option for the A-10 men's basketball tournament if the league determines it's impractical to hold the championship at Brooklyn's Barclays Center during the pandemic.
The University of Richmond's Robins Center also is being considered if a move is made.
The A-10 women's tournament is already set for the Siegel Center March 3-7. The men's tournament dates are March 10-14. Virginia guidelines at this time allow a maximum of 250 fans at indoor sporting events. That number would at least accommodate players' families, while the Brooklyn Nets currently aren't allowing fans at Barclays Center, per jurisdictional policy.
According to A-10 Commissioner Bernadette McGlade, the league has regularly monitored Brooklyn's COVID-19 protocols and restrictions for months.
McGlade said, "the practicality of holding the championship in an NBA arena without the possibility of massive ticket sales is a challenging situation."
She added that the league will continue to evaluate and likely reach a resolution regarding the men's tournament location by the end of January. If the conference concludes Barclays Center isn't an appropriate venue for this season, a member school's arena is expected to serve as home of the 2021 tournament.
"If we're going to pivot, then it takes time to work with whatever that local health department is, all the protocols involved, not unlike what's happening with the NCAA's Final Four," said McGlade, referring to the NCAA's decision that the entire national championship tournament will be held in central Indiana. "Hotel contracts, safety protocols for the teams, venue sanitization … the list goes on forever, contact tracing and testing."
One arena serving as site for the A-10 tournament makes sense, in McGlade's view, because of TV considerations and overall "feasibility and logistics, and also the risk. We know we can't eliminate risk, but we want to mitigate as much risk as possible and try to be in as controlled an environment as possible. If we go to multiple sites on multiple days, you have teams in motion, travel, every environment becomes a new environment."
VCU's vice president and director of athletics, Ed McLaughlin, said his school would welcome the A-10 men's tournament and has "certainly, formally, made our interest known to the conference office. And that's where it stands right now."
In August of 2018, the A-10 announced that its 2021 women's tournament would be held at the Siegel Center, the week before the men's tournament was scheduled to take place at Barclays Center.
"So that would give us a tournament right beforehand to have gone through all those logistics to make sure we give the kids a terrific experience," said McLaughlin. "So, when it comes to things like hotels and travel and practice schedules, and all those things ... we just need to make sure [they] are organized in a really tight way so once the teams get here they don't miss a beat.
"And, quite honestly, I know we can do it. So I don't have any worry about that whatsoever."
The A-10 is apparently assessing various league arenas and locales as hosts.
Said McLaughlin: "I've had some discussions with other ADs around the conference, and folks feel Richmond as a city would be the best location. But we get one vote in that. And we will put our best foot forward to make sure other people see it our way."
John Hardt, UR's vice president and director of athletics, in a response to a text requesting comment, wrote, "At this point, nothing has been finalized. While I cannot confirm or deny at this time whether the league has made a decision to relocate the A-10 men's basketball tournament this season, I can state that the A-10's leadership has been diligently assessing and identifying alternatives and contingency plans for the men's basketball postseason.
"In this regard, a number of alternatives, including campus host sites such as the Robins Center, are being explored and assessed."
Barclays Center's capacity is 17,732 for Brooklyn Nets games and has been about 7,800, with a curtain covering the upper deck, for previous A-10 tournaments there.
On Nov. 24, the ACC announced that its 2021 men's tournament would move from Capital One Arena in Washington, D.C., to the Greensboro Coliseum due to the ongoing COVID-19 pandemic.