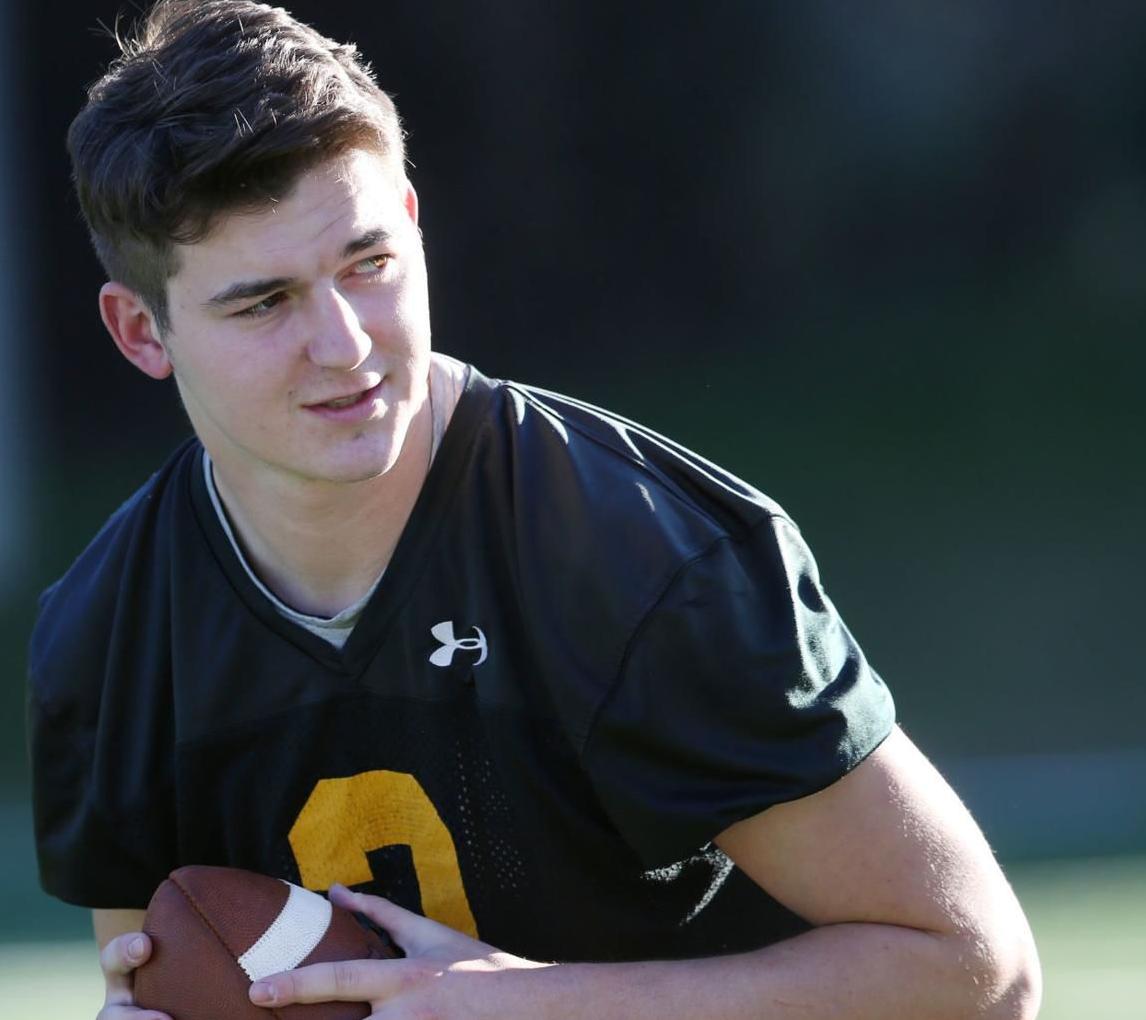 The University of Richmond is bringing in graduate transfer Reece Udinski, who passed for a school-record 7,877 yards at VMI and spent this season as a Maryland reserve.
The Spiders lost three-year starter Joe Mancuso from the 6-5 team that won four straight to close the year. Udinski, a 6-foot-4 220-pounder from North Wales, Pa., reunites with Billy Cosh, who became the Spiders offensive coordinator on Dec. 6 after two VMI seasons (spring of 2021 and fall of 2021) in the same role. Cosh was the Keydets' receivers coach for two years before becoming OC.
UR coach Russ Huesman said Cosh's presence at Richmond "is probably the reason we got [Udinski] to come to school here, to be perfectly honest with you. He probably would have had a whole, whole bunch of opportunities. I think his comfort level with Billy is huge. Billy coached him and the guy was tremendous.
"It's a natural fit. I think it's fantastic for Reece, and obviously it's a great deal for us."
Udinski was a four-year starter at VMI, and has one season of eligibility remaining. He graduated from VMI in the spring of 2021, when he suffered a knee injury and played in four games. The Keydets went 4-0 with Udinski healthy, and went on to win the Southern Conference title and finish 6-2, the program's first winning record since 1981.
Huesman projected the Richmond offense "will probably look like VMI," which ran a spread system that emphasized passing, but also effectively ran the ball. "That's Billy's offense and that's why I hired him," Huesman said.
Udinski will be with Richmond for spring football, according to Huesman.
Huesman said the Spiders may add two or three more transfers, likely no more for the spring semester. "But you never know what can happen here in the next few days," he said. "We'll see. As of now, we'll go into spring, and then continue this process."
If Udinski wanted to continue playing college football after his time with the Keydets, he had to do so at a school other than VMI because VMI does not offer graduate courses. He was officially added by Maryland in May of 2021. At Maryland during the regular season, Udinski played in three games and attempted 14 passes as the backup to redshirt sophomore Taulia Tagovailoa.
Because of NCAA rules that allow a player to redshirt if he played four or fewer games in a season, and the NCAA COVID policy that allows players "bonus" years because of the effect the pandemic had on competition, Udinski gained the season of eligibility he will use at UR.
Note: UR standout defensive tackle Kobie Turner, a pro prospect who arrived at Richmond as a walk-on, will spend his final year of eligibility at Wake Forest, coached by former Spiders coach Dave Clawson.
"He had planned on going in the NFL draft and he felt like taking this shot would give him a better opportunity," Huesman said of Turner. "We're happy for him, and he gave us a great five years."
(804) 649-6233
@RTDjohnoconnor