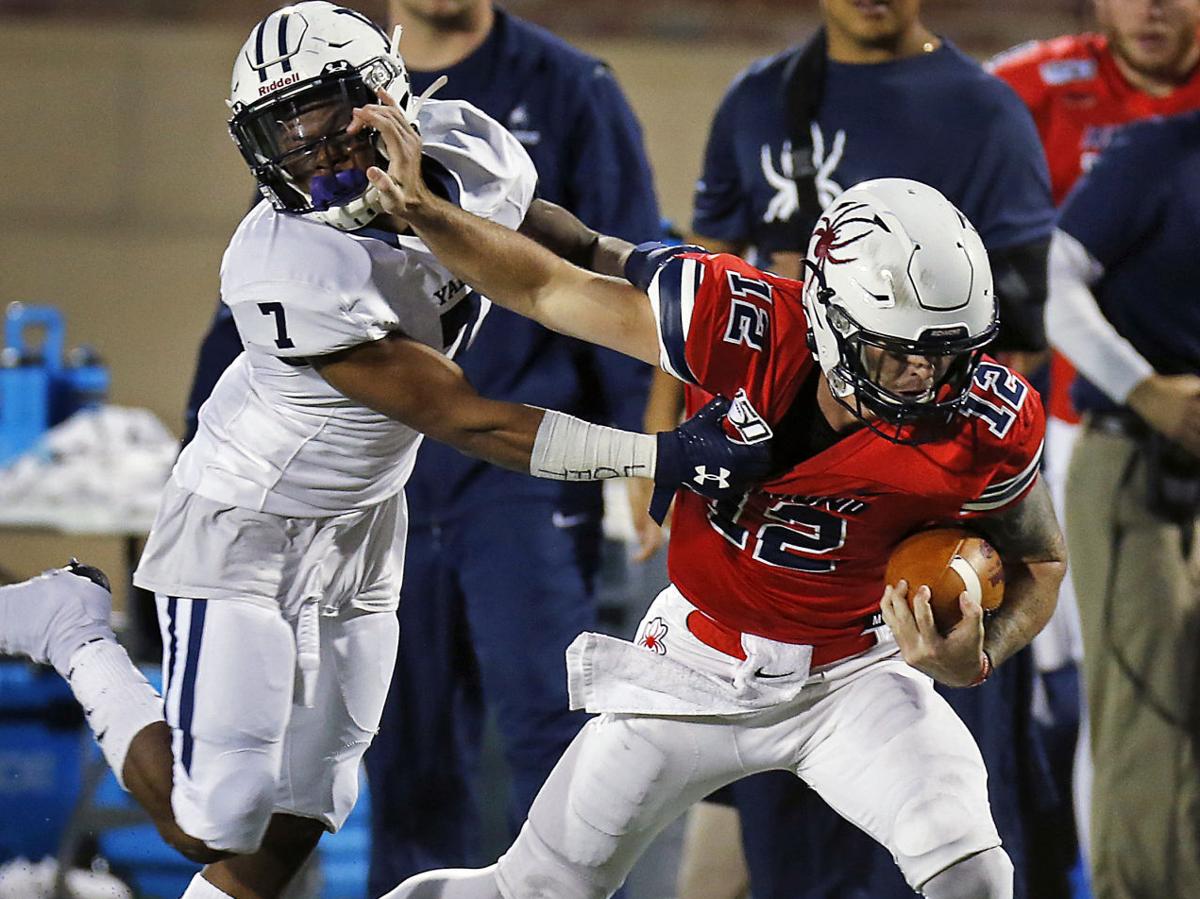 Deliberation didn't take long for Darius Reynolds, a fifth-year senior defensive end at the University of Richmond. He could graduate in December with a degree in leadership studies, bid adieu to football and join the work force.
Or he could stay at UR an additional 12 months — the NCAA is allowing an extra year of eligibility in response to the pandemic that wiped out the fall season for almost all FCS programs — take graduate classes, and play in the spring and fall of 2021, presuming COVID-19 allows for competition.
Reynolds is among a half-dozen longstanding UR players who are eligible to return as sixth-year seniors, and to that list add a pair of graduate transfers, receiver Donaven Tennyson (Benedictine, Vanderbilt) and tight end John Fitzgerald (Cornell). All are scheduled to come back as sixth-year players in the spring and fall.
"We didn't make a group decision, but I think as a group, we have the same mindset and we have the same goals," said Reynolds, a 6-foot-2 248-pounder from Yorktown. "So we ultimately ended up making the same decision. We realized fairly quickly when we got the news that we wouldn't be having a season (this fall) that we're all on the same page, wanting to stay."
Also among the fifth-year seniors who will return for a sixth year UR are quarterback Joe Mancuso, offensive linemen Tim Coleman, Seyoum Settepani and Tazle Sumper, and defensive lineman Colby Ritten. Mancuso, a running and passing threat, has made 13 starts over the last two seasons.
"I don't think it was a difficult decision. We're playing with the cards that we got dealt. To leave right now, we've got unfinished business. There's something incomplete that we haven't completed yet," said Reynolds, who saw no rush to enter the job market, given its current condition.
The Spiders went 5-7 last season (4-4 CAA) and 4-7 in 2018 (2-6 CAA). The CAA has yet to announce a league scheduling format for the spring season, but a six-to-eight-game slate for each team seems likely, with six conference games. Richmond started practice Wednesday and will hold six workouts in helmets only before ramping up with 15 padded practices that begin on Oct. 11 and run through Nov. 13.
"I'd say we're pretty excited. We're anxious. We're restless," said Reynolds. "The best thing for us is to focus on these next few weeks of, I guess we'll call it 'fall ball,' and put some quality work in. Trust the coaches, and trust the CAA that they'll make a decision that puts on the field and allows us to compete."
The CAA could open in late February or early March, with regional play. The FCS spring playoffs, with a 16-team field rather than the usual 24, will start in mid-April and continue through mid-May. The FCS then intends to return to a normal 2021 calendar for the fall season.
"I think if we get everybody back, which it looks like we can … the '21 (fall) season will be a season like none other here because we're going to have the opportunity to have a roster probably like you should have in numbers," said UR coach Russ Huesman. "We came into this fall with a roster of 86, and that's the most we've had since we've been here (Huesman was hired before the 2017 season). We, in theory next year, with our incoming freshmen … we could get into the 90s for probably the first time ever at Richmond.
"We've got a great football team coming. We had a good team coming in this year. I felt so good about it, and where we were athletically at key positions."
(804) 649-6233
Twitter: @RTDjohnoconnor