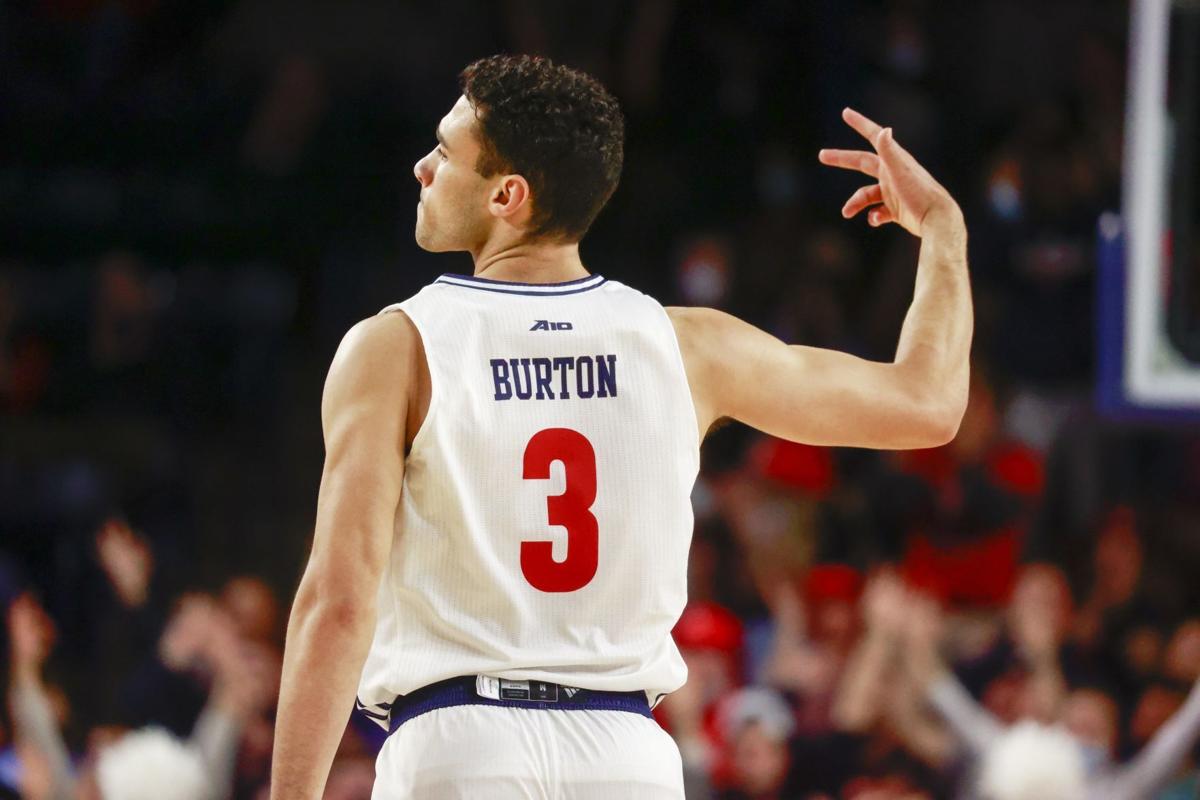 The lighting. The background. The rims. Shooters demand familiarity with all three, which is why Tyler Burton awoke at 6 a.m. Sunday.
The University of Richmond travel party was delayed on the way to Cedar Falls, Iowa, for Sunday afternoon's game at Northern Iowa. Burton and the rest of the Spiders didn't make it to town for the scheduled shoot-around at the McLeod Center on Saturday night.
Burton and a few other UR players decided to take advantage of an early Sunday window. They were on UNI's court by about 7 a.m., shooting, getting a feel for the arena.
"I just wanted to make sure I stayed calm, shot the ball with confidence, and proved to myself that I could shoot the ball [at UNI]," said Burton, who's from Uxbridge, Mass.
Later, Burton made 10 of 16, including 5 of 9 from 3-point range, scoring 26 in Richmond's 60-52 win at Northern Iowa. No other Spider scored more than 8, so what Burton did was, essentially, game-winning stuff.
"The kid is first-team all-Iowa," UR's Jacob Gilyard said of Burton, who scored 30 in a 73-70 loss to Drake in Des Moines on Nov. 20.
It's not just in Iowa that Burton, a 6-foot-7 junior, has demonstrated his arrival as the Spiders' leading man. He tops Richmond with a scoring average of 18.6, having hit 45.8% of his 3-point shots, and a rebounding average of 6.3.
"To see how he's progressed and matured as a basketball player, I'm speechless," Gilyard said. "He's way better than I thought he was going to be, and I thought he was going to be really damn good."
Burton has been the "kid" among Spiders, whose rotation includes two sixth-year players and two more in their fifth years. For two seasons he walked a fine line. Younger guys allow the veterans to set the tone and take big shots. Yet coach Chris Mooney early in Burton's career proclaimed that he could be the best player in school history.
So Burton was a deferential complementary player at times, and one who dominated at other times. This season, there's more domination. Blake Francis, the guard who led UR in scoring the past two seasons, left after last year to start his pro career.
"With Blake being gone, we needed more points," said Gilyard, in his fifth season as a starting guard. He and Richmond's other ultra-experienced players essentially yielded the floor to Burton, one of the A-10's most impressive athletes.
"They've had their accolades and accomplishments and statistics," Mooney said of Gilyard, forwards Grant Golden and Nathan Cayo, and guard Nick Sherod. "They want [Burton] to be more aggressive because they see every day how good he is, and talented.
"We're on him a lot because the ceiling is so, so, so high, if there is one."
When the shot clock slipped to fewer than 10 seconds and the Spiders needed a bucket the past two years, it was usually Francis who got the ball. Now it's Burton, from any of three scoring levels, which makes him hard to guard.
The Spiders do not want Burton to shy away from the role of initiator. This may not be his team. It's a crowded leadership council with so much experience. But Burton can do things his teammates cannot, so they implore him to attack from the jump.
At Northern Iowa, Burton scored 8 of UR's first 12 points.
"Anybody is going to be better when they play aggressively. Somebody as talented as him is just going to be superb when they're playing aggressively," Mooney said.
The Spiders (5-4) meet visiting Toledo on Saturday (6 p.m.) at the Robins Center in a game that will be televised by MASN.
(804) 649-6233
Twitter: @RTDjohnoconnor