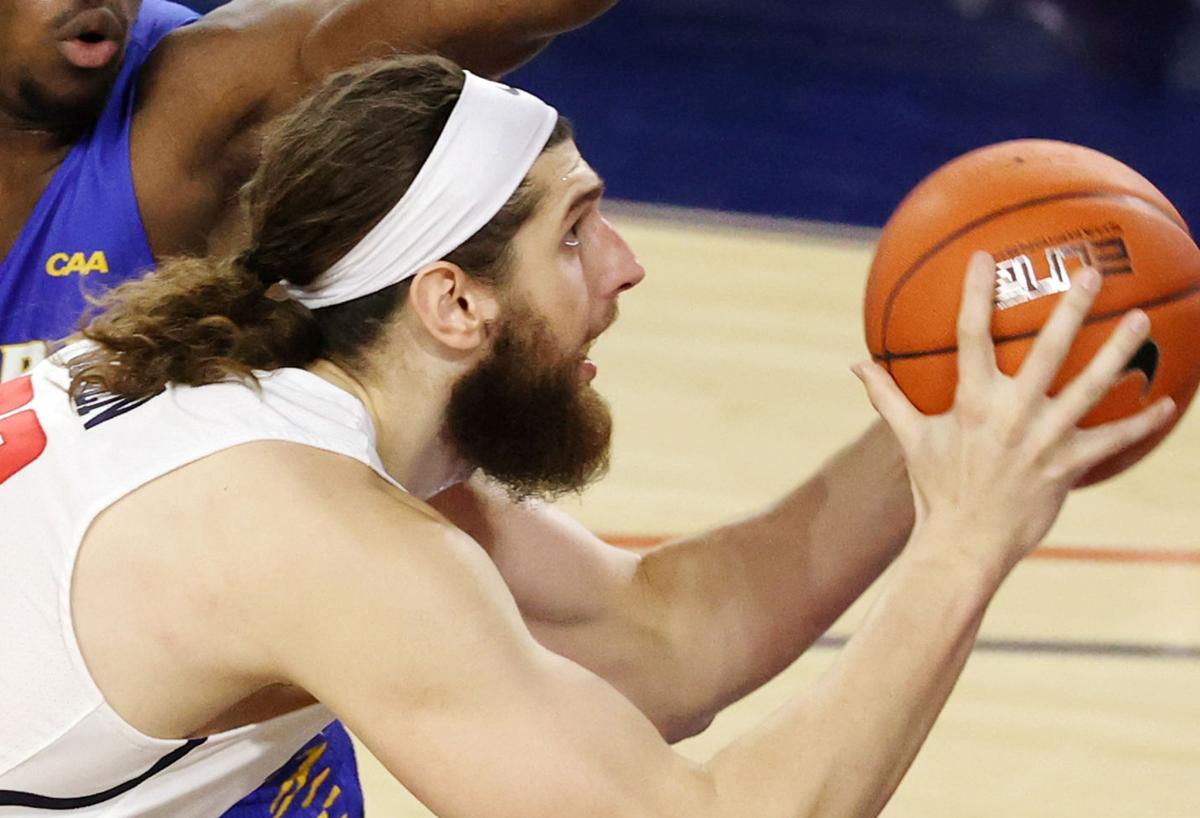 Following an unprecedented basketball season, Grant Golden faced an unprecedented choice.
The 6-foot-10 University of Richmond senior already played five years as a Spider, though the first was limited to nine games by a heart rhythm issue and a cardiac ablation procedure. Golden was granted a medical redshirt, allowing him back for 2020-21.
The NCAA then gave each winter sport athlete another year, because of the pandemic. Golden, who turns 24 in January, said he considered two options: stay at UR for a sixth year, or begin a professional career.
Golden announced Tuesday that he'll stick with the Spiders.
"It was definitely a tough decision in a lot of ways," he said. "I think the biggest part of that was just, honestly, this is uncharted territory. Nobody's really been in this situation. Nobody's really had a sixth year due to a global pandemic.
"It's not like you have buddies you can hit up and talk to about something like this. Certainly weird ... I just sort of weighed the pros and cons and overall I just felt like, for a lot of different reasons, this was the best decision. It certainly feels good to get it over with and I'm pumped to be here for another year."
Golden averaged 12.7 points (56.2% shooting), six rebounds and 3.5 assists as the Spiders went 14-9 (6-5 A-10), closing with a 68-67 loss to Mississippi State in the NIT quarterfinals. He has scored 1,739 points, sixth on the Spiders' career list, and also ranks among the top 10 in rebounds (792), assists (367), and blocks (110).
Earlier, 5-9 starter Jacob Gilyard and 6-7 starter Nathan Cayo announced they will return for fifth seasons.
"All of us are in different spots and different situations, and we're certainly weighing different things," Golden said. "But throughout this whole process, there's been a group dynamic, and those are two guys who I really love playing with.
"It's really an honor to put on the same jersey as them coming from my standpoint. So certainly them deciding they wanted to come back weighed into my decision."
Golden late in the season fractured the middle finger on his left hand, which has been surgically repaired. "I've got three, brand-new, shiny screws in there," he said. Golden hopes to resume basketball activity in about a month.
"Obviously, the way this year went, the effect that [the pandemic] had on everything, shutting down [the Spiders] three times, not getting to play all our games, stuff like not having senior night, not having fans, that was certainly tough," said Golden.
"I just feel like given this opportunity to come back for one more year, and hopefully things will be at least a little bit normal next year, God willing, I just think that it was something I didn't want to leave on the table and look back down the road and wish I did."
Richmond has two other seniors who have not announced intentions, 6-0 Blake Francis (team-leading 16.1 points per game) and 6-4 Nick Sherod, a three-year starter who missed last season because of a knee injury. For each, another year would be his sixth in college basketball. Francis sat out 2018-19 at UR after transferring from Wagner. Sherod was granted a medical redshirt year after suffering a season-ending knee injury in the sixth game of 2018-19.
(804) 649-6233
@RTDjohnoconnor