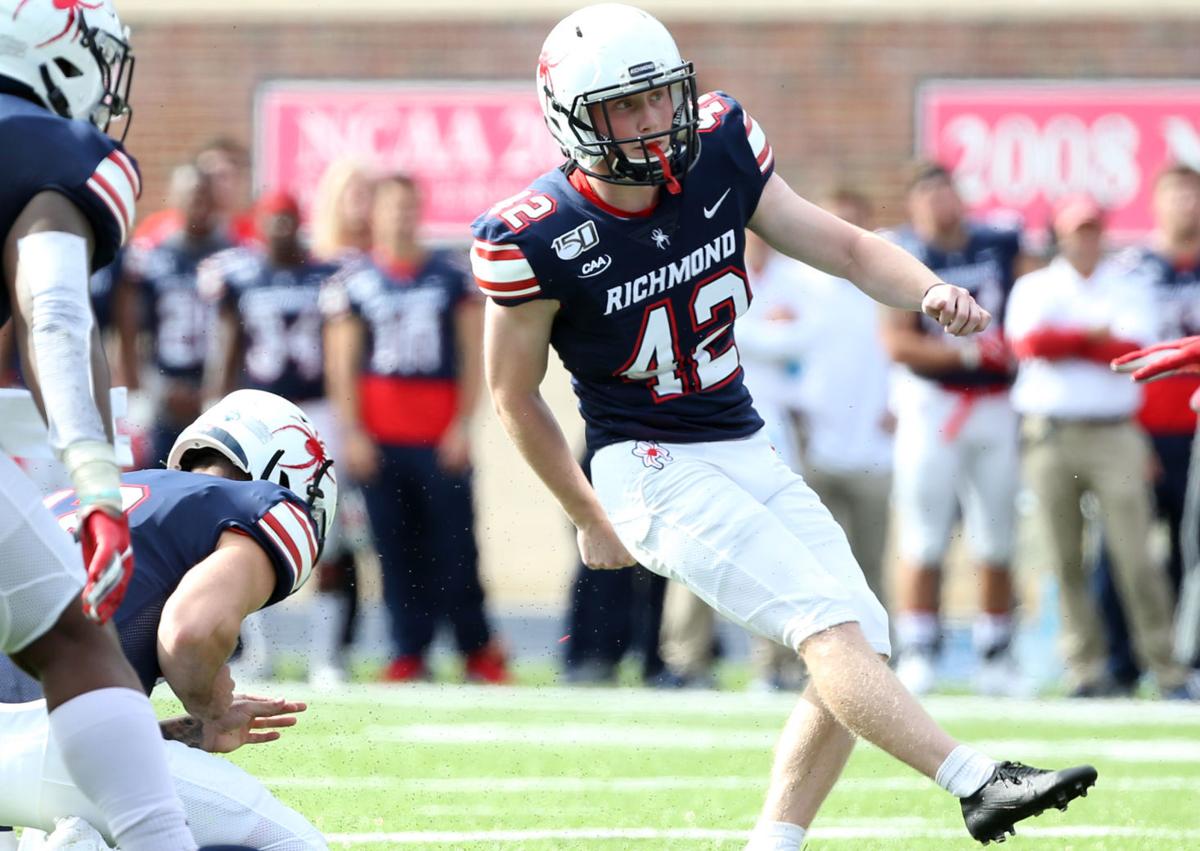 The University of Richmond began its CAA Football schedule with a game decided by 7 or fewer points. The Spiders lost at Villanova 34-27 on Sept. 18. UR has nothing but league games remaining — seven of them — starting with Elon's Saturday visit to Robins Stadium.
Recent history suggests the tight game against Villanova in mid-September will not be an outlier, which means Jake Larson should get loose and stay that way. Larson is UR's sophomore kicker, a valuable and reliable leg for the tool bag the No. 22 Spiders carry into this uninterrupted set of conference tests.
Law school student Beau English, the quarterback who will step in for injured starter Joe Mancuso (broken right index finger) for two to four weeks, referred to close games as "fistfights," and said, "We know that we're built for those types of games. We're ready for them. We've been in them before. We're expecting that going forward."
Richmond (2-2, 0-1 CAA) shoots for its first winning record in CAA competition since 2016, when the Spiders went 5-3 and advanced to the FCS quarterfinals (loss at Eastern Washington). Excluding four spring-semester games, UR played 25 CAA games since then (10-15) and more than half of them — 13 — have been decided by 7 or fewer points. Seven of those 13 were decided by 3 or fewer points, or required overtime.
Larson missed a 33-yard field goal attempt in Richmond's season-opening 38-14 win over Howard, a misfire that would worry most coaches. UR's Russ Huesman expressed zero concern.
"He'll be fine," Huesman said of Larson, who has been.
Other than that early-season miss, Larson is five for five on field goals this season. He converted 17 of 22 (three blocked) as a freshman in 2019 and is nine for 11 since (no blocks). Additionally, Larson as a kickoff man is responsible for nine touchbacks this season after nine his entire freshman year.
"Gaining weight, hitting the weight room, coach Brincks has done a great job helping me out with that," Larson said, referring to Spiders strength-and-conditioning coach Scott Brincks. "And then just working on technique a little bit, progressing that way."
Larson was headed to Buffalo as a preferred walk-on, seeing that option as the best path to possibly earning a scholarship down the line. Then in mid-April of his senior year at Baltimore's St. Frances Academy, Richmond offered a scholarship.
"So I jumped on that and committed to Richmond," Larson said. "The recruiting world is crazy for kickers. Lots of great kickers go preferred walk-on, so the scholarship was a big part of it. And then being able to come in right away and [potentially] having an immediate impact was also great."
Notes: Spiders linebacker Tyler Dressler was named CAA defensive player of the week after making 12 tackles, including a sack, in Saturday's 21-10 loss at Virginia Tech. Cornerback Aamir Hall was named rookie of the week after his eight tackles and three breakups. The Hokies scored two offensive touchdowns, one on their opening possession, with their third score coming on a punt return.
"It's an electric environment and they had that first drive successfully on us. But we were able to calm down. We were able to adjust and go from there," Dressler said.
Elon (1-3, 0-1 CAA) averages 45 pass attempts and 27 completions behind senior quarterback Davis Cheek. Because of injury, he missed the spring-semester season, when UR defeated Elon 38-14 and 31-17.
(804) 649-6233
Twitter: @RTDjohnoconnor