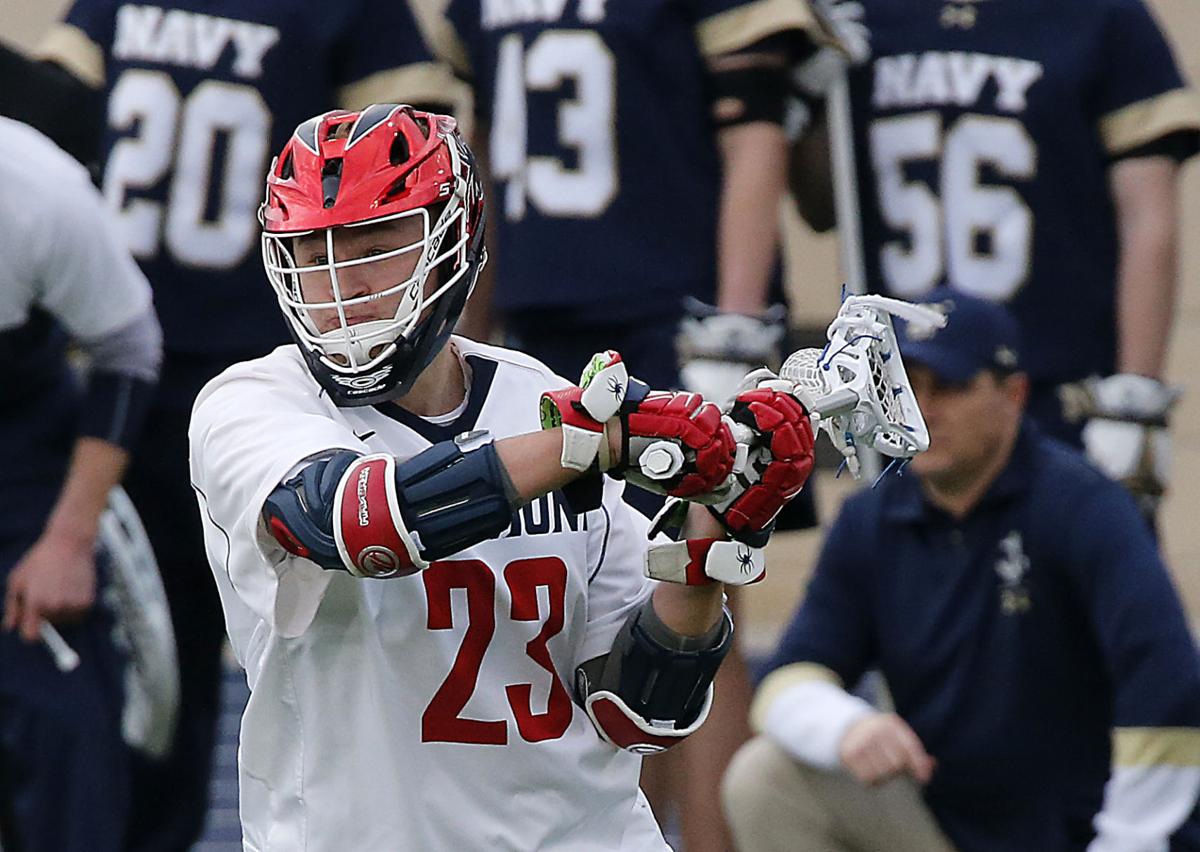 There were three things on the front of Richie Connell's white jersey when the University of Richmond met Air Force in men's lacrosse last Saturday at Robins Stadium. In blue, there was "Richmond." Below that in red was Connell's No. 23.
Between them was the stick of Air Force defender James Chastain, deep into Connell's chest for most of the afternoon. Even during stops in play, Chastain remained in Connell's shadow, the defender's pole in contact with Connell, or quite close to him.
"It's not too usual that I kind of get locked off like that and pushed around in the middle," Connell said. "It sure was aggravating, but I didn't let it affect my game."
In Richmond's 9-8 loss to the AFA, Connell scored five times. But he didn't get much help from UR's normally potent set of shooters.
"Just got to work through all of the ups and downs, and flows of the game," Connell said.
The Spiders get a quick shot at revenge Wednesday at 5:30 p.m., in the four-team Southern Conference tournament at Robins Stadium. Fourth-seeded Air Force (4-8, 3-3 SoCon) will try to again frustrate the offense of top-seeded Richmond (6-5, 5-1) in the first semifinal.
"I think we're going to come in with a full head of steam," said Connell, a resident of Evergreen, Col., who ranks second among Spiders with 29 goals. "Just being able to bounce back, I think the Spiders are going to come out hot."
Second-seeded High Point and third-seeded Jacksonville meet in Wednesday's second semifinal at 8 p.m. The championship game will be held Friday at noon.
At 6-foot-5 and 205 pounds, Connell presents an inviting target for Spiders passers, and opponents know it. When Richmond is flowing on offense, Connell "posts up" against shorter, lighter defenders on the right side of the net, prime position for the sophomore lefty.
"He's got such great hands. He gets the ball in and out of his stick very well, very quickly," UR coach Dan Chemotti said.
There are obvious advantages to playing a league tournament at home, Chemotti acknowledged, and also various distractions that are not present on the road, he added. In this tournament, the scouting report on Air Force in fresh in his players' minds. So is Saturday's result.
"You always learn a little bit more after you lose than you do after you win," Chemotti said.
Notes: The Southern Conference said Tuesday that UR senior attack Ryan Lanchbury was named offensive player of the year, UR graduate long-stick midfielder Sean Menges (St. Christopher's) was named defensive player of the year, UR attack Dalton Young was named freshman of the year, and Chemotti was named coach of the year. This marks the second time a team has swept all four awards, joining the 2016 Air Force team.
Air Force's travel party stayed in Richmond following Saturday's win at UR. ... Richmond won the past two SoCon championships (2018, 2019, no tournament in 2020 because of the pandemic), and Air Force won the previous two. ... The SoCon champion earns the league's automatic bid to the 16-team NCAA tournament.
A limited number of spectators (approximately 1,000) will be allowed at Robins Stadium. Adult tournament passes cost $15. Youth tournament passes cost $8. An adult day pass is $10 and youth day passes are $5. Children 4 and under and SoCon students with a valid school ID get in free.
(804) 649-6233
@RTDjohnoconnor