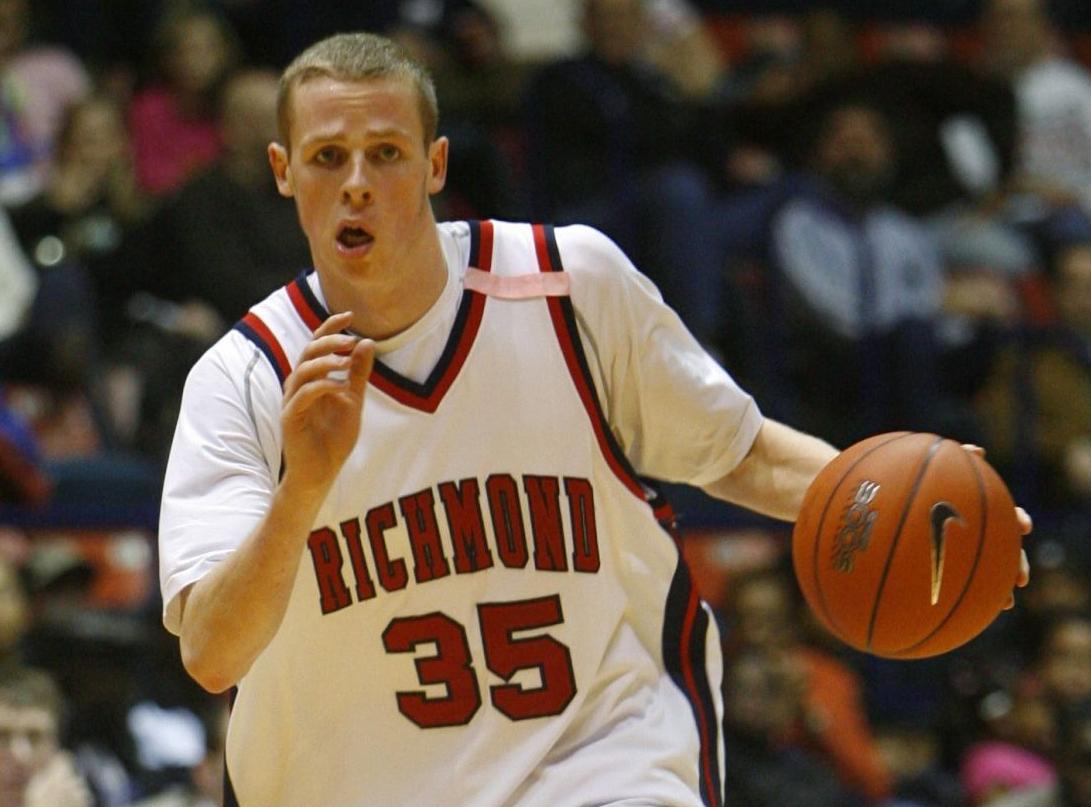 Kevin Hovde experienced the University of Richmond and its basketball program during a five-year stay as a student. He'll now start selling what he knows.
The Spiders said Monday that Hovde joined coach Chris Mooney's staff along with another familiar face at the Robins Center, former George Washington head coach and George Mason assistant Maurice Joseph. Hovde and Joseph replace Marcus Jenkins, who shifted to Minnesota, and Steve Thomas, who left for DePaul.
The holdover on the staff of Mooney, who's in his 17th year, is Rob Jones, the associate head coach.
Hovde, 32, arrived at UR in 2006 from Kennett Square, Pa., as a 6-foot-6 guard and played in 99 games, most as a reserve. Hovde missed a season because of a broken ankle, and returned as a fifth-year player enrolled in graduate school.
"I think Richmond is a really special place. To me, it's really, really special," said Hovde (HUV-dee). "A lot of that is from my experience here as a player, as a student. I just loved every part of it. Being part of our program, that really made me want to get into coaching, just the influence coach Mooney and other coaches had on me.
"To be able to come back and work for the guy you played for is just a really special thing."
If prospects pose questions about whether UR can win an A-10 championship and advance in the NCAA tournament, Hovde has the answers. He was a senior on the 2011 Spiders team that captured the A-10 title and reached the Sweet 16.
Hovde spent the past five seasons on the San Francisco staff, the last two as associate head coach. He welcomes a move back to the eastern portion of the U.S. Previously, Hovde was a member of the Columbia staff for five years.
Joseph, 35 and a Montreal native, played at Michigan State and Vermont, and joined the George Washington staff in 2011. He became the Colonials' interim head coach in 2016, at 31, after Mike Lonergan was dismissed in response to players' accusations of verbal and emotional abuse.
GW and Joseph agreed to a five-year contract in March of 2017, but he was fired in March of 2019. Joseph's Colonials went 44-57. He said he benefited from his time at GW in many ways, particularly by developing contacts in Washington and the vicinity, one of the nation's top recruiting areas.
Since, Joseph worked as an assistant at Fairleigh Dickinson and George Mason.
"When I got into the Atlantic 10 in 2011, I always found how Richmond played really, really intriguing with the Princeton offense and that system, and on the defensive side back then with the matchup zone and all of that. It was always such a tough prep," Joseph said. "I've always had a great deal of respect and admiration for how Richmond played and how coach Mooney ran his system.
"When this opportunity came about, selfishly for growing my own career and kind of learning a new, unique way to play, a new system, a new way to teach, I found that really intriguing for my own growth and my own development in this business.
"I'm eager to be involved with it from the inside and learn as much as I can."
In a UR release, Mooney referred to Hovde and Joseph as "dynamic young coaches."
(804) 649-6233
@RTDjohnoconnor