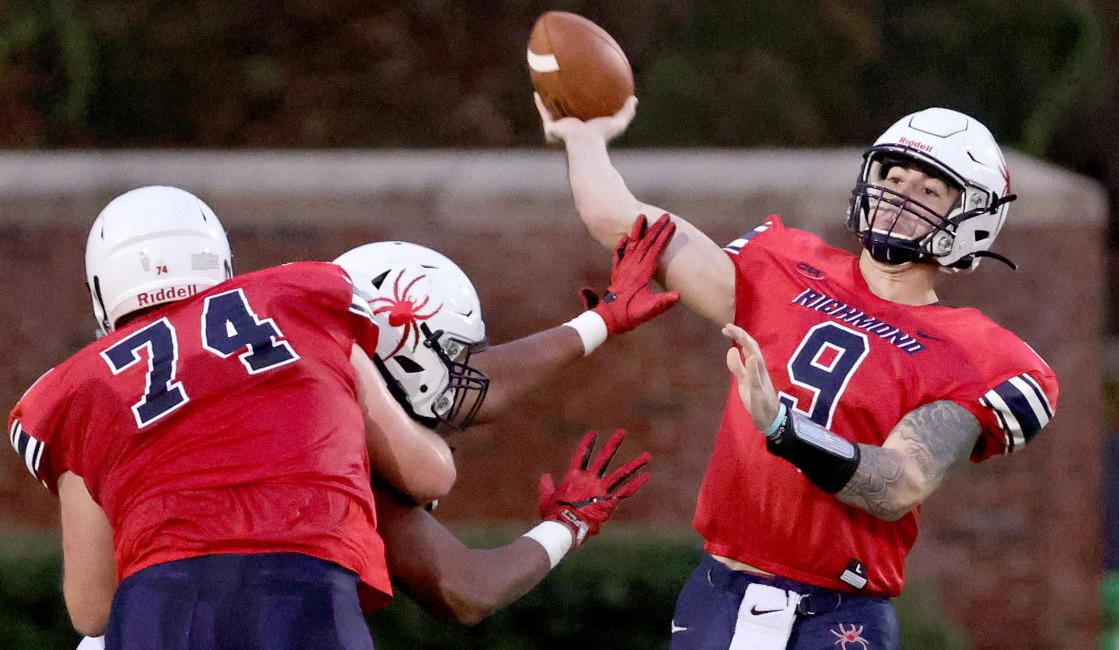 Some back-to-the-future action has driven the University of Richmond to a 3-0 record and a No. 12 ranking in the FCS poll heading into Saturday's game at William & Mary. The Spiders huddle on offense.
This "huddling" may be a foreign concept for many football fans accustomed to fast-paced systems that rely on rapidly relayed signals from the sideline. UR did a lot of that in 2019, its 5-7 season prior to this spring fling that wraps up with the trip to W&M (1-2).
No longer do the Spiders appear rushed, which seems to have benefited the offense and, indirectly, Richmond's defense.
"Obviously, it changes the pace of the game. We have the ball a lot more, and our defense is off the field a lot more," said Joe Mancuso, UR's fifth-year senior quarterback. "It also helps us with the play-calling. If we're not huddling and get something from the sideline and it gets miscommunicated, it's tough when you're on the field [lined up].
"When I'm huddling, I can explain what's going on to the guys right there instead of being spread out on the field. I think that's the biggest change for us, huddling-wise."
The Spiders' 11 offensive players no longer look to the sideline for direction before snaps, with rare exceptions. Richmond has gone with a no-huddle approach following significant gains, maintaining pressure on a deflated, and perhaps temporarily disorganized, defense.
In huddling mode, Mancuso, a three-year starter, has the flexibility to change the play, depending on what he sees from the defense. Huddling "gives the quarterback a chance to process it going to the line of scrimmage," said UR coach Russ Huesman.
Maybe it's coincidence, but Mancuso is having his best season as a Spider with the offense huddling. The 6-foot-4 215-pounder from Blairsville, Ga., has completed 60.2% of his attempts, with six touchdowns and zero interceptions. He averages 194 passing yards. Mancuso struggled with interceptions prior to this spring-semester season.
In 2019, "I had a good grasp of our system. I think I understood where people were going to be," said Mancuso. "I think what I was lacking was understanding the defense, and defensive schemes, and the coverages. … I think that's something I really worked on this offseason with coaches."
That's only part of Mancuso's development, in Huesman's estimation. He noted the quarterback's elevated leadership. "You see it every day in practice. He's got a bounce in his step. He's bringing people along," Huesman said. "Proud of where Joe is, and how he's moving forward."
This shift to offensive huddling was welcomed by the Spiders' defensive players. Junior defensive tackle Kobie Turner thought back over UR's three spring games and recalled "a ton" of long Spiders' offensive drives. During one of those extended possessions, Turner said to a teammate, "I feel like I've been sitting here for at least 10 minutes, 15 minutes."
None of Richmond's three opponents scored more than 17 points, and they averaged 55 rushing yards.
"When you have an offense that can take that much time off the clock and come away with a scoring drive, that's always huge for the defense," said Turner.
Notes: The UR at W&M game will be available for viewing on the pay site FloFootball. ... When these teams met March 6 at UR's Robins Stadium, the Spiders won 21-14.
(804) 649-6233
Twitter: @RTDjohnoconnor