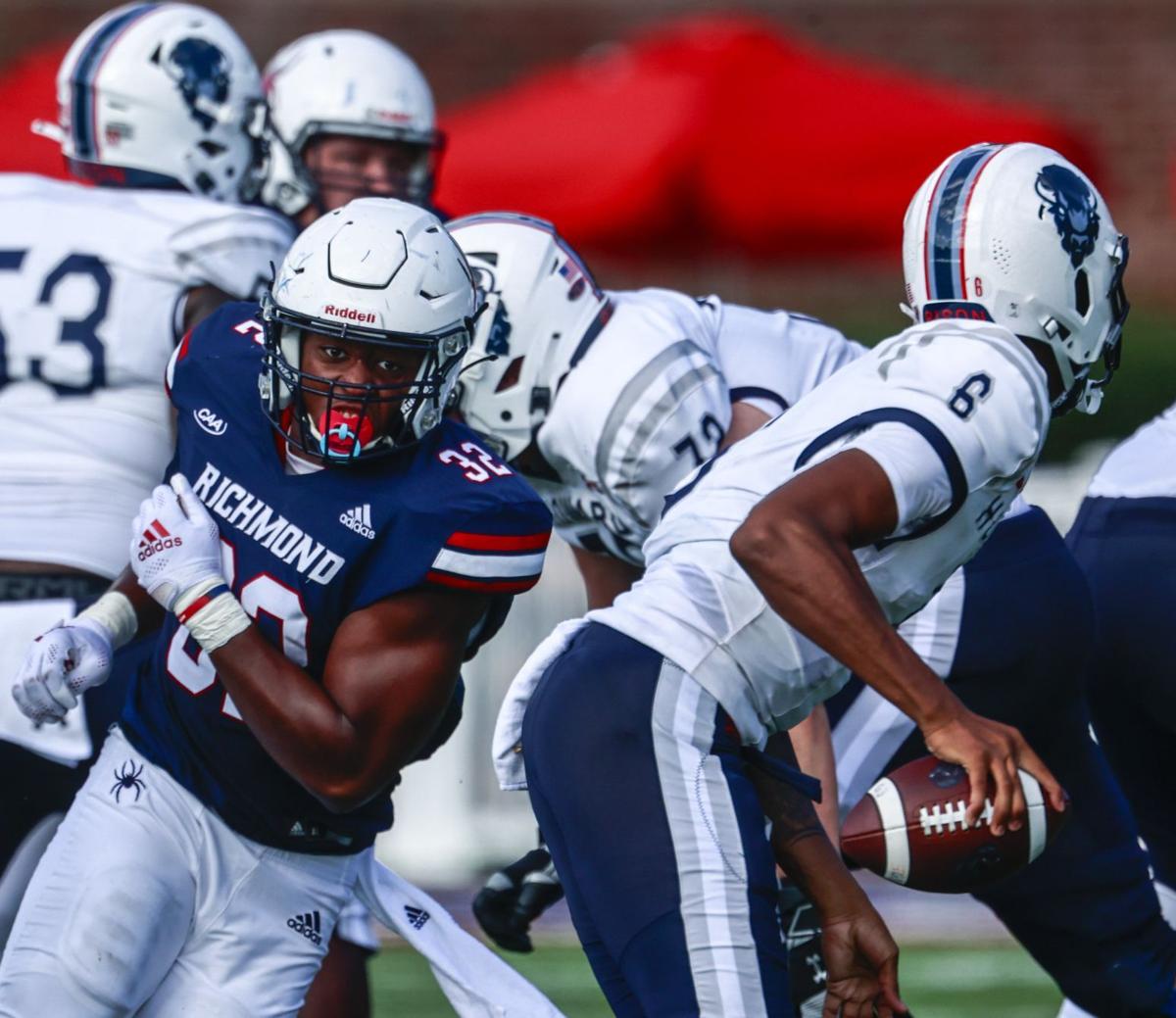 One of the University of Richmond's key players Saturday at Villanova may be a 5-foot-8 168-pounder who participated in his first football game on Sept. 4.
Aaron Trusler is part of a wave in recent years of Australians with backgrounds in Australian Rules Football who transition to NCAA schools as punters. He arrived at UR from Melbourne in late June.
In two games, Trusler averaged 38.3 yards on nine punts for the No. 21 Spiders (2-0). Maintaining, positively changing, or losing field position will be pivotal Saturday at No. 12 Villanova (2-0) because both CAA teams rely on strong defenses and power running games.
"We can't give them drives [beginning] on our side of the field, whether it be a turnover, a poor punt, a blocked punt," UR coach Russ Huesman said of the Wildcats. "I think they've had nine possessions starting in the opponents' territory. That's a credit to their defense getting takeaways [eight], their special-teams units. All those things are giving their offense an opportunity to get really short fields."
Trusler continues to acclimate to college football, according to Huesman. In Australian Rules Football, an egg-shaped ball is kicked by players on the run. That matches the field-position-changing skill desired by college football coaches, such as Huesman, who are proponents of rugby-style punting.
Based on Villanova having allowed a total of 9 rushing yards in two games and Richmond holding its two opponents to 3 of 22 on third downs, this is probably not going to be a shootout.
"We're going to have to run the football," said Huesman. "We're not built to just step back and throw the football, so we're going to have to find creative ways to run the ball. ... It'll be tough real estate in there, but we've got to find ways."
Villanova quarterback Daniel Smith, from Leesburg and Tuscarora High School, was recruited as a walk-on by Richmond. He went to Campbell, where Smith redshirted one year and played two before transferring to Villanova. He developed into one of the CAA's top QBs in 2019.
"He can run. He can throw," said Huesman, who classified Villanova tailback Justin Covington (108 rushing yards per game) as "probably the best back in the league."
For Richmond and Villanova, this CAA opener will serve as a barometer. The Wildcats hammered Lehigh (47-3) and Bucknell (55-3). The Spiders did the same to Howard (38-14) and Lehigh (31-3).
"I think we were better than both these teams physically, and it kind of shows. We can make mistakes and survive it. Howard and Lehigh couldn't make mistakes and really survive it," said Huesman. "So I think right now, we have a better football team than those two teams. If we play like we're capable of playing, we should win those games."
Two easy victories, in which Richmond's starters played limited snaps in the second half, served a valuable purpose in the estimation of UR tailback Aaron Dykes.
"Everybody got a chance to play these first two games and have shown that they can make those plays that we need to make in certain situations, which is nice to know going deep into the season," he said.
After the Spiders meet Villanova in their first road game, they visit Virginia Tech.
(804) 649-6233
@RTDjohnoconnor