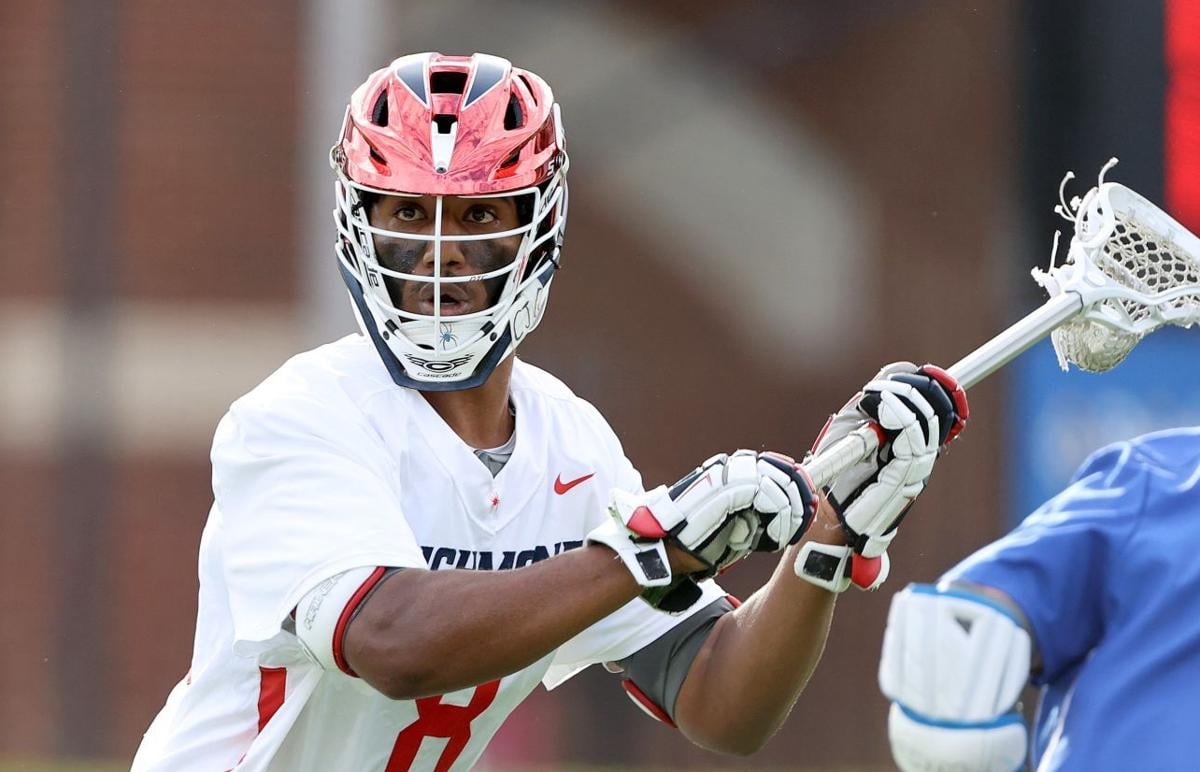 The names of players joining the University of Richmond men's lacrosse program gradually become known to those already on the team.
When Sean Menges learned that the Spiders were adding a midfielder named Mustang Sally, "I was like, 'You've got to be kidding me. There's no way,'" said Menges, a senior defensive specialist from St. Christopher's.
"Mustang Sally" was Wilson Pickett's funky soul mega-hit in 1966 with the unforgettable chorus: "Ride, Sally, ride!"
Understandably, these Spiders in their late teens and early 20s are unfamiliar with Pickett's complete catalogue of songs, but all have become aware of one since Mustang Sally arrived at UR a couple of years ago.
His birth certificate reads "August Sally." But only close relatives call him "August," according to Sally. UR lacrosse rosters list him as "Mustang Sally," and that's also his official school email address.
"My dad used to call me that when I was a lot younger and it really started to pick up once I got into high school. I started introducing myself as 'Mustang,'" said Sally. "It kind of just went with a lot of the things I try to contribute in my play, speed, playing fast."
Teammates, coaches and others on campus who do not refer to him as "Mustang," simply call him "Stang."
Sally has become much more involved as Richmond's season progressed and will be among influential Spiders when, as the top seeds, they meet second-seeded High Point for the Southern Conference championship Friday at noon at Robins Stadium.
"We changed his position in January. He was an offensive middie and we just said, 'Listen, we need a little more size on the defensive side,' and he was the best guy for the job," said UR coach Dan Chemotti. "I thought it took him a little while to get used to that end of the field, but he's coming together really nicely.
"He's been a nice spark for us."
Sally, a 6-foot-2, 180-pound sophomore, demonstrated his defensive power and an ability to get free in transition during Wednesday's 11-6 win over fourth-seeded Air Force in the SoCon semifinals. On one play, Sally retrieved a loose ball and started running near midfield. Sally was physically met by Air Force's Dante Orlando, who bounced off Sally and fell to the turf. Mustang Sally continued motoring, without breaking stride.
"He's been earning his minutes. I love having him on the team. He's a huge team player and a big energy guy," said Menges. "His personality lives up to his name. He is as exuberant and unique as his name suggests.
"I can see him being a leader for the next couple of years on this team."
Sally resides in Denver, and Richie Connell, one of UR's top offensive players, lives in Evergreen, Colo., located outside of Denver. They played for the same lacrosse club team growing up and are roommates at Richmond.
"The hybrid between great academics and a really competitive lacrosse team drew me in," said Sally. "And I wanted to get away from home."
The Spiders (7-5) defeated High Point (7-5) at Robins Stadium 17-11 on March 26.
(804) 649-6233
Twitter: @RTDjohnoconnor