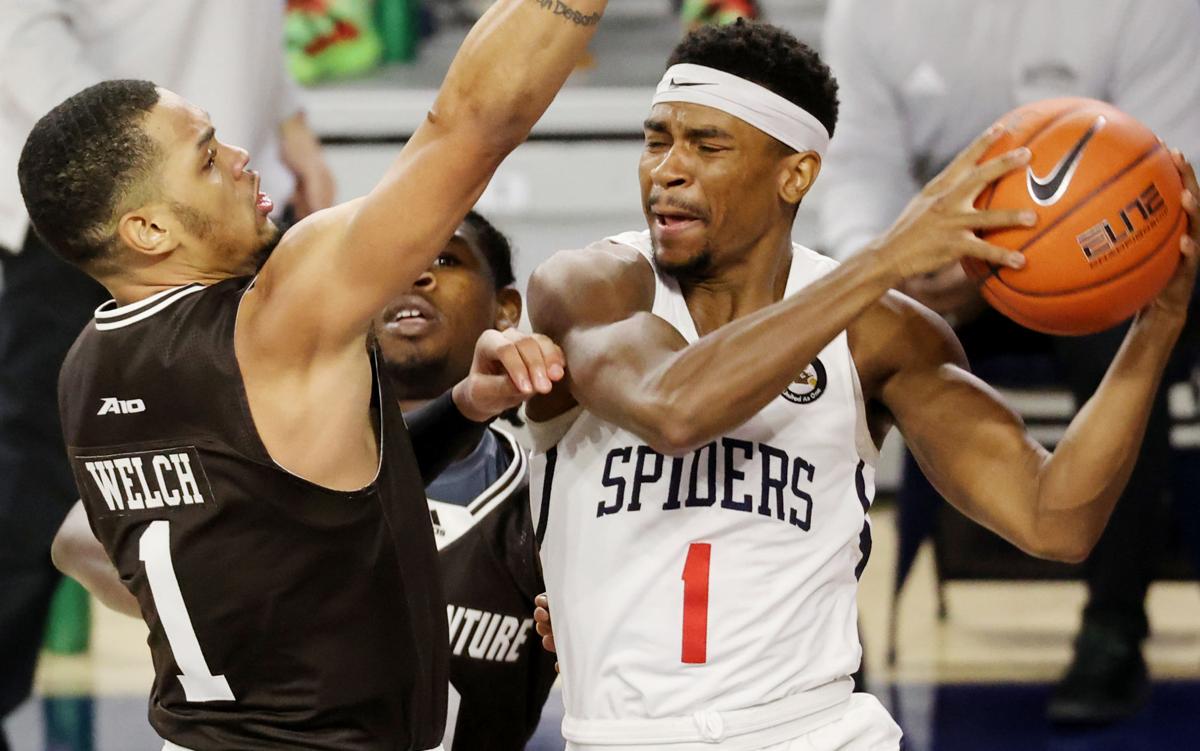 The A-10 school about 10 miles from Blake Francis' Herndon home did not want him. Francis, the University of Richmond senior guard from Herndon, finally gets a chance to a play at George Mason Saturday at noon.
Francis will walk into EagleBank Arena without bitterness.
"They showed a little bit of interest in me when I was in high school, but that was about it. They never offered me, or anything like that," said Francis. "I didn't really think like, 'Oh man, George Mason, I would love to play there.' No, I really didn't have that feeling."
Francis, UR's leading scorer (16.4 points per game) for the second consecutive season, never played at GMU while starring at Westfield High, didn't play at Mason during two seasons at Wagner, and did not face the Patriots in Fairfax last season, his first as a Spider. The trip was part of the six-game stretch Francis missed with a fractured sternum.
He watched the game from the bench, wearing a sling. This visit will be so much different, without Mason's juiced-up pep band (complete with vocalists) and fans, for the most part. Richmond coach Chris Mooney used the word "muted" to describe road atmospheres.
"At this point, it is what it is," Francis said of college hoops during a pandemic. "I know it's a little different without fans, but I do get a chance to play there this year."
Francis scored 1,390 points at Westfield High and led the team to the 6A state title in 2016. But he is a 6-foot wing.
"Everybody wants a kid that fits their system. Blake was undersized," Francis' coach at Westfield, Doug Ewell, said this week. That, Ewell suggested, is why Dave Paulsen, GMU's coach since March of 2015, chose not to make Francis a recruiting priority.
Paulsen had plenty of company. Because he had zero Division I scholarship offers, Francis was planning on attending Massanutten Military Academy in Woodstock for a post-graduate year. The summer following his senior season at Westfield, a Wagner basketball scholarship opened, and an offer extended to Francis, after a player in the program was switched from a basketball scholarship to one in football.
Long ago, Francis demonstrated his Division I value. He has scored 1,376 points, and could be considered UR's top perimeter defender. Francis said he approached this season wanting to show he could be a quality ball distributor when he isn't scoring. He averages nearly three assists after averaging two as a junior.
Yet Francis remembers very well that more than 300 Division I coaching staffs passed on him after he distinguished himself at Westfield.
"I have to go out there and play hard every night, and that's kind of my mentality. But I'll always keep that chip on my shoulder, regardless of where I'm at, because I know what I had to go through to [reach] this point," said Francis.
Richmond played visiting Rhode Island Wednesday at 6 p.m. On the Robins Center court at 4:45 were two Spiders' walk-ons, and Francis, who was going through shooting drills.
"Such a hard worker," said Ewell.
Notes: Mason (5-4, 1-2 A-10) lost in Fairfax to VCU 66-61 Wednesday night. Richmond (8-3, 2-1 A-10) beat Rhode Island 80-73, though Rhody's bench outscored UR's 21-1 … UR senior guard Jacob Gilyard had five steals against URI and now has 319 in his career. That's 66 behind the NCAA career record-holder, John Lineham, who played at Providence.
All Spiders starters scored in double-figures against URI, the first time that's happened this season. On seven occasions in previous games, four starters reached double-figures.
The UR-at-GMU game will be televised by the CBS Sports Network.
(804) 649-6233
@RTDjohnoconnor