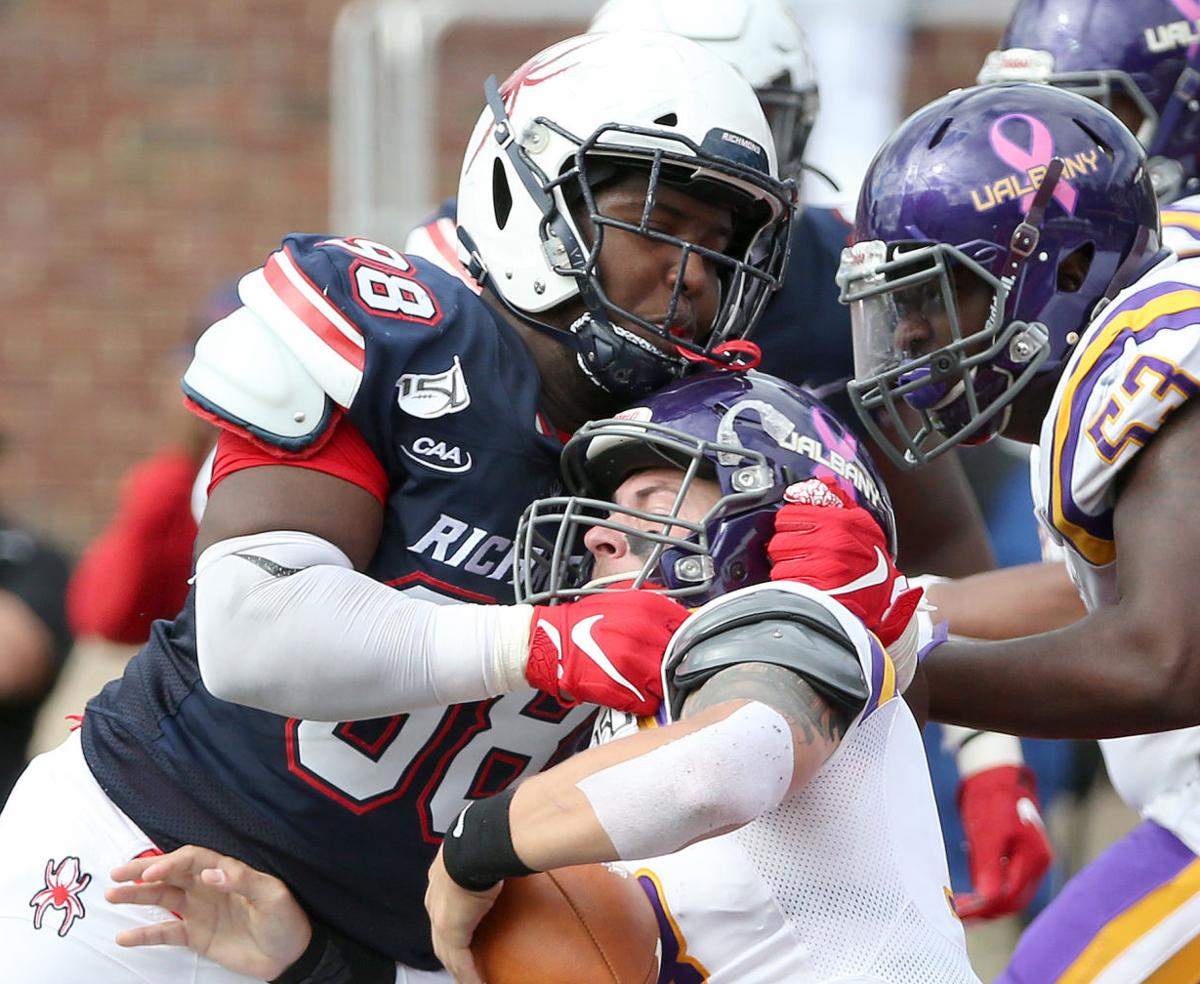 Stretch. A lot. Because it is mid-January, not mid-July.
That's imperative and quite different than the usual physical preparation for the start of preseason football practice, as recognized by University of Richmond defensive lineman Kobie Turner.
"You don't want to pull anything," said Turner, a 6-foot-3, 275-pound redshirt junior from Clifton, one of the Spiders' five captains. "You've got to make sure you stay active. You never want to go out there cold. You can get hurt that way."
What the Spiders are currently doing — conditioning and lifting weights in small groups as they get ready for preseason team work — is typically done in the summer's hottest months. Not this year.
Richmond and other CAA teams, along with almost all FCS programs nationally, did not play in the fall because of the pandemic. The Spiders recently returned to campus from mid-semester break and they're getting ready for an unprecedented spring-semester season.
"We're working them out, seeing where they are, kind of getting them to a point where we feel good about their physical capabilities. Because when you're away for a while, you get a little nervous about how much work they did while they were gone," said UR coach Russ Huesman.
Richmond is scheduled to officially begin preseason practice Feb. 5, contingent on the school's approval as the pandemic continues to deeply affect all matters.
"We're certainly excited to get back and start playing some football," said Turner. "We've been itching to compete for the longest time."
In the Spiders' first team meeting of the semester, Huesman said his emphasis was on following the school's health and safety guidelines. He commended Richmond's players for their compliance during the fall semester.
"But now we're playing games, and it's a bigger deal," said Huesman. "They've got to understand that there's more of a sense of urgency to do things the right way this spring if we want to play."
Richmond conducted 15 "fall ball" sessions that ran through Nov. 13 in the absence of a normal fall schedule, and closed with a scrimmage.
Fall "was a huge period of growth as a team, getting to know one another better, getting to know our play styles and really meshing," said Turner.
"We're excited to show all that we worked on against another group."
Richmond has six CAA games scheduled for the spring semester — two each with William & Mary, James Madison and Elon — from March 6 to April 10. The FCS playoffs, with 16 qualifiers rather than the usual 24, proceed subsequently.
"We have an opportunity to go out and get a lot of people playing time this spring," said Turner. "Of course it's unconventional, but we're ready to go."
Richmond is scheduled to open against W&M at Robins Stadium March 6.
Notes: Huesman said the Spiders did not add any transfers for the spring semester ... Eleven of the 12 CAA teams will participate in the spring-semester season. Towson in October announced it was opting out for safety reasons, and to focus on the 2021 fall season.
CAA programs will each play a six-game league season, with the option of two nonconference games.
(804) 649-6233
Twitter: @RTDjohnoconnor