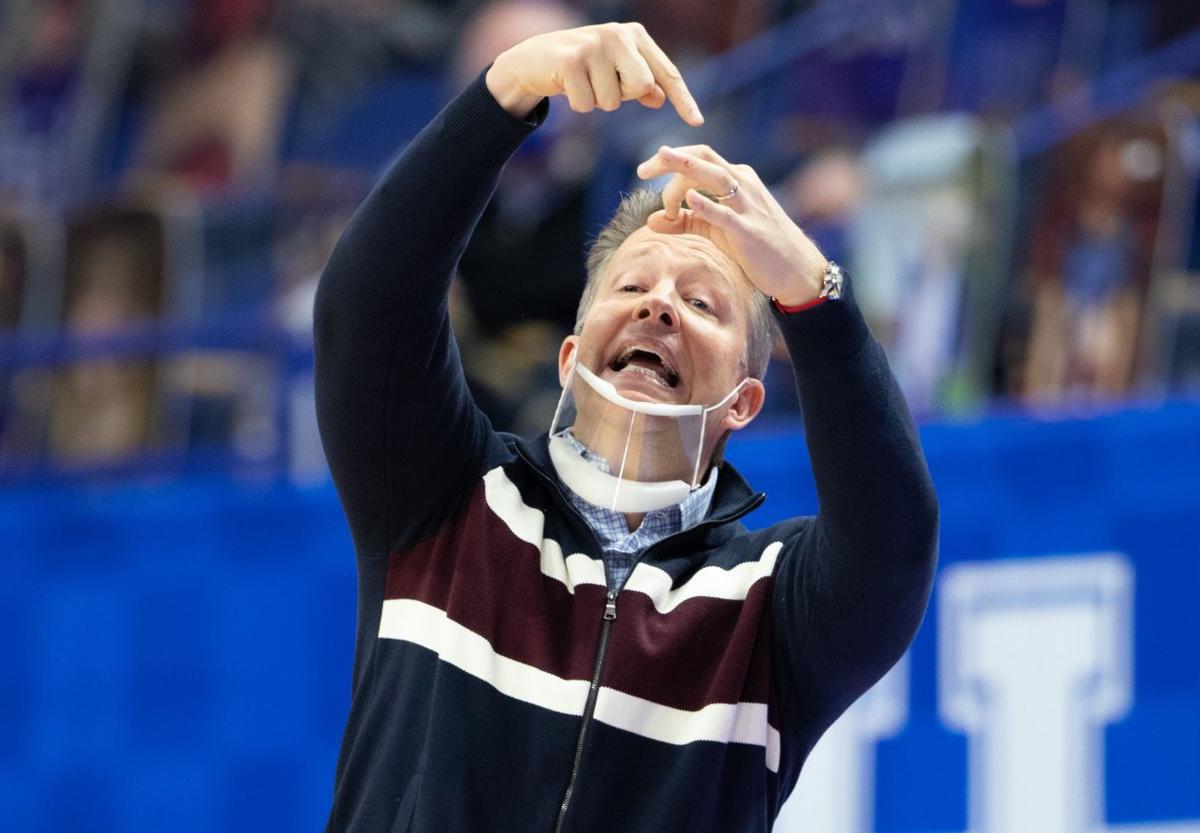 The University of Richmond basketball program won't soon be taking into competition the momentum generated by Sunday's win at Kentucky and a subsequent No. 19 national ranking. The Spiders paused hoops activities Tuesday because of a positive COVID-19 test and attendant contact tracing.
UR entered the AP Top 25 on Monday for the first time since 2010.
The Spiders, like all Division I teams, test a minimum of three times a week on nonconsecutive days, per NCAA guidelines. There was recently a positive test among a UR program member. A false positive remains a possibility. The school is exploring.
Richmond (2-0) was scheduled to play at the College of Charleston (1-1) on Wednesday night, and that game will not occur as the UR program member retests and results are learned. If the program member tests positive again, the Spiders would be expected to shut down for 14 days.
In a school release, John Hardt, UR vice president and director of athletics, said, "We are pausing our men's basketball program for now in accordance with the guidelines of the CDC, Virginia Department of Health and our university medical professionals. Although we are extremely disappointed for our student-athletes, our coaches and our fans, the health and safety of our Spider student-athletes and staff must be our top priority.
"We will continue to follow the guidelines and protocols of the appropriate medical professionals. I know our athletics program, including our men's basketball student-athletes, coaches and staff will continue to do an excellent job being proactive and following the appropriate protocols. They have all worked extremely hard to ensure the safest environment possible, so this current situation is especially frustrating."
Charleston is interested in rescheduling the game.
Richmond's home opener is scheduled for Saturday against Furman, though no fans are permitted in the Robins Center, only guests of players and staff members with a limit of 250. Northern Iowa is scheduled to play at Richmond on Dec. 9.
The Spiders are scheduled to visit West Virginia on Dec. 13 and Vanderbilt on Dec. 16, their only two remaining games against Power Five opposition.
Richmond's season opener, scheduled for Nov. 25 against Detroit Mercy at Kentucky, was called off when Detroit Mercy withdrew from the Bluegrass Showcase because of a positive COVID-19 test in the Titans' program.
"If we've had travel issues in the past, it's been important to me for myself and our coaches not to freak out and make a big deal about it. Just try to roll with the punches and do whatever we have to do," UR coach Chris Mooney said just before the start of the season.
A comparable approach is necessary when trying to play during a global health crisis, according to Mooney.
"I think you have to keep a level head. If you're preparing for a game and that game is postponed or canceled, then you have to look to the next game you can schedule," he said. "We have to be ready to be flexible and to potentially plug in a different game on a different date."
At this time, a team is required to play a minimum of 13 games to qualify for the NCAA tournament. Men's and women's basketball were the first Spiders sports to resume since the pandemic stopped college athletics in mid-March. A smooth ride was unlikely, players and coaches acknowledged.
"One practice at a time. One game at a time, and that's all it is," Spiders senior forward Grant Golden said after Sunday's victory over Kentucky. "This is obviously a crazy year with [the pandemic] and everything. We don't know what's going to come our way.
"But whatever it is, we'll be prepared no matter what."
The Richmond women's basketball team's home opener on Nov. 29, against Georgetown, was called off because of a positive COVID-19 test in the Georgetown program.
Dozens of Division I basketball programs, and many in football, have suspended activity as the pandemic's grip on the nation tightens.
In the 14-team A-10, Richmond becomes the sixth program to pause in response to COVID-19 issues. St. Bonaventure, Massachusetts, Fordham and Saint Joseph's also experienced interruptions.
William & Mary stopped competition because of a positive COVID-19 test in its program. The Tribe said Monday that they would not be playing scheduled games at N.C. State (Monday), Hampton (Dec. 3), at George Washington (Dec. 5), at Norfolk State (Dec. 9) and at Virginia (Dec. 12).
Barring any additional setbacks, the W&M program hopes to return to activity on Dec. 14.
Overall this academic year, addressing COVID-19 concerns will cost UR athletics in excess of $750,000, according to Hardt. More than half of that — a minimum of $385,020 — will be spent on testing men's and women's basketball players during their seasons.
The school has reached out to Spiders supporters for help in meeting this expenditure outside of the budget.
The NCAA moved back the start date for Division I basketball from Nov. 10 to Nov. 25 and prohibited scrimmages (closed) and exhibitions (open) because of growing concerns about the pandemic.
(804) 649-6233
Twitter: @RTDjohnoconnor