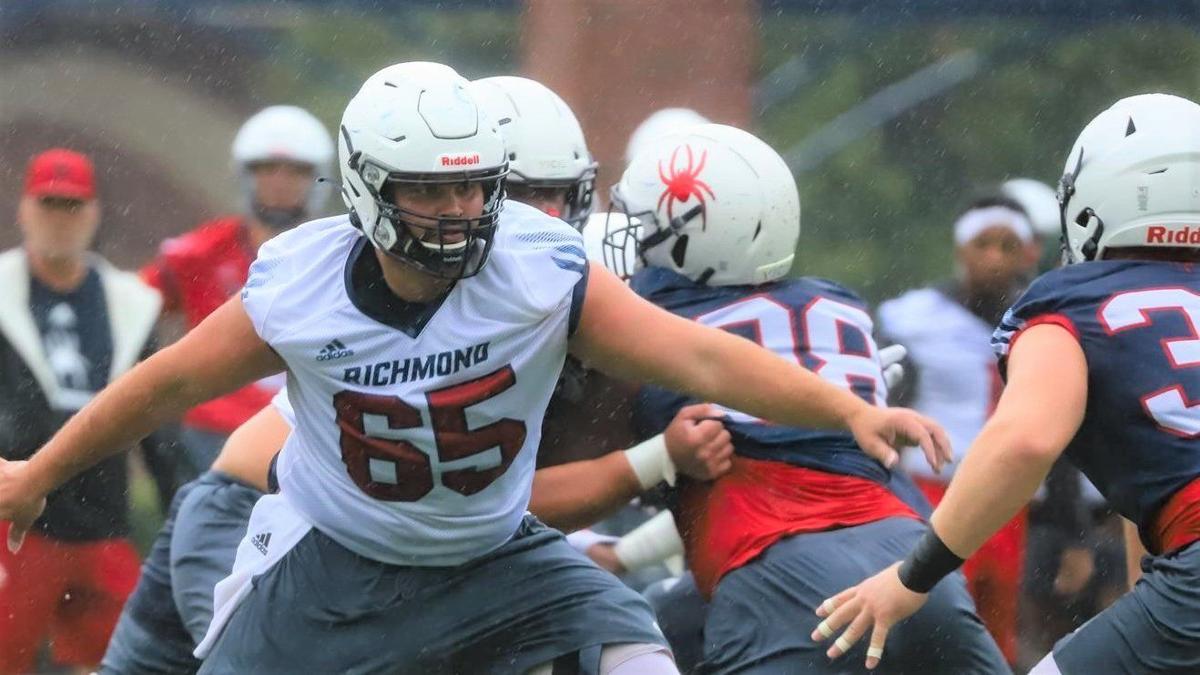 University of Richmond center Clayton McConnell reported for a recent media obligation having already spent part of his day receiving treatment in the Spiders' training room. He returned for more body work following the question-and-answer session.
McConnell, a 6-foot-4, 290-pound redshirt senior, is not injured, just ultra-attentive to all measures he can take to remain fit while operating in the violent and chaotic vortex of each UR offensive play he begins by snapping. His weekday routine involves extensive stretching, some weightlifting, ice baths and other preventative and recovery firewalls.
Through three-plus seasons as a regular, McConnell's consistent training room trips have been rewarded. When the No. 21 Spiders (2-0) visit No. 12 Villanova (2-0) on Saturday in the CAA opener for both teams, he'll make his team-high 23rd straight start.
Part of McConnell's string is good fortune. Part is good technique and training. This year more than previous seasons, part is good depth along the offensive line. That keeps McConnell relatively fresh and less susceptible to injuries. Redshirt sophomore Tom Elia gave McConnell breaks in the Spiders' season-opening 38-14 win over Howard and last Saturday's 31-3 victory over Lehigh.
"We really have two deep across the front, and we're able to run those [reserves] in," said McConnell, a resident of Foley, Ala.
Richmond has attempted 64 passes and allowed only two sacks. More noticeable has been UR's ability to set the tone with its running game. The Spiders gained 226 ground yards against Howard, and 238 against Lehigh (125 in the first quarter).
"These first two games, the hogs have been playing tremendous," said tailback Aaron Dykes, who has rushed for 125 yards through two starts in limited playing time because of the Spiders' second-half leads.
The offensive-line starters' experience plays a major part in the early-season success, according to McConnell.
"We have really good players, but also [many] starts now together," he said. "It's good to have that cohesion and be able to play together. Having the level of players we have just takes us to the next step."
Running the ball at Villanova? Different challenge than UR previously faced in 2021. The Wildcats have allowed a total of 9 rushing yards — which leads FCS — in two games, easy wins at Lehigh (47-3) and over Bucknell (55-3).
UR coach Russ Huesman said he constantly tells his offensive linemen that they're his favorite group among Spiders. "I'm not afraid to say it," Huesman said. "They do a lot of the grunt work, and they don't get the recognition ... Love those guys."
If the Spiders run the ball effectively against Villanova, UR's offensive linemen will get the recognition.
Richmond was picked fourth in the CAA preseason poll and Villanova was forecast as the third-place finisher behind James Madison and Delaware.
Notes: Part of the Villanova running game that averages 254 yards is Thomas Jefferson High graduate Jalen Jackson, a senior who gained 70 yards vs. Bucknell after missing Villanova's opener because of foot injury.
"He's an explosive guy," VU coach Mark Ferrante said. "Probably of all our running backs, I would say he's as good as any of them as far as putting his foot in the ground and getting north and south on a 90-degree cut."
The Wildcats are led by graduate student Justin Covington, an NFL prospect who averages 108 yards.
Huesman said receiver Jasiah Williams (Thomas Dale) will miss his second consecutive game because of a violation of team rules. Williams had eight catches for 85 yards in season-opening win over Howard.
(804) 649-6233
@RTDjohnoconnor