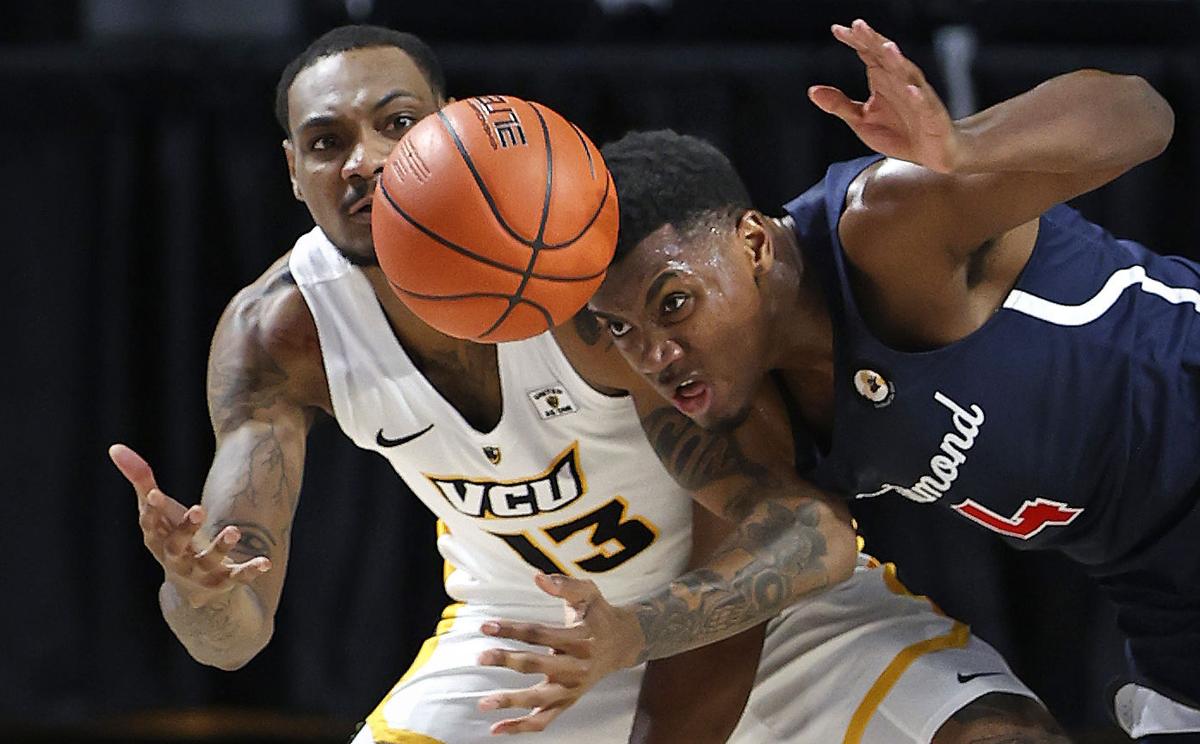 Among 41 missed shots, a four-attempt cluster stood out.
With about five minutes left in the first half at VCU on Wednesday night, the University of Richmond missed and grabbed an offensive rebound. The Spiders missed again, and pulled another offensive board. Twice more this happened.
The Rams finally secured a defensive rebound. For UR, a good bit of work went unrewarded.
"There were two layups I missed, wide open," said UR forward Nathan Cayo. "We need those baskets."
As Richmond coach Chris Mooney recalled after the Spiders' 68-56 loss, each of the four shots "seemed better than the previous, and we just couldn't convert those. Those [situations] can go either way. If you make that fourth shot, it feels great. If you miss, it might feel a little frustrating."
UR (11-5, 4-3 A-10) stayed competitive and took a 3-point lead with 11:25 remaining. But the Spiders ultimately had too many empty possessions. They went 20 of 61 (32.8%), missing 16 of 19 3-point attempts.
UR hit one of its last 15 shots.
"I feel like we really had opportunities to take a lead and keep the lead," said Cayo, who led UR with 18 points.
Apart from Cayo, who made 5 of 11, UR's other starters went 12 of 44 (27.3%).
"That was my biggest concern, having a really bad shooting night … That was the story of the game," said Mooney. "We just weren't quite able to overcome it. Our scrap and our hustle and toughness gave us a chance.
"It just has a way to make you less fatigued if you're putting some points on the board and not having droughts."
VCU committed 16 turnovers without Richmond exerting much defensive heat.
"We weren't able to capitalize on their turnovers … put more pressure on them, make those turnovers more regrettable for them," said Mooney.
The Rams had seven blocks, and were far bouncier inside. VCU coach Mike Rhoades liked how his players gummed up the cut-and-screen patterns that typically result in Spiders buckets.
Before Wednesday, Richmond was making 48.9%, and scoring 77 points per game.
But 6-foot-10 Grant Golden (2-11 in 29 minutes) looked as though he reported for work with deadish legs, perhaps a result of the extended COVID-related break Richmond needed to take prior to Sunday night's 90-59 win over Division III St. Mary's (Md.). In that game, UR tied the Robins Center record with 16 3s, and shot 56%.
VCU presented a much more physical challenge, demonstrated by board superiority (43-27) — "There were plenty of possessions where we played good defense, and we just needed to grab the rebound," said Cayo — and Richmond's lowest point total and field goal percentage in two years.
Richmond found offensive rhythm for five-minute stretches, but failed to sustain.
"They're a great defensive team. They have the defensive statistics to prove it," Mooney said of the Rams.
"I think we're capable of having a good shooting night against almost any team because I think we're somewhat built that way.
"I felt like we were able to get some good shots but, again, we didn't make them, and a lot of credit goes to their defense."
(804) 649-6233
Twitter: @RTDjohnoconnor