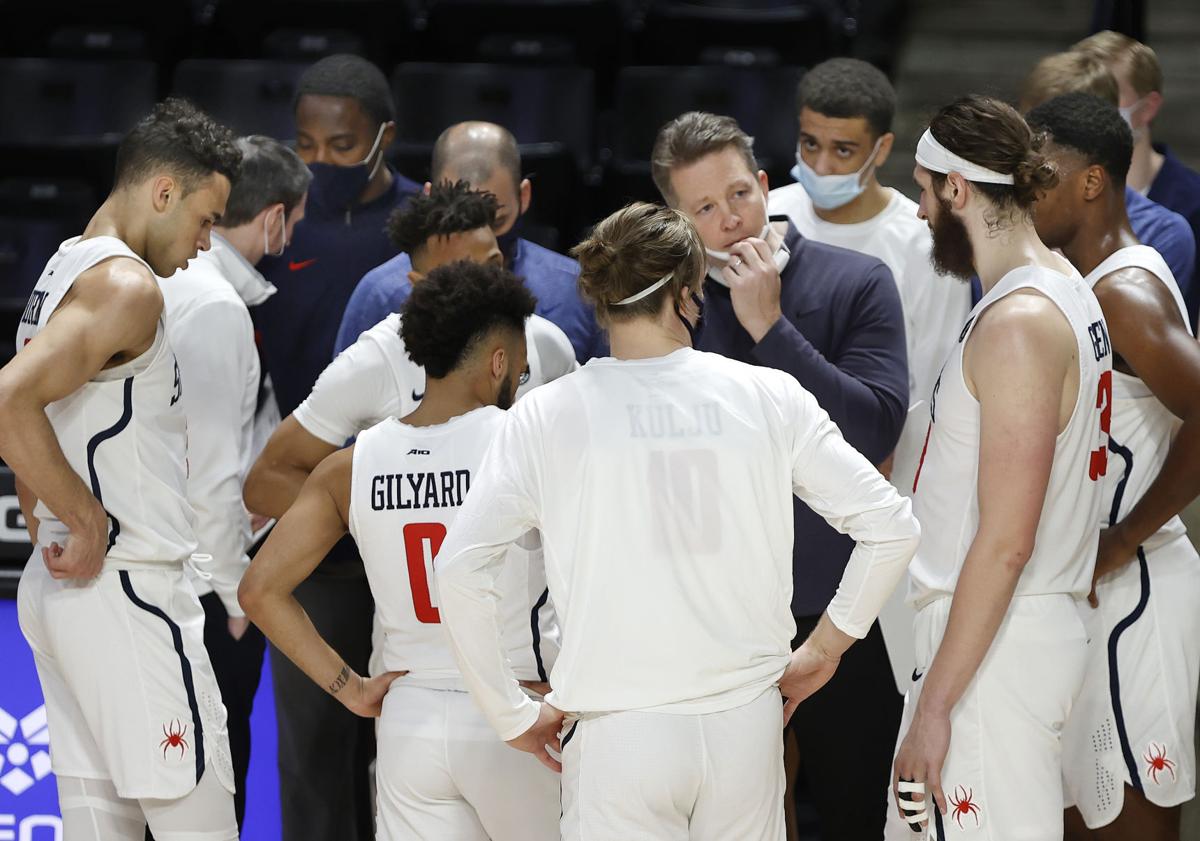 The University of Richmond men's basketball program not long ago struggled to control attrition through a four-year stretch. That issue is currently nonexistent.
The Spiders are the only A-10 team, and one of a dozen in Division I, that did not lose a player to transfer following last season. There have been about 1,740 Division I transfers this year, according to verbalcommits.com.
Returning to UR are all players who ended last season on the roster, minus guard Blake Francis, who left after five years of college (four seasons of game competition) to begin his professional career. He had an extra season of eligibility, which he chose not to use, after the NCAA allowed all winter-sport athletes a bonus year because of the pandemic.
Other Division I programs that have not lost a player this offseason are UCLA, San Diego State, Saint Mary's, Missouri State, Bellarmine, Delaware, Arkansas State, Lehigh, UC Riverside, Yale and Dartmouth. The Spiders' returning cast includes a pair of sixth-year players — 6-foot-10 Grant Golden and 6-4 Nick Sherod, who redshirted seasons for health reasons — plus 5-9 Jacob Gilyard and 6-7 Nathan Cayo, who are fifth-year players.
"I think it's great and to be honest, I feel like that would be our particular goal, Richmond's goal, every year, is to try to have sustainability and guys come back," Chris Mooney, who's in his 17th year at UR, said Friday. "It's no surprise that guys improve and develop and get better, especially at that age, in college.
"I think it's important not only to have continuity in your program, but also to get the guys to be able to have their best years while they're still at Richmond."
At UR, 10 scholarship players with eligibility remaining left the program for various reasons from the conclusion of the 2014-15 season to May of 2018. From the 2017-18 roster, the Spiders lost five players with eligibility remaining.
In explaining the difference between then and now, Mooney said, "Probably a little bit better recruiting on the front end in terms of evaluating guys who would be more likely to be [at UR] their entire time, [signing] guys who fit the whole model, really good players who could do well academically and fit in."
Losing players who transfer is not always detrimental to the program's talent base. When reserve guard Jake Wojcik transferred from UR after the 2019-20 season to Fairfield, UR used that scholarship to land 6-5 Dji Bailey, who previously signed with Wake Forest and then requested his release when Danny Manning was dismissed as Wake's coach.
Bailey as a freshman last season displayed ability that suggested he could become a future Spiders standout, status that Wojcik seemed unlikely to reach.
The Spiders in December lost 6-10 freshman Andre Weir, a resident of Hollywood, Florida, who shifted to Florida Gulf Coast. Mooney said after Weir's departure that he wished Weir had stayed at Richmond, suggesting he didn't give UR much of a chance before transferring.
Four players who transferred from Richmond were active in Division I last season: De'Monte Buckingham, 6-4, Cal State Bakersfield (Henrico High graduate who was dismissed from UR program for violation of athletic department policy is now at UNC Greensboro); Wojcik, 6-4, Fairfield; Phoenix Ford, 6-8, UTSA; Tomas Verbinskis, 6-8, Lafayette.
While UR did not lose any players to transfer since the completion of last season, two assistant coaches changed jobs. Marcus Jenkins joined the Minnesota staff and Steve Thomas is now at DePaul. They were replaced by former George Washington coach Maurice Joseph and former Spiders player Kevin Hovde, who came from the San Francisco staff.
(804) 649-6233
@RTDjohnoconnor