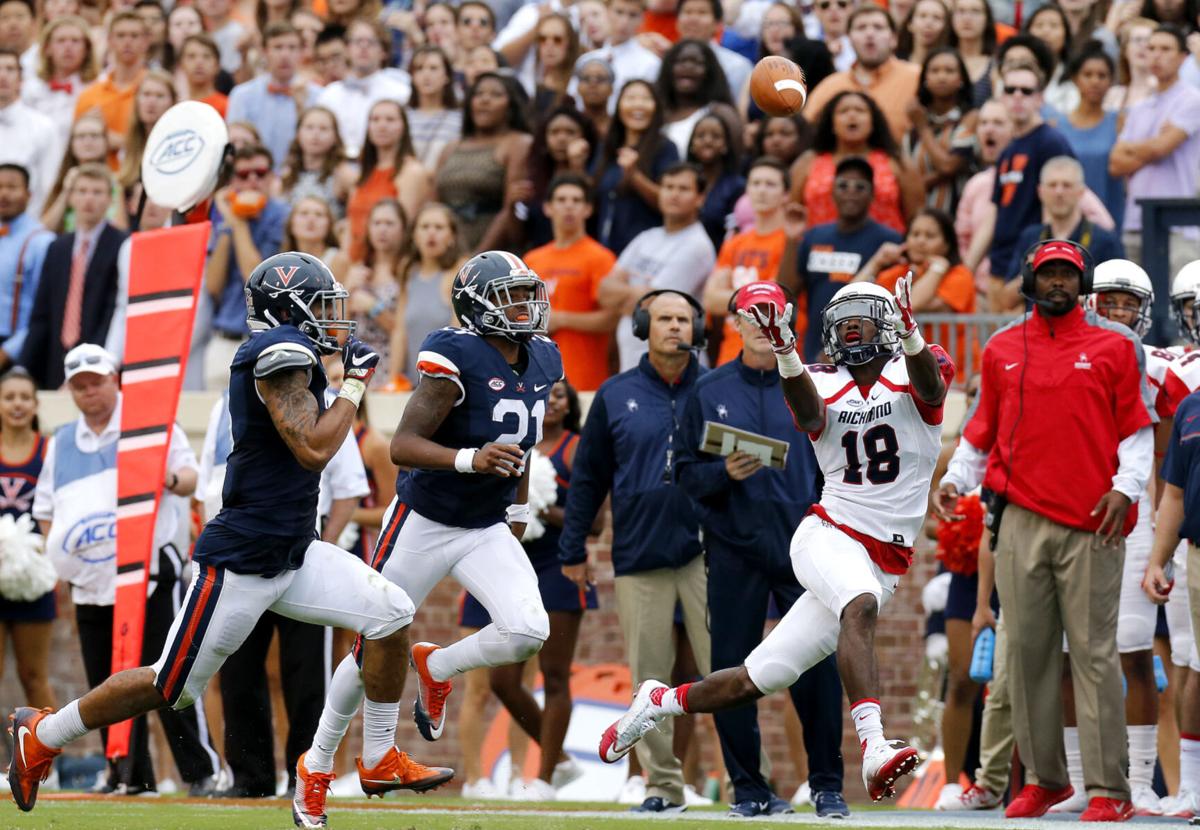 Russ Huesman, coach of the University of Richmond team that plays at Virginia Tech on Saturday, has long been a proponent of FCS vs. Power Five games. He didn't sound confident Wednesday that they will continue longer than five more years.
"Do I think they're going to go away? Yes," said Huesman.
His view is shaped largely by a potential shift in college football. The ACC, Big Ten and Pac-12 are discussing a future scheduling alliance outside of leagues competition in response to the SEC adding Texas and Oklahoma in 2025.
In light of a beefed-up SEC, the ACC, Big Ten and Pac-12 are exploring ways to increase their members' access to the College Football Playoff. Teams from those three leagues could meet on a regular, structured basis. The approach would increase schedule strengths that may determine many qualifiers for future CFP fields and please media partners by enhancing television inventory.
That could kill FCS vs. Power Five matchups or greatly reduce the number of those games. Most of these once-a-season meetings result in one-sided outcomes, and have for decades, though 10 FCS teams defeated FBS members so far this season (87 losses). Four of those victories came over Power Five members.
Power Five programs can each give as many as 85 scholarships and offer them to the nation's premier prospects. Each FCS program works with a scholarship limit of 63.
"I don't want them to go away. I know some of those [Power Five] coaches, they don't want them to go away," Huesman said of FCS games against Power Five opponents. "I think they know that in Division I college football, which we play at the FCS level, this is really important. Let's keep everybody healthy financially and keep plugging along.
"But I would say five years maybe I think something different is going to be on the landscape. But again, that's my personal opinion."
Richmond will take home a $400,000 guarantee for its visit to Virginia Tech, and William & Mary received the same amount for its 43-0 loss at Virginia on Sept. 4. This year, 11 of the 12 CAA members play FBS competition, with James Madison the exception. Seven of those games are against ACC, Big Ten or Pac-12 opposition. Without those, the fiscal hits would be significant. Stony Brook, for instance, earned $625,000 for last weekend's trip to Oregon, which won 48-7.
"I like the games. Obviously you say the guarantee, and that's obviously important to FCS programs," Huesman said. "But I think it's great for our guys to get out there and play in that environment, play against those guys. It helps in recruiting, all those types of things."
The Spiders are scheduled to play at Virginia next season, at Michigan State in 2023, and at Virginia in 2024. JMU has future dates with Louisville (2022), North Carolina (2024) and Virginia Tech (2025) scheduled. William & Mary visits Virginia in 2023.
Brian Mann, who began his tenure as W&M's director of athletics in early August, said, "I love those [FCS vs. Power Five] games and I'm going to do everything in my power to make sure they continue."
Richmond is 1-6 in its past seven games against Power Five opponents. The Spiders won 37-20 at Virginia in 2016. Otherwise, they lost 45-13 at Boston College in 2019, 42-13 at UVA in 2018, 50-21 at Maryland in 2015, 45-13 at UVA in 2014, 23-21 at N.C. State in 2013, and 43-19 at UVA in 2012. UR played only FCS competition in 2017.
(804) 649-6233
@RTDjohnoconnor