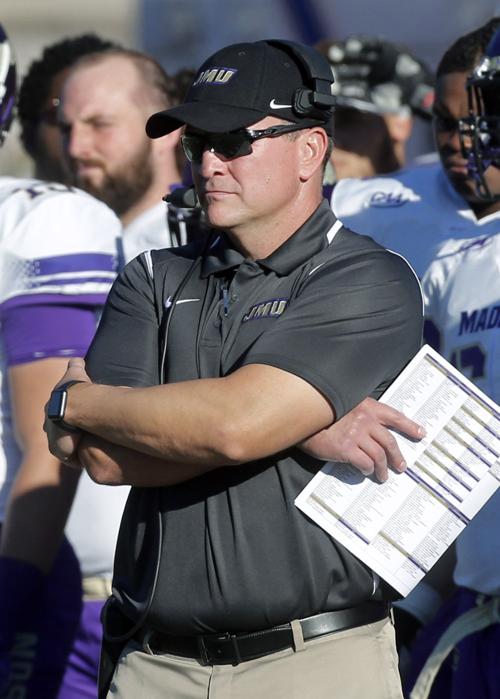 James Madison suspended seven football players before last Friday's FCS semifinal round, the Harrisonburg Daily News-Record reported Tuesday morning. They will not play in the in the national championship game on Jan. 7 against Youngstown State in Frisco, Texas, JMU coach Mike Houston said Tuesday.
Houston told the Daily News-Record after the Dukes' semifinal win on Friday night at North Dakota State that linebacker Brandon Hereford, a junior from Glen Allen High who was Madison's leading tackler during the regular season, and junior Terrence Alls, a Floridian who is the team's second-leading receiver, were indefinitely suspended.
The school made no announcement of the suspensions before the game and hasn't identified the players or reasons for the suspensions.
Houston didn't elaborate on the suspensions. Neither Hereford nor Alls played in the semifinal victory. According to the Daily News-Record, there were five other suspensions. JMU late Monday night confirmed that seven players had been indefinitely suspended.
Alls is a transfer from Duke who was dismissed from the Blue Devils' football program in November of 2015 for undisclosed reasons.
In a statement released by JMU on Tuesday, Houston said:
"We have very high expectations in terms of standards of conduct for our student-athletes and our football program who represent James Madison University. Unfortunately, we have a few student-athletes who have not met those standards and we will hold them accountable. They did not compete against North Dakota State and have been suspended indefinitely."
Houston and JMU will have no additional comment, according to the school.
Last Thursday afternoon, The Times-Dispatch requested from JMU clarification about potential suspensions related to the FCS tournament's drug-testing procedures, based on information The Times-Dispatch learned. Kevin Warner, assistant athletics director for communications, replied in an email, "We don't have any news to share related to personnel at this time."
Youngstown State is dealing with multiple suspensions, it appears, because several players missed the Penguins' semifinal win at Eastern Washington, according to Ohio news outlets. YSU hasn't released the names of those suspended or why they were suspended, although drug-testing issues reportedly caused the YSU suspensions.
According to the NCAA FCS Championship Manual, "Student-athletes who compete in NCAA championships may be subjected to drug tests … and may be determined to be ineligible as a result thereof. Only student-athletes who have consented in writing to such testing are initially eligible for these championships; and thereafter, student-athletes who are tested shall remain eligible only if they test negative."
(804) 649-6233
@RTDjohnoconnor