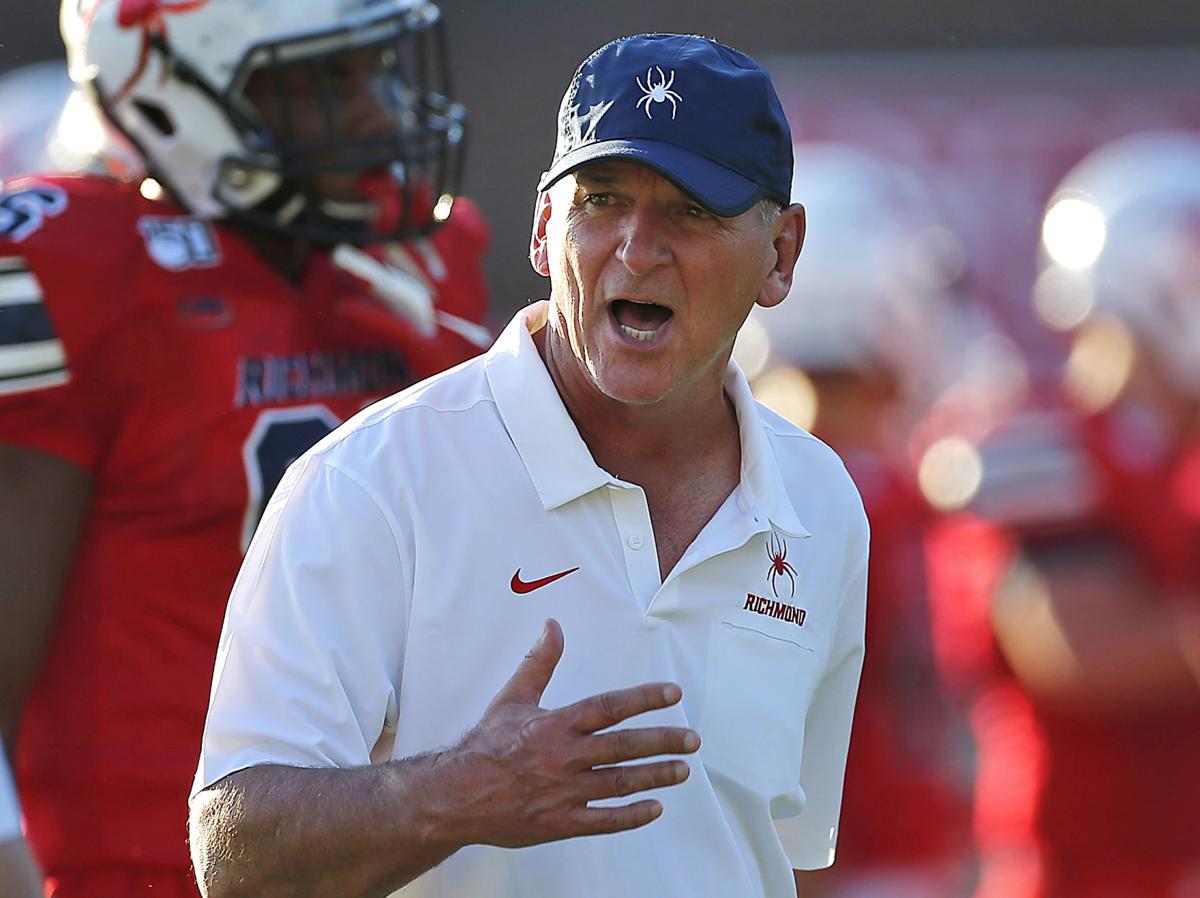 The commissioner of the Richmond-based Colonial Athletic Association, Joe D'Antonio, said Monday he believes there will be college football in 2020. Beyond that, a framework remains difficult to finalize because of current and potential coronaviral impacts, according to D'Antonio, whose FCS league includes James Madison, William & Mary and the University of Richmond.
It's possible that current season start dates and schedule formats for the 12 CAA teams could dramatically change as summer progresses, D'Antonio suggested. League teams, by and large, are slated to begin their seasons in early September.
"I continue to think that we're probably somewhere between 20 to 30 days [away] still in maybe having an understanding of exactly what it's going to look like," D'Antonio said. "Could it potentially be longer than that? It might be.
"There are many questions that we still do not have answers to. The unfortunate reality is the answers to some of those questions, while we're working diligently to get them, those answers are going to be key in understanding what a schedule matrix could look like, not only for the CAA, but I would suggest to you for the entire FCS and the entire FBS."
Presuming CAA teams are allowed to play under their states' and schools' regulations, three models are being closely evaluated:
Each team plays its 11 scheduled games, three non-CAA games and eight league games.
In nonconference competition, JMU meets Chattanooga, North Carolina and Merrimack; UR plays Saint Francis, Pittsburgh and Yale; W&M faces Stanford, Colgate and Lafayette.
"I'm the eternal optimist. We're going to play 11 and we're going to open up on that Thursday night [Sept. 3] against Saint Francis," UR coach Russ Huesman said. "I think the only issue now is when we can get our guys back. Hopefully, middle of July."
The full-season scenario presumes that nonconference opponents also will be cleared to play each of their games. In Richmond's case, for instance, if the Ivy League determined its members weren't playing any games, or playing only league games, the Spiders would miss their date with Yale in New Haven, Conn.
UR could try to find another available opponent to fill that schedule vacancy.
CAA schools would be highly motivated to maintain assignments against FBS opponents because of the six-figure guarantees that go with those arrangements.
Each CAA team would play only its eight conference games.
This model presumes all CAA members are cleared to play, and that travel is not an issue.
JMU, UR and W&M each have at least one CAA game that typically would involve air travel (New Hampshire, Stony Brook, Albany, and Rhode Island are examples). That may be problematic on a couple of fronts.
Air travel could be limited or discontinued on dates required because of health concerns everywhere, or in specific regions. There is also a financial consideration, as NCAA schools will operate with reduced budgets for the coming academic year for several reasons related to the pandemic.
Each CAA team plays eight league games but meets opponents twice in a geographic pod to eliminate air travel and reduce costs.
UR and JMU might play home-and-home, as would UR and W&M, and JMU and W&M. Elon would also be included in this CAA southern pod, with Delaware or Villanova also potentially involved.
All of those games would be bus trips, significantly slicing costs. Some teams may travel, play, and return to their campuses on the same day, according to William & Mary coach Mike London.
"Being innovative, being adaptable, is something we've learned at the nth degree. That's something that's called for in these times we are facing," London said of his program's response to the pandemic since March. "We've embraced it. We've adopted a philosophy: 'So what. Now what?'"
D'Antonio said the league is also considering games without any fans or with a limited number of fans as ways to reduce the possibility of spreading the virus.
(804) 649-6233
@RTDjohnoconnor