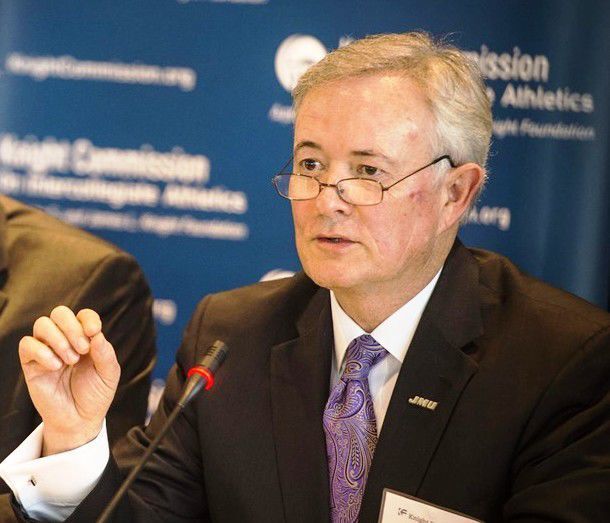 As the outlook changed rapidly last week, James Madison's decision became clear.
The Dukes' desire to carry on with fall competition, including football, was related to the possibility of NCAA fall championships occurring in the fall semester.
But, following NCAA guidance released last week, the likelihood of some of those championships happening began to look dim.
So, on Friday, JMU announced that it would cease its exploration of an independent fall football schedule.
On Monday, the Harrisonburg school announced that it suspended competition for the rest of its fall sports as well, which include volleyball, men's and women's soccer, cross country and field hockey.
Now the focus will turn toward fall sports program competition in the spring.
"We at JMU all had high hopes that there would be an opportunity for our student-athletes to compete this fall," JMU director of athletics Jeff Bourne said in a video conference Monday. "But, as we watched the national landscape start to slide, and with the information that the NCAA published on percentage of teams following championships, we realized that we were at a point where we needed to move to spring."
Old Dominion, a former Colonial Athletic Association foe now playing at the FBS level in Conference USA, said Monday its fall sports would not play this fall either.
Athletics director Wood Selig, in a story posted to ODU's athletic website, said that the decision was "the right thing to do for everyone involved." The Monarchs will also aim for fall sports in the spring.
"This is just the right thing to do for everyone involved," Selig said in the school release. "After making this decision, I already feel a sense of relief. We're not like the NBA. We can't put our athletes and coaches and fans in a bubble, and we don't have unlimited resources."
At JMU, the percentage Bourne mentioned was what many were watching. The NCAA said last Wednesday that at least 50% of eligible teams in a given sport must play for championships to occur.
That percentage dipped in the Football Championship Subdivision as the Big Sky Conference and Pioneer Football League said Friday they would not compete this fall. JMU's football announcement followed midafternoon Friday.
Then — keeping the other sports out of limbo, and considering challenges such as testing and constructing competitive schedules — Monday's announcement completed the suspension of fall athletics.
"It's very difficult at times to navigate, where we've gone and where we're going to need to go," Bourne said. "Part of you knows that the right decision was to delay. I really think when we looked at all the factors around us it was certainly the right decision.
"The other part of you, being an athletics person, is that you carry the feelings of your kids and your coaches a little bit on your shoulder."
JMU has tested 393 athletes and coaches since early July, with two positive, asymptomatic cases.
The school is set to begin in-person classes on Aug. 26. Fall sports athletes will be permitted to train in the upcoming semester, but the makeup of that is to be determined.
"There's not been a lot of guidance or information given on what that can look like," Bourne said. "I think the next two or three weeks for us, there'll be a fast and furious move to determine that at the national level."
Looking at 2021, Bourne said theoretically a spring football season would begin in early March with playoffs starting in early May and finishing at the end of that month. For JMU, it'd likely be a CAA-only slate.
Bourne also believes that spring FCS playoffs would likely include a reduced number of teams — perhaps 16, down from 24.
But what if football and other fall sports championships can't be contested in the spring either? Would JMU still be interested in shifting fall competition to after the New Year?
"I don't think you rule anything out," Bourne said. "This is one of those unique years that you hope you never have to go back and do over again. So I wouldn't rule it out, but I really will do everything I can to try to make sure that we are strong advocates for that playoff opportunity for student-athletes at the NCAA level."
JMU carries an athletic budget significantly larger than many of its peers. According to USA Today's NCAA finance database, the Dukes' budget was $52,704,654 in 2018-19. Still, Bourne acknowledged that budget reductions would hurt at JMU like anywhere else, if the school has to do so in this unprecedented athletic landscape. But there have been no discussions of cutting any of the school's 18 athletic programs.
Beyond fall sports, JMU has been looking forward to opening its new 8,500-seat basketball arena this year, the Atlantic Union Bank Center. Schedules haven't been altered for basketball and other winter sports.
(804) 649-6442
@wayneeppsjr