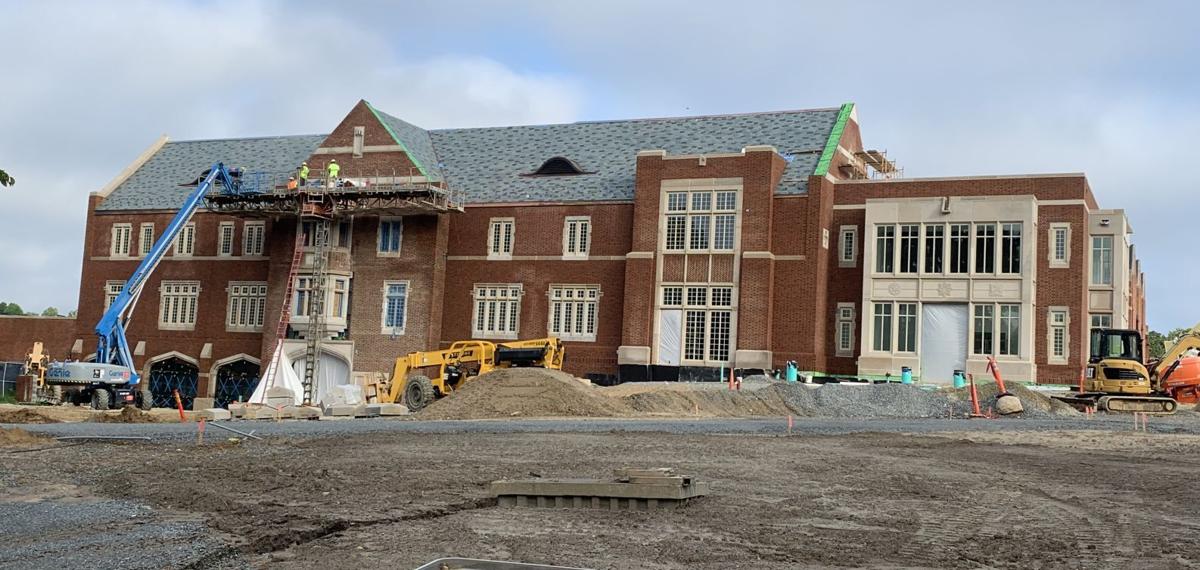 The University of Richmond basketball uniform tops this season seem likely to include new patches.
On July 30, the NCAA announced that its Playing Rules Oversight Panel approved rules to allow patches on all student-athletes' uniforms for commemorative and memorial purposes, as well as to support social-justice issues. That's a modification from previous years.
A patch on the front of the uniform "may be a commemorative/memorial patch (names, mascots, nicknames, logos and marks) intended to celebrate or memorialize people, events or other causes," according to the NCAA. Everybody on the team must wear the same patch in the front.
The back patch is for "names/words intended to celebrate or memorialize people, events or other causes," according to the NCAA. The contents of the back patches can vary by team member.
"As a team, I think we will decide that. I'm anxiously anticipating what the guys will have to say about it, what their ideas are, and things that we can come together to show support for," Richmond coach Chris Mooney said. "We have not started those discussions yet."
Some professional sports leagues, such as the NBA and WNBA, already have allowed players to wear social-justice messages on their jerseys.
Mooney added that though the Spiders returned to campus on July 15 to begin workouts, they haven't gotten together as a group because of social-distancing guidelines.
There have been reports about discussion in some Division I leagues about creating some form of "bubble" setup, isolating team members together, to increase the possibility of games being played during the pandemic.
Mooney said he has heard nothing from the Atlantic 10 about the potential of such an arrangement in the conference to which UR and VCU belong.
"I think it sounds like an awfully expensive proposition," he said.
Mooney, entering his 16th season at Richmond, praised UR's athletic administration for the preparation that went into creating a safe environment for the men's and women's basketball players who are back on campus and training.
"I think what has been emphasized, and re-emphasized, with us are the basics, but they're emphasized a lot," Mooney said. "So I would say we're just talking about wearing a mask and making sure you're making the best decisions you possibly can.
"And for us, specifically, to be very motivated to do everything we can to have our season."
The Spiders return five senior starters from a 24-7 team that went 14-4 in the A-10.
Mooney projects a mid- to late-September move into the $15 million Queally Athletics Center, a basketball-support facility that includes a practice gym, locker rooms and team rooms, sports medicine and strength-and-conditioning areas, and a hall celebrating UR athletics.
"It's really an incredible place," Mooney said.
The coaching staffs will relocate to offices in adjacent Millhiser Gym, also part of the construction project. The Spiders played home games in Millhiser from 1922 to 1946.
Millhiser additionally will house the Student-Athlete Development Center, an academic-support building for all UR athletes with individual and group study areas, computer labs, and tutoring stations.
A $7.5 million lead gift from alumni Paul and Anne-Marie Queally launched fundraising for the basketball-support building. The school announced plans for the project in March of 2018.
Also being built into the complex is the school's Well-Being Center, a central location for all campus health care, wellness education and nutrition services.
(804) 649-6233
@RTDjohnoconnor