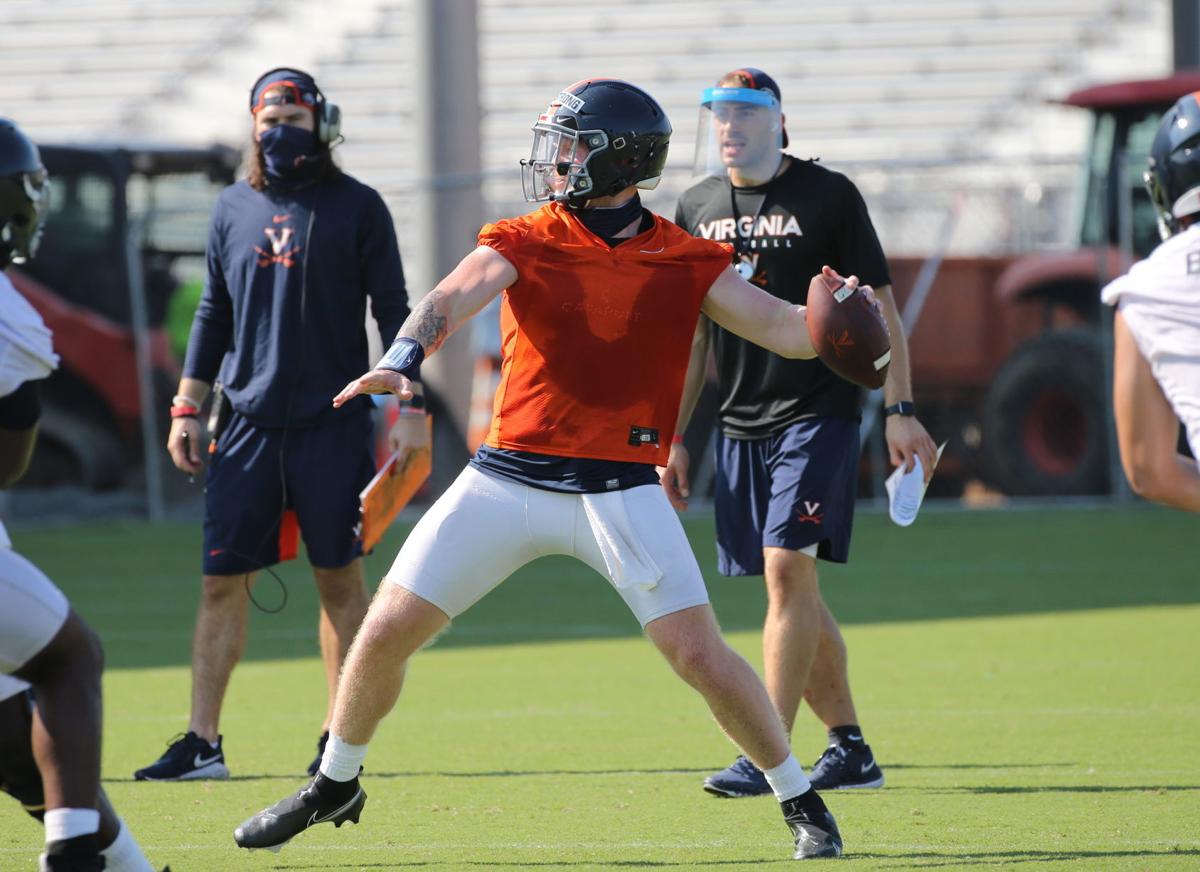 CHARLOTTESVILLE – Despite having to convert winter conditioning to a virtual model and losing all of spring football practice, Virginia coach Bronco Mendenhall said his team should have ample time to get itself ready for a possible season opener on Sept. 11 against VMI.
"I haven't felt rushed," said Mendenhall, as he prepares the Cavaliers to defend their ACC Coastal Division title. "I expected it to be … like we'd be rushed and might not be able to catch up. [It's] ended up being opposite that."
Mendenhall said he and his staff tempered their expectations for what kind of physical shape the players would return to campus in, since they'd been away from the program's strength and conditioning staff and working out on their own at home since March.
But when players did return to campus last month, he was pleasantly surprised by their physical status.
"I was really impressed for the overwhelming majority that came back," said Mendenhall. "That does not mean they've progressed at the same level as if they would have been with us the entire time. Just bluntly, where we are today would be the equivalent of where we were when we left. That's actually ahead of where we thought we would be."
Mendenhall may not be in a hurry this month, but there's plenty of work to be done at UVA before a potential season is played, work being done amidst the swirling uncertainty around the season. 
Tuesday, the Big Ten became the first Power Five conference to cancel the fall season due to the spread of COVID-19.
Coming off one of the best seasons in program history, one that included a win over rival Virginia Tech and appearances in the ACC championship game and the Orange Bowl, Virginia must replace its most prominent offensive stars, led by quarterback Bryce Perkins.
That's just one of the most pressing questions facing Mendenhall and his Cavaliers.
1) Who gets the nod behind center?
During the next month, UVA has to pick a successor to Perkins, the dual-threat superstar who helped elevate the program the past two seasons. The candidates include sophomore Brennan Armstrong, recruited by this staff in the mold of their more successful quarterbacks at BYU, including Taysom Hill, and Keytaon Thompson, a transfer from Mississippi State.
One defensive coach who faced both Perkins and Thompson said Thompson may end up being the better quarterback.
To make good on that prediction, first he'll have to win the job.
2) To whom will the new quarterback throw the ball?
Joe Reed and Hasise Dubois combined for 149 catches and 13 touchdown receptions last season, ranking one and two on the team in receptions, receiving yards and scores. They're both gone and UVA has all that production to make up.
Terrell Jana, who came on strong at the end of last season, is an obvious candidate. He made 49 of his 73 catches, including all three of his touchdown receptions, during the second half of the season and has emerged as a team leader this offseason.
The Cavaliers also added an all-conference receiver in St. Francis graduate transfer Ra'Shaun Henry. Still, Virginia will need development from young pass-catchers like Dontayvion Wicks, Tavares Kelly, Dorien Goodard, Ugo Obasi and Billy Kemp.
3) How big an impact will the transfers have?
It's not just Henry. After the CAA announced it was canceling its football season, UVA added running back Shane Simpson (Towson), defensive back/return man D'Angelo Amos (JMU), and defensive lineman Adeeb Atariwa (JMU). Virginia also picked up Central Michigan graduate transfer Tony Poljan at tight end.
The Cavaliers hope to hear back from the NCAA this week on the status of Indiana transfer running back Ronnie Walker, the former Hopewell High School star.
4) How good can this defense be?
UVA loses three major names off its defense in cornerback Bryce Hall, linebacker Jordan Mack and defensive end Eli Hanback. But by the time the postseason rolled around, only Hanback was healthy and in the lineup.
The Cavaliers return 10 of the 11 players who started the Orange Bowl loss to Florida, a group that includes established stars in linebackers Charles Snowden and Zane Zandier and safety Joey Blount, and emerging ones in defensive linemen Mandy Alonso and Jowon Briggs and linebackers Nick Jackson and Noah Taylor.