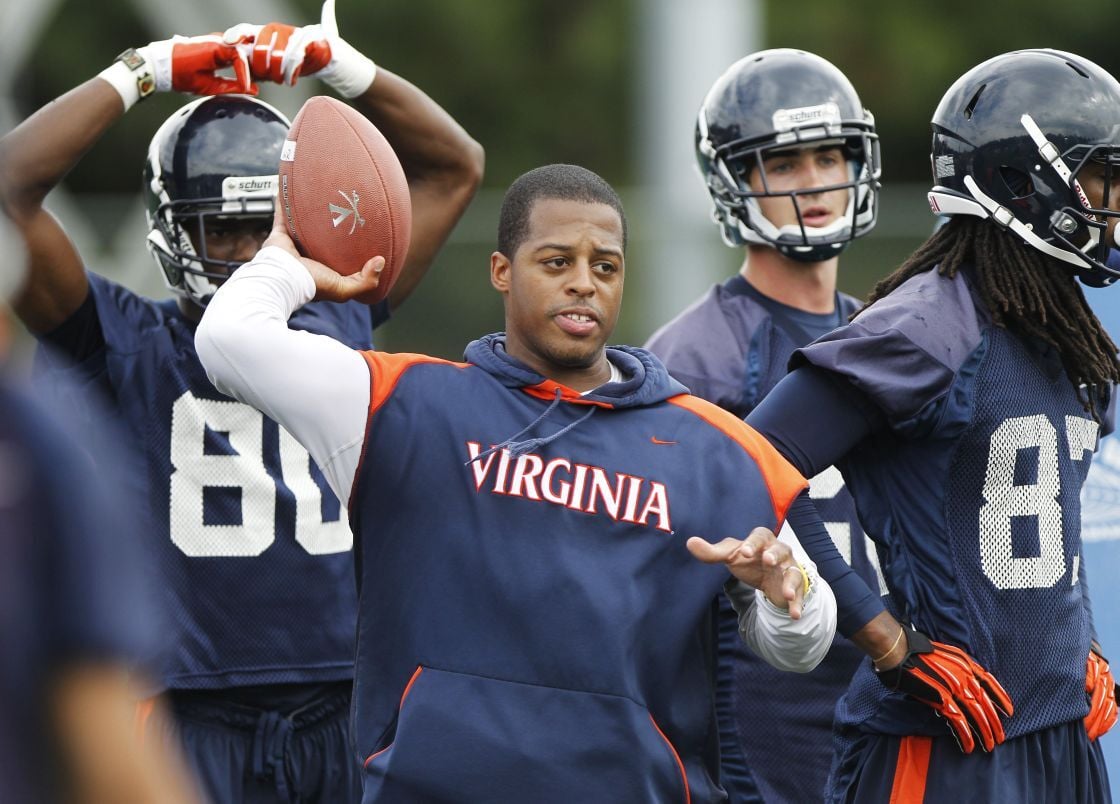 Not long after a suburban Minneapolis police officer shot and killed Philando Castile during a 2016 traffic stop, Virginia assistant football coach Marques Hagans had an inspiring encounter with Charlottesville law enforcement.
As Hagans drove home from the office after dark, a police car's flashing lights filled his rearview mirror. Hagans immediately knew the problem: The registration stickers on his tags were expired, and the new ones were in the console, within arm's reach.
Hagans slowed his vehicle and immediately phoned his wife to tell her of his exact location. He didn't pull over until finding what he considered a secure, well-lit area about a half-mile away.
Naturally, the first question the officer, a white male, asked after approaching Hagans' driver-side door was why he hadn't stopped immediately. His tone was polite, and Hagans calmly explained that Castile's death had rekindled a mistrust of police he developed as a youth in Hampton.
After collecting Hagans' license and registration, the officer walked back to his police vehicle. Moments later, he returned, and in very emotional terms, confessed to Hagans that he appreciated his perspective.
No ticket was issued, and the officer did not appear to recognize Hagans. The men — one black, one white — parted with genuine respect.
Hagans recounted that incident as we discussed how he is using a recent case of police brutality — Minneapolis officer Derek Chauvin's suffocation of George Floyd — as a teaching moment with the UVA receivers he coaches and the sons, ages 8 and 6, he raises.
"I'm no activist," Hagans said. "I'm just a black man who happens to coach. I just want to be a part of making the world a better place. I don't have all the answers, but I'm willing to seek them and take suggestions on how we can make it better."
Hagans and his wife, Lauren, a former UVA basketball athlete, are an interracial couple, and they declined to reveal the graphic details of Floyd's death to their sons. But they have outlined America's history of racism, most recently when their oldest, Christopher, did a school report on Thomas Jefferson, author of the Declaration of Independence, founder of UVA and, during his lifetime, owner of more than 600 slaves.
During the pandemic, Hagans has met with his 11 receivers, eight black and three white, four times a week via Zoom. Current events became the topic du jour shortly after Floyd's May 25 death.
Players voiced their opinions and shared their experiences. Hagans did the same, and those discussions have continued as our nation recoiled and revolted over the Floyd video.
Receiver Terrell Jana, a rising senior from British Columbia, Canada, applauds Hagans and head coach Bronco Mendenhall for fostering an environment that welcomes honest dialogue on social issues.
"One of our core values is to change the world," Jana said, "which on a grand scale seems kind of out of reach. However, I think coaches are always trying to preach — one thing Coach Mendenhall always says to us is, 'Speak truth to power.' … I do think our coaches create an environment where everybody can voice their opinions."
Hagans told the players about growing up in Hampton, where in 1993 Allen Iverson, then a star high school athlete, now a Basketball Hall of Famer, was jailed after a fight among blacks and whites at a bowling alley. Then-Gov. L. Douglas Wilder, the nation's first elected black governor, granted Iverson clemency, and two years later, the Virginia Court of Appeals overturned the convictions.
Hagans said subsequent tensions in the city led police and security personnel at a local mall to harass him and other black young people.
"As much as it's been an opportunity for a lot of my black players to express how they feel," Hagans said, "it's also been a great platform for our white players to be educated. … There's been learning on both sides, and I think it's been pretty powerful. The guys have drawn closer during this time.
"We're creating a forum where they feel empowered to speak up. If they feel confident to speak among their teammates in the locker room, then hopefully they'll feel empowered to speak when they're in dorms or apartments or with family members and hold [themselves and] others accountable when they leave the comforts of the locker room."
This is not unique to Virginia football. Coaches and administrators at all levels, especially in the last few weeks, are listening and responding to athletes like never before.
In many cases, this is long overdue. In others, the long-held discussions have become more urgent.
Regardless, the more enlightened our young people, the better.
As an upperclassman, Jana attempts to help younger teammates as they navigate the turmoil.
"I'm trying to hear the young guys, trying to gauge where they're at, understand their pain, their frustration, kind of help them through that," Jana said. "Couple of the guys come from areas where policing is heavily militarized and that affects how they live everyday life."
Hagans revels as he watches UVA players engage with the world — linebacker Charles Snowden was among the peaceful demonstrators near the White House on June 2 — and one another.
How long will this moment endure? Weeks? Months? Years? Decades?
Will too many of us shift to another cause too soon, perpetuating systemic racism? Or, is this a genuine tipping point?
"You can change people's perspectives and hopefully change their behavior," Hagans said. "It's not a black/white issue. It's a human decency issue. When those small ripples start to happen and people start to change and their behavior starts to change, then generations will start to change."