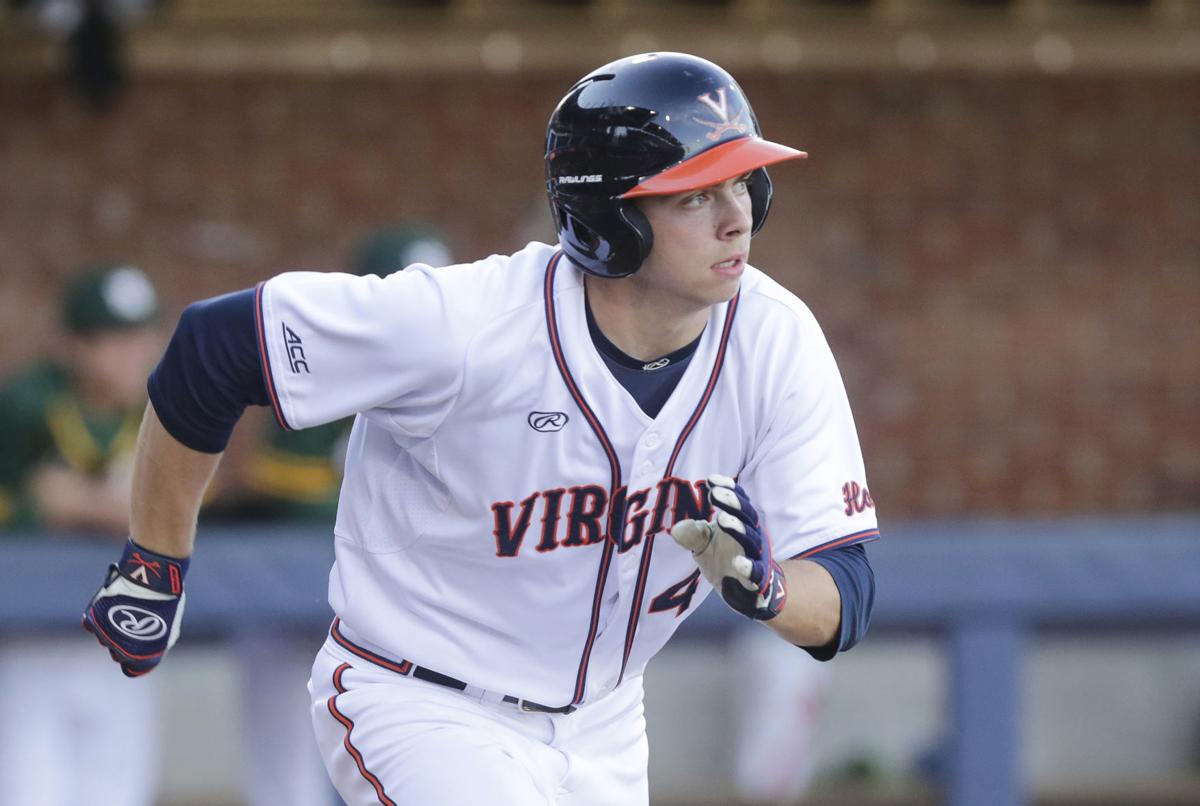 Virginia's Nic Kent was set to spend his summer playing baseball up north in the venerable Cape Cod League. JMU's Dallas Jackson was ready to compete in the Valley League.
Instead, both will be taking their summer swings considerably closer to their homes.
Kent, an infielder and Charlottesville native, will play in a new league in Northern Virginia. Jackson, an outfielder from Mechanicsville, will be in the Piedmont League.
"I'll have the opportunity to be on the field and play the game I love," Jackson, a former Lee-Davis High School star, said Monday.
For Kent, the disappointment of not getting his chance to compete against some the nation's top college talent at the Cape quickly gave way to the desire to find someplace else to hone his craft in the summer.
"I was definitely looking forward to going up there," Kent said Monday. "I was definitely bummed out after that. I was thinking I wouldn't get to play in the summer."
All over the country, college baseball teams have had to shift the summer plans they had for their players as many of the top leagues opted to shut down because of the spread of COVID-19.
"More players have stayed at home this summer," said Jeff Roberts, president of the Piedmont League in the Richmond area. "And if they're staying at home, they're looking for a place to play some baseball."
Summer baseball in the college world is essentially a requirement — or it had been. Now, coaches said they've instructed their players to consult with their families and only do what they feel comfortable and safe doing.
"Historically, the college baseball coach has said, 'This is where you're going to play and you're going to play all summer because that's part of your development. There's no ifs ands or buts about it,'" UVA coach Brian O'Connor said. "This summer, that's out the window. It's up to you."
The Cape Cod League, considered the pinnacle of summer baseball, and the Valley League, a well-respected local option, canceled their 2020 seasons.
The Coastal Plain League — which this year includes a Richmond-area team, the Tri City Chili Peppers — is still scheduled to hold its opening day on July 1.
But multiple sources said there is serious doubt whether the league will be able to do that.
For the area's college coaches, getting summer at-bats and innings for their players in a safe environment became the primary goal.
So local leagues that have popped up in places like Northern Virginia and Scranton, Pa., and more established circuits like the Piedmont and RCBL, became attractive destinations.
"With the Valley League and the Cape canceling, that's what our second option was — to play where you live. Play close to home," JMU coach Marlin Ikenberry said. "Just getting them back on the baseball field is more important. It wasn't necessarily what league they play in. It's having the ability to play baseball."
The cancellations have led to smaller circuits seeing a surge in interested players.
The Piedmont League in the Richmond area and the Rockingham County Baseball League, in the Shenandoah Valley, are two that have benefited, in a sense, from the current situation.
The Piedmont League, going into its fifth season, normally attracts about 64 players per summer, Roberts said.
This year? Nearly 100 are already committed for when the league is scheduled to open play next week.
The league expanded team rosters to 25 players and there's even consideration being given to adding a fifth team to accommodate interested athletes.
Monday, the league invited pitchers and catchers to begin working out, and later this week, full teams will practice. The league will play two games simultaneously on Tuesday and Thursday at the Virginia Sports Complex in Ruther Glenn, and then hold weekend doubleheaders at a site yet to be announced.
"We're full speed ahead," Roberts said. "The pandemic has caused us to have more players than we've ever had. We'll be able to play more games than we ever have, because we have pitching available to us in a quantity we've never had before."
If the Piedmont League is well-established, the RCBL is entrenched. It bills itself as one of the nation's oldest continuous running baseball leagues, having begun play in 1924.
Normally a summer home for the area's Division II and III college players, former college players and even some former professionals, the RCBL is seeing an influx of Division I college talent this season, as well.
League commissioner Randy Atkins said the circuit, which normally allows four players per team from outside its geographic footprint, has doubled that number this summer, allowing teams four more outsiders as long they come from a college that plays in the league's area.
The eight-team RCBL did push its opening day back two weeks to June 27 and shortened its season from 28 to 21 games. Teams also will have larger, 30-player rosters this summer.
"We feel like the valley needs baseball. Everybody needs baseball," Atkins said.
"We have seen a lot of players wanting to play, even coaches wanting to coach. We've seen all that."
Leagues like the Piedmont and RCBL are uniquely positioned for the COVID-19 crisis. They don't use host families to house out-of-town players and don't use buses to transport teams to games.
The Piedmont doesn't charge admissions to regular-season games, instead funding itself from the fee players pay to be in the league.
In fact, Roberts said he doesn't expect to have fans in the stands at first this summer.
"In the early going, we don't anticipate welcoming the fans or parents to the ballpark," he said. "We'd like to at least get into July and get our feet under us. We just have to figure out how to do the social distancing and worry about the players and the coaches and the umpires and the staff."
The Piedmont League will instruct players to self-screen themselves at home before coming to the ballpark, not travel to games with teammates, and to take precautions — including wearing masks when not in the game.
The RCBL has instructed players to apply social distancing in dugouts and bullpens, and has banned high-fives and postgame handshakes, as well as spitting, seeds, gum and tobacco.
These are new policies for a new challenge, but league officials and college coaches agree they will be worth it if the players play ball this summer.
"We're trying to get as many of our guys an opportunity to play as possible," Virginia Tech coach John Szefc said. "At this stage of the game, that's the best-case scenario."