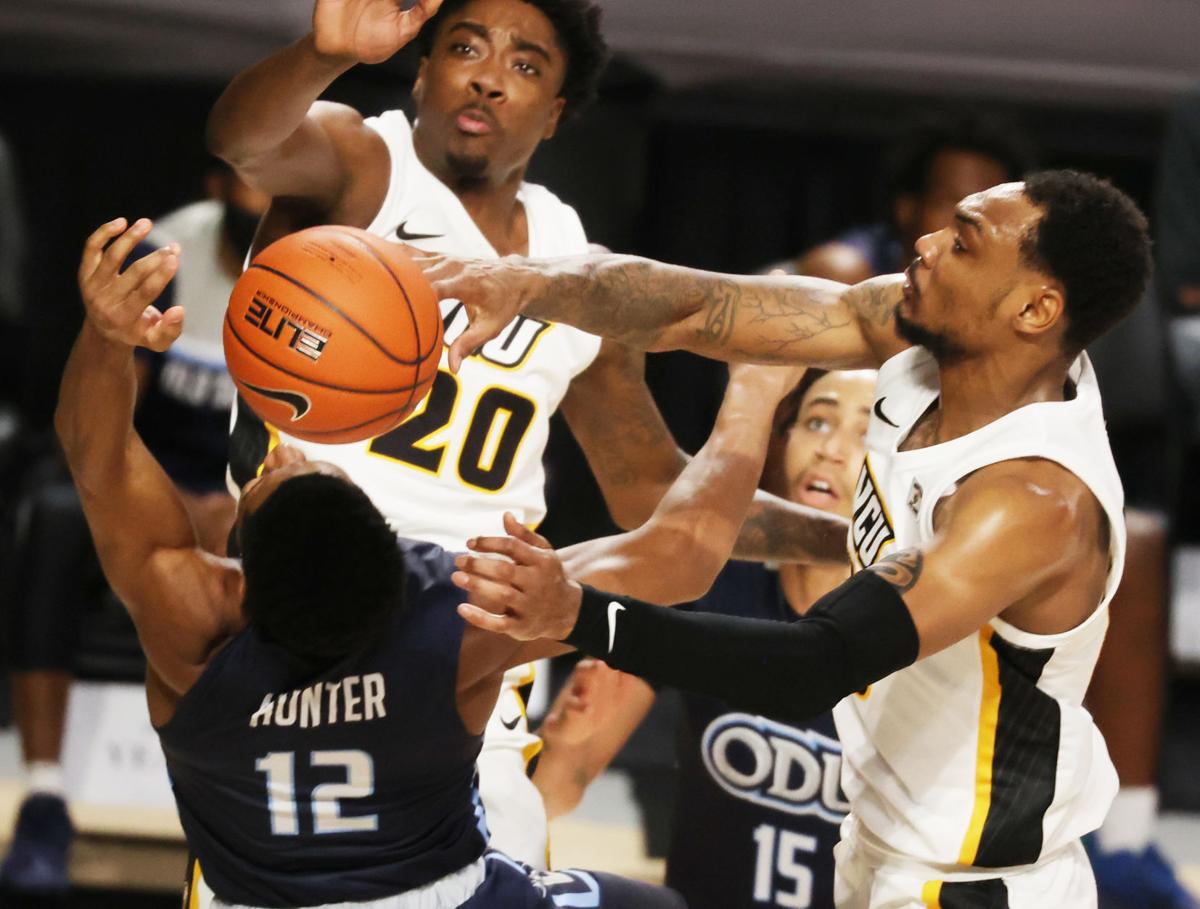 Swatting, stuffing and deflecting, VCU forwards Hason Ward and Corey Douglas have shown a propensity for blocking shots for the Rams.
The 6-9 Ward and 6-8 Douglas are adept at using their length — which, for Ward, includes a 7-4 wingspan — to disrupt around the rim.
Both are blocking shots at a much higher pace than they did last year. After registering three blocks against Old Dominion Saturday, Ward is up to a team-high 16 through seven games for VCU (5-2). That's more than he had in 24 games as a freshman last season (15).
And Douglas, after blocking a pair of shots Saturday, is up to 11 this year — almost half of his total in 26 games last year (24), when he was bothered by a foot ailment that ended his season early and prompted offseason surgery.
With Ward and Douglas leading the way, the Rams are averaging 5.7 blocks which, through Sunday's games, was tied for 23rd in the nation.
"Guys are just being really aggressive on defense," Douglas said. "A lot of it is just guys have been staying in front, guarding their yard. So it makes it a little easier when you don't have to help. At the last second you can come over and block a shot."
Paced by Ward and Douglas, VCU has blocked shots at a higher rate overall compared to where it finished last year. The Rams' final mark was 4.3 blocks a game last season.
Ward's play has him ranked ninth in the country in KenPom.com's block percentage at 15.27%. The stat tracks the percentage of 2-point attempts a player blocks when in the game.
At the end of the day — block or not — the Rams' coaching staff just wants players to force misses without fouling. Opponents are shooting 43.1% on 2-point attempts against VCU this year, 42nd nationally.
But if the opportunity for a block presents itself, they don't hurt. Ward and Douglas are collecting their share.
"Just make them miss," coach Mike Rhoades said. "But also don't be afraid to come over and block shots. And go after the ball. And we have some guys that can do that … at a high level."
(804) 649-6442
Twitter: @wayneeppsjr